Sensational Characteristics that Spell Success
Comfort Dental's seven successful characteristics can help any office maximize production and profitability.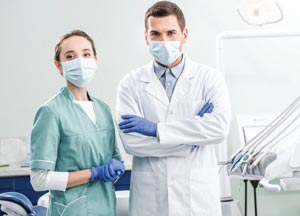 At Comfort Dental, we believe in seven clinical characteristics that spell success. These involve a dentist's likeability, organizational skills, clinical efficiency, clinical quality, leadership/character, confrontational tolerance, and work ethic. We call them the "Sensational Seven." Each attribute is important, and we strive to excel in all seven. However, we have long sought to understand which characteristics are most significant so we can maximize the financial success of our partners. For years, we have worked with psychology experts, statistics and each other to reach the fascinating conclusions we share here. 
Comfort Dental is the largest dental franchise in the world, and our hundreds of franchisees own and operate their own partnerships and practices across 10 states. In 2021, the average Comfort Dental general practitioner's gross income was $399,249, and the median was $382,627.1 This is more than double the average income for general dentists.2 Through our group practices and economies of scale, we keep overhead low. Our profitability allows us to take nearly all patients and third-party payers; in fact, most of our dentists accept Medicaid. We often joke, "We see the bottom 97%." The point is, we are busy! This is important to remember as we discuss the Sensational Seven.
SENSATIONAL SEVEN
LIKEABILITY: People do business with people they like. Dentistry is no exception. If a clinician isn't likeable, that's not necessarily a skill we can teach.
ORGANIZATIONAL SKILLS: This is the ability to manage treatment plans on multiple patients at once. Successful practice also demands effective time management and staff control, as well as a solid understanding of today's technology.
CLINICAL EFFICIENCY (speed): This speaks to performing procedures quickly and well, while balancing the demands of treating multiple patients. Talk less, work more. Tinker less, finish more.
CLINICAL QUALITY: We truly believe that all dentists want to deliver the finest clinical results — as do we at Comfort Dental.
LEADERSHIP/CHARACTER: With respect to patients, staff and colleagues, leadership is doing right when others are watching, while character is doing right while no one is watching. We strive for both.
CONFRONTATIONAL TOLERANCE: Often mistaken for argumentativeness, this is the willingness to personally and professionally confront tough issues with patients, rather than delegating this task to staff. This same willingness applies to issues involving staff and colleagues.
WORK ETHIC: Comfort Dental partners tend to work four to six 6-hour shifts per week. Work ethic to us is the willingness to handle the packed six hours (or sometimes even 12) with maximum commitment, no break, and still honor walk-ins and emergencies. This also involves a 30-minute pre-shift chart check, and a 30-minute post-shift care call check. Do it all every shift, while never allowing personal issues to impact the process.
CONCLUSION
At Comfort Dental, we believe in all seven success categories, and strive to be proficient in each. However, we've also discovered there are two "Super Sensational" traits. Excellence in these two can overcome deficiencies in the other five.
The first Super Sensational characteristic is clinical efficiency, and the greatest of all is work ethic. Master these, and success is all but guaranteed.
Gross annual compensation before taxes, royalties, consulting fees, insurance, and retirement plan contributions.
According to the American Dental Association, the average annual income for general dentists in 2020 was $170,160. Source: https://www.ada.org/resources/ research/health-policy-institute/dental-practice-research.
Comfort Dental
303-202-9449
comfortdental.com/franchise
From Decisions in Dentistry. April 2022;8(4)19.