Pushing Past Uncertainty
This private practice dentist partnered with Amplify360 to increase his annual profit by more than 130%
Coming out of dental school, nobody tells you when or how to invest in marketing. Choosing the right marketing partner took me a decade, so I'm sharing my story to help other dentists avoid the pitfalls I went through and instead get on the path to growing a thriving business where they can practice the kind of dentistry they want.
When I started out in 2005 and was exploring different marketing options, I decided to be conservative with my spending on promoting my practice. I didn't think I could or should invest more money, so I opted for seemingly budget-friendly, run-of-the-mill options. However, by 2015, I realized that my approach wasn't yielding results, and it was time for a change.
I made the decision to invest in myself and the vision I had for my practice. I went from thinking I couldn't afford to work with a marketing partner to realizing that I couldn't afford not to work with an experienced firm like Amplify360.
Success Achieved
Now, in 2023, I am considered a successful clinician. Last year, I worked 160 days and collected more than $1.5 million. Let's delve into the numbers: my practice's collections went from $768,000 in 2015 to $1.5 million in 2022. This represents a $912,000 increase in collections and an annual profit bump of $368,000 in just over 6 years (Figure 1).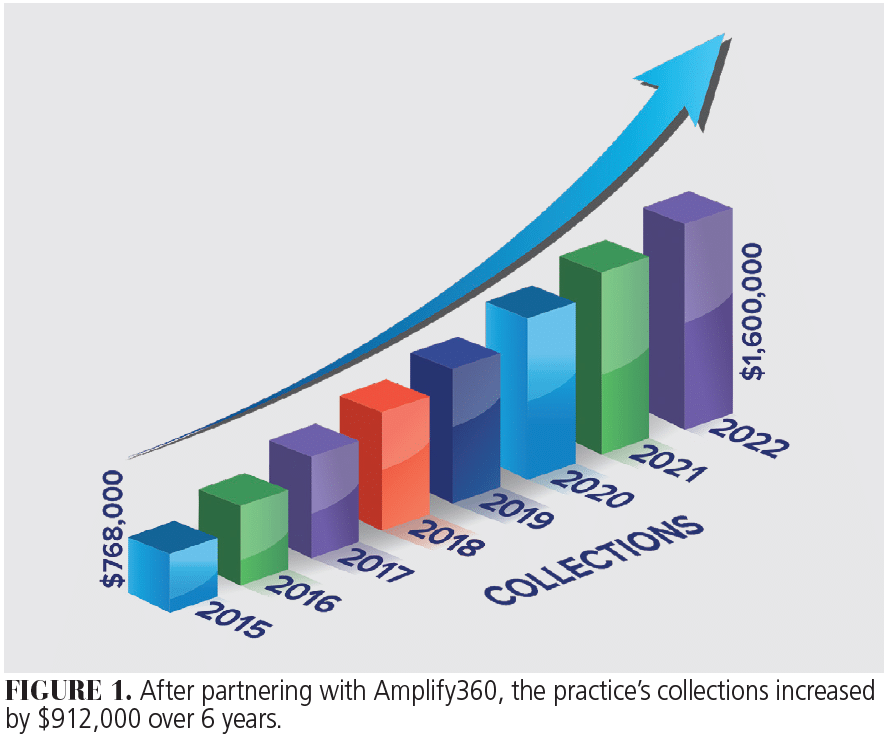 It amounts to a more than 130% increase in profit annually. For me, this was a significant turning point for my practice. Consistency, innovation, and selecting the right partner proved to be game-changers.
Comprehensive Approach
From the beginning, Amplify360 adopted a comprehensive approach that focused on multidimensional strategies. Amplify360's consultants inquired about my goals and, based on my vision, we revamped our marketing strategy, redesigned the practice website, allocated marketing funds to the right channels, and transformed our approach and target patient demographics.
A dynamic dental practice requires dynamic marketing. The magic happens when you consistently strategize and collaborate with a team that listens to your needs, aligns marketing methods with your goals, and assists you in adapting when necessary. Now I'm living my dreams, including some that I never knew were possible.
Initially, my aim was to have the largest general practice in town. Today, I'm the practitioner with more free time who has surpassed the profitability goals I set. Instead of performing general dentistry day in and day out, I now specialize in complex surgeries, such as implants and full-mouth reconstruction. My patient base has completely transformed, thanks to the exceptional marketing provided by Amplify360. I'm doing what I love, and I'm attracting the type of patients I want to work with.
Bottom Line
Do I believe investing in marketing is worthwhile? Absolutely. Do I wish I hadn't waited 10 years to partner with Amplify360? Without a doubt, but I'm more than making up for lost time, and the value I receive now exceeds my investment. They say hindsight is 20/20, and I couldn't agree more. I also firmly believe that investing in marketing for your practice is a necessary step to achieve your goals.
Amplify360
503-342-2958
From Decisions in Dentistry. July/August 2023;9(7/8):23.