Top 3 Tips for Wearing Ergonomic Loupes
This important part of the dental armamentarium is key to practicing pain-free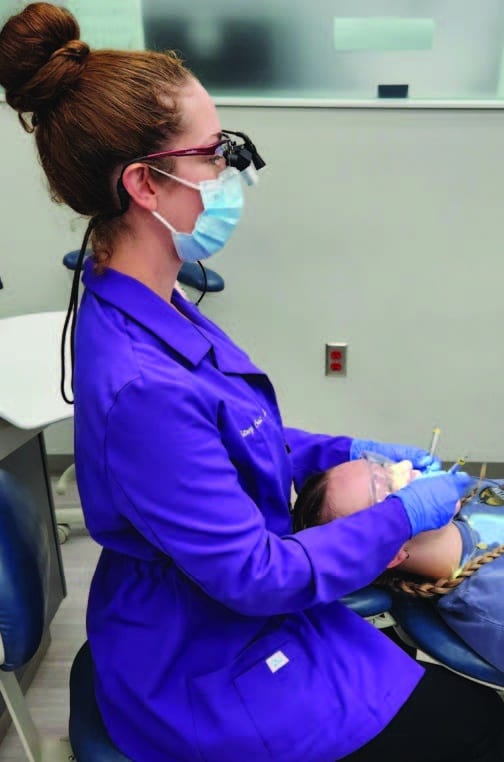 Working in dentistry can quite literally be a pain in the neck. With an estimated 58.5% of dental professionals experiencing neck pain, finding solutions to dentistry's pain problem is imperative.1 Enter ergonomic loupes. The popularity of these loupes is on the rise and for good reason. Let's explore the top three tips for incorporating them into your daily practice.
Using mirrored prism technology, ergonomic loupes allow clinicians to keep their head straight forward in a neutral position when viewing the oral cavity.  Research shows that the more time dental clinicians spend looking downward (neck flexion), the greater their risk for neck pain.2
While traditional loupes help with the posture of the body's trunk, they do not aid in improving neck flexion.3 When wearing ergonomic loupes, neck flexion is eradicated. Figure 1 shows LumaDent's ErgoPrism loupes eliminate the need to look downward while working.
Tip #1: Ensure the right fit
Even with traditional loupes, securing a proper fit is necessary for function and avoiding eye strain.4 With ergonomic loupes, the need to use the clinician's measurements is even more important. Ensuring the oculars are directly in front of the eye is essential for the loupes to work optimally.  Clinicians should find a trusted brand and work with a representative for a custom fitting.
Tip #2: Patience
It's an awe-inspiring experience to wear ergonomic loupes for the first time but it can also be a little disorienting. Comparable to the first time picking up a mouth mirror using indirect vision, wearing ergonomic loupes also requires both spatial and fine motor skills. It can take time to develop that brain-body coordination. Clinicians should first practice at home using a typodont or even a coloring book.
Tip #3: Continue to practice good ergonomics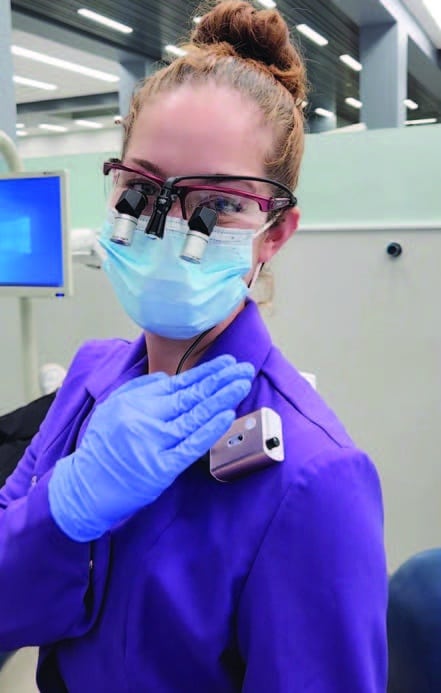 While wearing ergonomic loupes gives dental professionals a huge leg up for achieving neutral posture, maintaining ergonomic principles for the rest of the body is key. Clinicians should still be aware of their body mechanics when using ergonomic loupes. Continue to keep a neutral posture to minimize the stress on joints.
Bonus Tip: Add illumination
For an extra boost in your ergonomic game, check out LumaDent's waveLux headlight (Figure 2). Addressing the efficiency aspect of ergonomics, the waveLux allows dental professionals to turn on and off the light with just a wave of the hand.
Ergonomic loupes are becoming the new standard in dentistry. With the right fit, a little practice, and commitment to ergonomics, dental professionals will be on their way to practicing pain-free.
References
Lietz J, Kozak A, Nienhaus A. Prevalence and occupational risk factors of musculoskeletal diseases and pain among dental professionals in western countries: a systematic literature review and meta-analysis. PloS One. 2018;13:e0208628.
Lietz J, Ulusoy N, Nienhaus A. Prevention of musculoskeletal diseases and pain among dental professionals through ergonomic interventions: a systematic literature review. Int J Environ Res Public Health. 2020;17:3482.
Ludwig EA, Tolle SL, Jenkins E, Russell D. Magnification loupes influence on neck and trunk flexion of dental hygienists while scaling—a pilot study. Int J Dent Hyg. 2021;19:106-113.
James T, Gilmour ASM. Magnifying loupes in modern dental practice: an update. Dent Update. 2010;37:633–636.
LumaDent Inc
775-829-4488
lumadent.com
From Decisions in Dentistry. July/August 2023;9(7/8):26.