Product Profiles: Dia-X rotary files from DiaDent
Nickel–Titanium File System Maximizes Clinical Efficiency.
NICKEL-TITANIUM FILE SYSTEM MAXIMIZES CLINICAL EFFICIENCY
FEATURES AND BENEFITS
With its progressive taper and superior cutting efficiency, DiaDent's new Dia-X rotary file system offers the precision, flexibility, safety and reliability needed for effective endodontic treatment.
Compared to the company's Dia-PT rotary files, these nickel-titanium files provide 143% greater resistance to cyclic fatigue.
Featuring a convex, triangular cross-section, Dia-X files reduce rotational fiction and contact with canal walls. In addition, the heat-treated, coated surface is highly resistant to corrosion.
The design includes a flat, noncutting file tip that efficiently removes debris and soft tissue, along with an 11-mm handle for optimal accessibility.
In addition, all Dia-X rotary files have depth markings on the blade to save chairtime.
DiaDent's new system features three shaping files (DX, D1 and D2), plus three finishing instruments (D3, D4 and D5).
The shaping files have increasingly larger tapers over the length of the cutting blades, so each can engage, cut and prepare a specific area of the canal.
For example, the D1 file is designed to expand the glide path and prepare the coronal third of the canal, whereas the D2 file can enlarge and prepare the middle third.
Measuring 19 mm in length, the DX file provides excellent access to restrictive, hard-to-reach areas. It has a much faster taper than the D1 and D2 files, so it can optimally shape canals in shorter roots and also help shape the coronal section of longer canals.
Designed with decreasing taper to improve flexibility and reduce the potential for taper lock, the D3, D4 and D5 finishing files are easily identified by their yellow, red or blue markings.
Typically, only one finishing file is needed to prepare the apical third of the canal.
As a complete endodontic solution, shape-matching DiaDent Dia-Pro T gutta-percha and paper points can be used during obturation.
BOTTOM LINE
Designed to work with a clinician's preferred technique, DiaDent's Dia-X files are easily integrated into existing endodontic systems. Featuring the same geometries as Dia-PT rotary files, these new, heat-treated, nickel-titanium instruments offer the flexibility and durability needed for efficient cutting, cleaning and shaping, even in calcified or severely curved canals.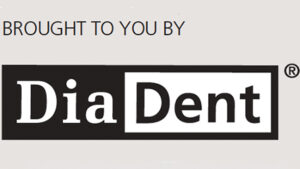 From Decisions in Dentistry. November 2017;3(11):56.