Product Profile: LOCATOR R-Tx from Zest Anchors
Next-generation removable attachment system offers practical clinical benefits.
NEXT-GENERATION REMOVABLE ATTACHMENT SYSTEM OFFERS PRACTICAL CLINICAL BENEFITS
LOCATOR R-Tx from Zest Anchors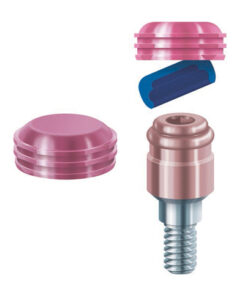 FEATURES AND BENEFITS
Zest Anchors introduces the next generation of its LOCATOR attachment system — the LOCATOR R-Tx removable attachment, which it describes as a better, simpler and stronger system.
The LOCATOR R-Tx utilizes an esthetic DuraTec coating with multiple layers of titanium nitride and titanium carbon nitride. This increases strength and wear resistance, while reducing surface roughness.
The system incorporates a new, industry-standard 0.05-inch/1.25-mm hex drive mechanism that simplifies placement, and its small center cavity design reduces the area in which food and plaque can accumulate.
A special, dual-sided tool allows clinicians to easily insert or remove the LOCATOR R-Tx retention inserts.
Designed to resist edge deformation and allow efficient abutment/insert engagement, the nylon retention inserts engage dual retentive surfaces on the abutment's exterior.

A custom, all-in-one vial holds the abutment and processing components, providing all the parts needed for the case.

By not utilizing internal engagement, Zest Anchors' design prevents debris and plaque from accumulating within the drive mechanism, which could impact proper seating.
The system also utilizes only one set of retention inserts, with straightforward retention values of zero, low, medium or high.
Compared to the previous design, enhancements to the abutment and retention insert work with a redesigned denture attachment housing to allow a 50% increase in pivoting capability (up to 60 degrees between two implants).
In addition, the abutment's new coronal geometry offers a narrower leading edge and taperlike effect that allows the patient to more easily align and properly seat the overdenture.
BOTTOM LINE
Featuring an evolutionary design with practical clinical benefits, the LOCATOR R-Tx is the latest advance in Zest Anchors' 40-year history of innovation. As a leader in implant-retained, tissue-supported overdenture attachments, the company has designed this new removable attachment system in a way that allows simplified placement by clinicians and patients alike.