Product Profile: OptiBond XTR, SonicFill 2 and RAPTOR burs from Kerr
Restorative system aids clinical efficiency and esthetic outcomes.
RESTORATIVE SYSTEM AIDS CLINICAL EFFICIENCY AND ESTHETIC OUTCOMES
OptiBond XTR, SonicFill 2 and RAPTOR burs from Kerr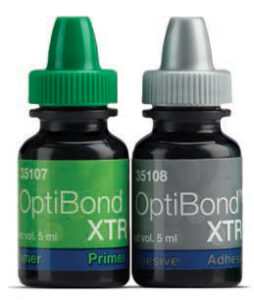 FEATURES AND BENEFITS: OPTIBOND XTR
Delivering predictable outcomes, OptiBond XTR is a universal bonding agent that bonds to all restorative substrates.
This self-etching adhesive's chemistry provides reliable bonding to cut and uncut enamel and dentin.
OptiBond XTR combines the best attributes of a total-etch adhesive with the simplified protocol of a self-etch technique — all in two bottles.
This product is also indicated for selective etching, so it's suitable for clinicians who prefer that technique.
Compatible with all resin cements, OptiBond XTR does not require the use of phosphoric acid, silane, desensitizers or dual-cure activators. In other words, there's no need for ancillary products. And because it provides effective etching and bonding without phosphoric acid, it helps protect against post-operative sensitivity.
Clinicians can choose between Kerr's convenient Unidose or traditional bottle delivery.

Easy Finishing and Polishing
Engineered for today's composites, Kerr's LS-7583 RAPTOR Resin Sculpting Set makes short work of finishing and polishing posterior class I and II restorations. Modeled after the Acorn 21B and Hollenback amalgam carver, the highly efficient burs in this set are used on composites in a similar manner, but with a rotary motion.
FEATURES AND BENEFITS: SONICFILL 2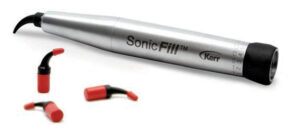 Featuring an improved formula with sonic-activated technology, SonicFill 2 builds on the award-winning performance of its predecessor by allowing easy, single-fill placement.
This advanced composite can be used to fill preps up to 5 mm deep in a single increment — without the need for a liner or capping layer.
Special rheological modifiers in SonicFill 2 react to the sonic energy applied through the handpiece, reducing the material's viscosity up to 84% during placement to ensure superior adaptation between the composite and bonded surface.
Retaining the original formula's high depth of cure and low shrinkage stress, SonicFill 2 contains nano-scale zirconium oxide and silica oxide filler particles for highly esthetic outcomes characterized by excellent gloss and color matching.
BOTTOM LINE
By greatly simplifying restorative cases, Kerr's OptiBond XTR, SonicFill 2 and TDF Series finishers and polishers help transform tedious posterior restorations into much faster — and more profitable — procedures.