Product Profile: Advantage Arrest, FluoriMax and FluoriMax 5000 from Elevate Oral Care
Fluoride Family Protects Against Dental Caries and Hypersensitivity.
Fluoride Family Protects Against Dental Caries and Hypersensitivity
FEATURES AND BENEFITS
Advantage Arrest
Although relatively new to U.S. oral health professionals, silver diamine fluoride 38% has been used around the world for decades.
Available exclusively from Elevate Oral Care, this material is cleared by the U.S. Food and Drug Administration and provides immediate relief from dentinal hypersensitivity.
Silver diamine fluoride discloses (i.e., stains) caries lesions, but will not discolor sound tooth structure.
This agent kills pathogenic microorganisms and hardens softened dentin, increasing its resistance to insult by acid or abrasion.
FluoriMax Varnish
Reportedly the only 2.5% sodium fluoride varnish available to U.S. clinicians, Elevate Oral Care's research shows fluoride uptake into enamel is statistically the same at 2.5% and 5% concentrations. • Its patented formula, featuring a hypoallergenic, food-grade shellac base, dries completely and maximizes fluoride uptake.
This material provides a nontacky coating that is seven to 40 times thinner than traditional varnishes.
FluoriMax's hydrophilic formula flows easily across and between teeth for superior coverage.
FluoriMax 5000 
Providing 5000 ppm sodium fluoride and featuring a pleasing vanilla-mint flavor, Elevate Oral Care's prescription dentifrice is formulated to deliver maximum fluoride uptake.
This dentifrice contains 10% xylitol for increased protection. • FluoriMax 5000 comes in an airport-friendly, Transportation Security Administration-compliant 3.4-ounce tube, so it's easy for patients to take along while traveling.
Clinicians and patients can also choose a twin pack that's designed to provide six months of continuous therapy between appointments.
BOTTOM LINE
Focused on innovative therapeutic and preventive products, Elevate Oral Care provides clinical solutions that are sold directly to dental professionals. The company also offers caries risk assessment tools designed to enhance patient communication. Advantage Arrest, FluoriMax varnish and FluoriMax 5000 dentifrice are three examples of the firm's commitment to helping clinicians effectively manage caries risk and hypersensitivity.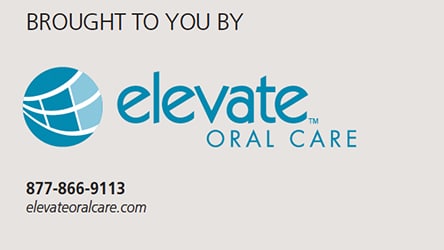 From Decisions in Dentistry. May 2017;3(5):56.