Product Profile: Orthopantomograph OP300 Series
Advanced Imaging Boosts Diagnostic And Treatment Planning Efficiency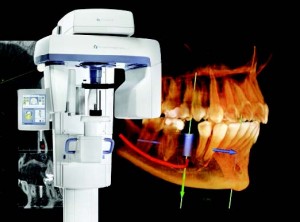 FEATURES AND BENEFITS
Featuring free field-of-view (FOV) positioning and award-winning, three-dimensional (3D) treatment software, the ORTHOPANTOMOGRAPH OP300 platform is one of the most comprehensive three-in-one imaging systems available.
Combining advanced panoramic imaging with cephalometric and/or cone beam 3D imaging, this highly adaptable system will ramp up the diagnostic capabilities of general dentists and specialists alike.
Led by the feature-rich OP300 Maxio — the most advanced imaging unit from INSTRUMENTARIUM DENTAL — this series allows clinicians to obtain diagnostic-quality images while keeping radiation dosage to a minimum.
Equipped with proprietary Low Dose Technology, the OP300 platform provides 3D scans at a dose up to five times lower than that of a typical two-dimensional (2D) panoramic image, and it reduces exposure up to 80% compared to a standard 3D acquisition protocol.*
By automatically setting exposure values based on patient-specific measurements, INSTRUMENTARIUM DENTAL Automatic Dose Control (ADC) takes the guesswork out of acquiring the right image. ADC is available for 2D and 3D on the OP300 Maxio, and for 2D on the OP300 model — which offers the ability to upgrade to 3D in the future. This gives dental professionals peace of mind when choosing a system.
Designed to provide clinically rich 2D or 3D images at the optimal dose for each patient, ADC reduces potential operator errors in setting exposure values, thus reducing the likelihood of retakes.
Offering free FOV positioning, the OP300 Maxio allows operators to choose the region of interest with complete freedom in positioning.
Five FOV sizes on the OP300 Maxio — ranging from 5×5 cm up to 13×15 cm (optional) — offer dental professionals the ability to diagnose the entire maxillofacial region for a more holistic approach to patient care. The OP300 provides three FOV sizes from 6×4 cm to 6×8 cm to diagnose the complete dental arch.
The OP300 platform also offers a multilayer panoramic option that provides five panoramic images with only one scan, allowing operators to choose the optimum layer for their diagnostic needs.
BOTTOM LINE
Offering the flexibility of three-in-one imaging, the OP300 platform from INSTRUMENTARIUM DENTAL is a comprehensive diagnostic solution for today's dental office. With straightforward imaging protocols and intuitive, yet free, patient positioning, it allows clinicians to choose between panoramic, cephalometric and cone beam 3D radiography. Featuring an easy-to-use interface, award-winning software, Automatic Dose Control and Low Dose Technology, the OP300 series aids accurate and efficient diagnosis.
*Ludlow JB. OP300 Maxio dosimetry report, based on a 5×5 cm scan with LDT. April 2014.