Marketplace
A listing of featured products.
POWERFUL PANORAMIC IMAGING
A compact, wall-mounted panoramic imaging system, the MyRay Hyperion X5 from Cefla Dental (704-598-0020; myray.it) can be installed in almost any operatory. Offering an intuitive user interface, it allows practitioners to capture up to 15 high-definition projections in only a few steps. Automatic focus and MyRay's Morphology Recognition Technology eliminate the need to manually set values for exposure and jaw size. In addition, the QuickPan feature helps minimize exposure times and radiation dosage, while the MultiPan function lets operators choose the view that will best highlight the clinical area of relevance. Proprietary iRYS image management software allows image sharing with all PCs in the practice.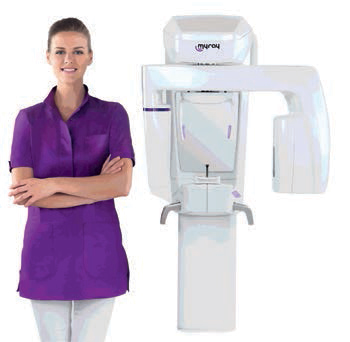 CONTAINERS KEEP IT ALL TOGETHER
Engineered for safety, Hu-Friedy's (800-483-7433; hu-friedy.com) sterilization containers are designed to house cassettes and instruments during sterilization processing. An alternative to the wrap and pouch materials commonly used to package cassettes and instruments, these sturdy, reusable containers offer a long service life. Not only do they allow locked transit of loose instruments, they also help maintain sterility during storage. The complete line of accessories includes filters, indicator cards and tamper-evident seals.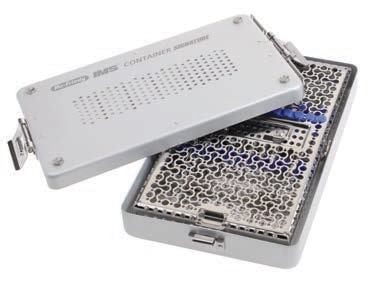 CORDLESS OBTURATION DUO DEBUTS
EvoFill Duo, a new cordless obturation system from DiaDent (604-451-8851; diadent.com), consists of the EvoFill backfill obturation device and EvoPack warm vertical compaction unit. The EvoFill allows precisely controlled gutta-percha extrusion, fast heating and digital controls. Hygienic, single-use gutta-percha cartridges help ensure reliable obturation, while the EvoPack unit tightly compacts material to effectively seal canals — including lateral canals. The compactor features a light-guided plugger, instant heating and digital temperature controls.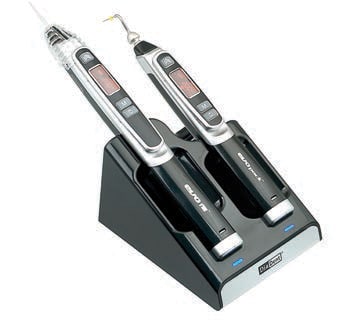 REMOVAL SYSTEM ANNOUNCED
The Attachment Removal Kit for clear aligners from Shofu (800-827-4638; shofu.com) is designed to offer clinicians safe and effective protocols and tools for removing orthodontic attachments created with direct composite. This new kit provides a sequence of logical steps and a choice of instruments — such as finishers, polishers and disks — that will assist operators in detaching the composite and restoring the tooth to a highly esthetic look.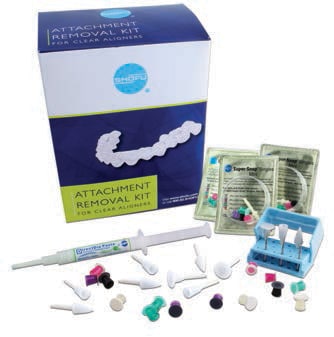 SCANNING IN LIVING COLOR
Planmeca (972-234-3880; planmeca.com) has unveiled its new PlanScan with optimized scanning speed, optional color capability and updated PlanCAD 5.7 software. In the color mode, PlanScan offers clinicians a new tool to accurately capture and visualize the oral landscape in color — which, among other advantages, enhances margin definition and detail. Planmeca's color tip technology and activation kit allow dentists to upgrade their existing PlanScan units to colorscanning capability. Interchangeable with all PlanScan digital scanners, the new tips are also autoclavable.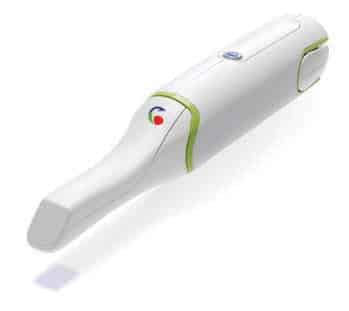 SENSOR HOLDER ALLOWS FLEXIBLE WORKFLOWS
Designed exclusively for Dexis radiographic sensors, the new Rayzor from TrollDental (800- 537-8765; trolldental.com) allows dental teams to take both bitewing and periapical images without removing the holder from the sensor. The thin holder, which enhances patient comfort, lets team members adjust the disposable tab or arm to any of five positions. Clinicians simply move the aiming device when they change image positions.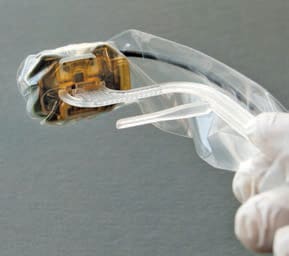 KEEP TABS ON INSTRUMENTS
LM Dental (406-745-3746; LM-Dental.com) has debuted its LM Dental Tracking System that uses wireless radio frequency identification (RFID) technology to track and monitor dental instruments and materials. Assisted by RFID readers, clinicians can trace where instruments and materials are, and by whom and on which patients they have been used, thus helping to ensure patient safety while keeping track of inventory. Compatible with all instruments and materials, the system can be integrated with other information technology (such as patient, asset and clinic management systems), as well as treatment units and sterilization centers.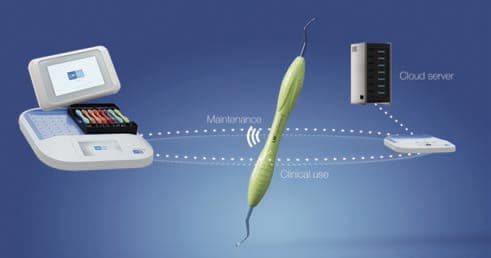 LIQUID DENTAL DAM
Vista Dental's (877-418-4782; vista-dental.com) Fluorescent Express White Liquid Dam material makes in-office whitening procedures safer and easier than ever. This light-cured resin barrier protects soft tissue with an impenetrable seal, yet can be easily removed. Described as the ideal way to protect oral tissue or isolate adjacent teeth, the material comes in a 2 ml syringe, and is packaged with 10 pre-bent tips and 10 Vol-u-Flo tips.

AUTOCLAVE FILTRATION SYSTEM
SciCan (724-820-1600; scicanusa.com) has released its VistaPure water filtration system for StatIM autoclaves, Bravo fractionated vacuum sterilizers, HydrIM instrument washers, ultrasonic cleaners, dental bottles, and other select autoclaves and washers. VistaPure connects to the city water supply where it enters the dental office, and sends purified water where it is needed. A handheld wand makes it easy to fill autoclaves, while the faucet feature makes simple work of filling dental unit bottles. Featuring a high-volume 4.25-gallon storage tank, the system is also equipped with an inline meter that monitors water quality and lets staff members know when it's time to replace cartridges.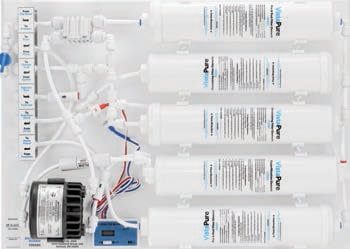 NEW CEMENT OFFERS CLEANUP INDICATOR
Kerr Restoratives (800- KERR123; kerrdental.com) announces Maxcem Elite Chroma, a self-etch/selfadhesive resin cement that offers a color cleanup indicator. During application, the cement's initial pink color fades at the gel state, telling the clinician when it's time to clean up excess cement. In addition to its proprietary One-Peel cleanup, Maxcem Elite Chroma does not require refrigerated storage. Said to provide strong and durable bonds, it's compatible with all indirect restoration materials. Radiopaque for easy identification, the cement is available in a syringe system that comes with single-use automix tips and curved dispensing tips.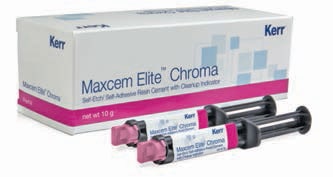 ERGONOMIC MIXING TIPS
Featuring a color-coded labeling system that aids office organization, Pac-Dent International's (909-839-0888; pac-dent.com) new iMix Grip mixing tips are designed to provide optimal mixing performance and effortless dispensing. These economical tips allow materials to flow bubble-free into the margins of tooth preparations, and are compatible with existing cartridges and mixers. A key ergonomic advantage is that the iMix Grip base is said to be 46% larger than traditional mixing tips, so it requires less gripping force — which, in turn, allows easy attachment and removal.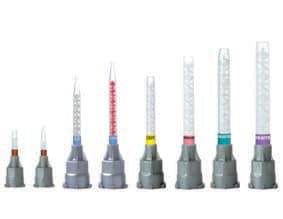 LOW-DOSE CEPHALOMETRIC RADIOGRAPHY
Joining Air Techniques' (800-AIRTECH; airtechniques.com) radiography lineup, the ProVecta S-Pan Ceph is designed to provide high-quality cephalometric images at the lowest possible radiation dosage. Offering optimum workflows and a fast, 4.1-second scanning time, the ProVecta S-Pan Ceph helps reduce the risk of motion blur. Twin sensors eliminate time-consuming switching between panoramic and cephalometric imaging modes, and the touchscreen interface lets clinicians choose between 17 panoramic and five cephalometric programs. In addition, S-Pan technology compiles up to 20 layers from a single panoramic rotation into one clear image of all areas of the dental anatomy.