Marketplace
A listing of featured products.
MULTIFUNCTIONAL RADIOGRAPHY UNIT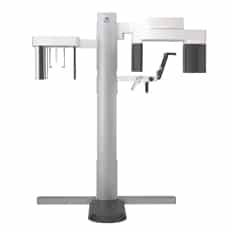 J. Morita (877-566-7482; morita.com) now offers the Veraview X800, a radiography unit with three-dimensional (3D), panoramic and cephalometric capabilities. The X800 features technology that automatically sets the optimal X-ray beam angle, horizontal for 3D or raised 5° for two-dimensional panoramic imaging. This slight upward projection in panoramic mode, the company says, enhances image quality by eliminating potential superimposition of anatomical structures. For 3D imaging, a horizontal beam minimizes distortion and reduces artifacts. The unit offers up to 11 fields of view (FOV) covering dental and maxillofacial areas. This model also offers Morita's 3D Reuleaux Full Arch FOV, as well as zoom reconstruction capability.
CABINET-MOUNTED SYSTEM
Beaverstate Dental Systems (503-538- 8756; beaverstatedental.com) now offers the RD-3150. Described as a contemporary control for three handpieces, the RD- 3150 measures only 12 inches wide, 9 inches deep, and 7 inches high. Its streamlined design allows a small footprint, yet it provides the functionality of a duo unit with left-hand/righthand capability. The RD-3150 also offers variable positioning for handpieces and instruments.
LASER SOFTWARE UPDATE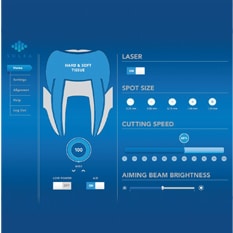 Convergent Dental (800-880-8589; convergentdental.com) has introduced the 3.2. version of Solea Software (SW). Offering a significant increase in cutting speed, smoother surface finishes and Solea's analgesic effect, SW 3.2 further simplifies the user interface with a single mode that cuts any tissue in the oral cavity. The update is delivered via WiFi free to all existing Solea users with an active service contract.
EXPANDED FILE SIZES OFFERED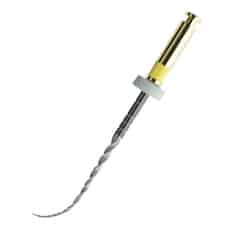 Coltene (800-221-3046; coltene.com) has expanded its HyFlex EDM product line with new file sizes. Manufactured using electrical discharge machining technology, HyFlex EDM files are said to offer up to 700% greater fracture resistance compared to traditional nickel-titanium files. The HyFlex EDM system now offers files in sizes 21 mm and 25 mm. In addition, a 20/.05 Preparation File has been added to the line to treat curved canals.
ENAMEL-PROTECTING TOOTHPASTE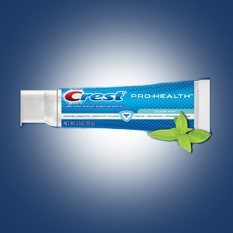 Procter & Gamble (513-983-1100; dentalcare.com) introduces Crest Pro- Health Clean Mint toothpaste, which helps to restore gingival health and protect enamel against acid erosion. Crest Pro-Health Clean Mint toothpaste is described as smooth, gentle and foaming, and is said to provide an invigorating clean.
COMFORTABLE SEATING ON TAP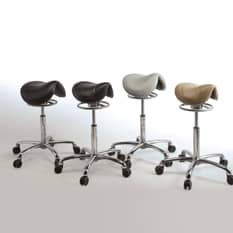 Brewer (800-558-8934; brewercompany.com) introduces two saddle stool designs to its 135 Series to help clinicians be more comfortable and productive. Each features 360° Dynamic Motion technology to allow freedom of movement that is said to engage core muscles and help strengthen back muscles to reduce pain and fatigue. The 135AS has a 13-inch-wide seat and is available in low or standard cylinder heights. The 135JS includes a standard-size seat and standard to high cylinder heights. Both include ultra-cushion comfort and a control ring just below the seat for adjusting seat height and the level of dynamic motion.
DUAL-CURE BULK-FILL RESTORATIVE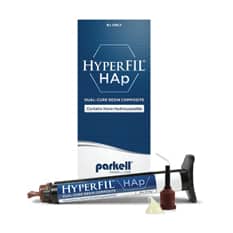 Parkell (800-243-7446; parkell.com) has introduced its new dual-cure, bulk-fill composite containing nanohydroxyapatite, HyperFIL HAp. Just like the original HyperFIL, HyperFIL HAp initially begins a gel stage upon initial self-curing mode, allowing condensation with a hand instrument to create interproximal contacts. This restorative is designed for creating quick, easy bulk-fill direct and indirect posterior restorations, especially when heavy occlusal loads are anticipated. The nano-hydroxyapatite gives restorations a more esthetic, lifelike appearance. HyperFIL HAp contains 74% filler by weight and boasts a compressive strength of 355 MPa; its flexural strength is 227 MPa. The proprietary low-shrinkage resin gives HyperFIL HAp greater marginal adaptability and predictability for long-lasting, functional posterior restorations.
DISPOSABLE FACE SHIELDS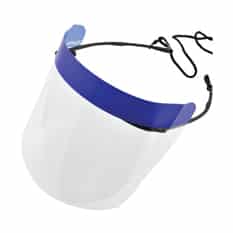 Palmero Healthcare (800-344-6424; palmerohealth.com) introduces Dynamic Disposables Snapeez Face Shields, which feature an easy-to-use snap-on disposable lens. The full and half shields use Ultra-Clear Technology to prevent fogging, glare and static electricity buildup. Offering excellent front and peripheral vision, these face shields provide comfortable coverage, as they are designed to fit over prescription glasses. The self-sealing face shields prevent splatter exposure and meet Occupational Safety and Health Administration bloodborne pathogens and personal protective equipment guidelines.
ERGONOMIC INSTRUMENTS DEBUT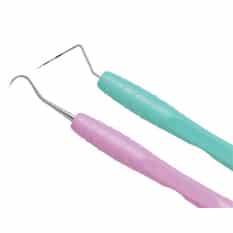 PremierAir hygiene and diagnostic instruments from Premier (888-773-6872; premusa.com) combine balanced ergonomic handles with a nonslip grip that requires reduced pressure to maintain control, resulting in less hand fatigue. These instruments feature precision tips that incorporate SmartSharp Technology to ensure a well-defined edge and precise angles. The PremierAir probes are easy to read and resistant to wear. The explorers are said to have excellent tactile sensitivity and sharp points for quick detection of caries, calculus and other irregularities.
SURFACE DISINFECTION MADE EASY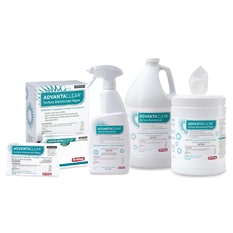 Hu-Friedy (800-483-7433; hu-friedy.com) has launched the AdvantaClear surface disinfectant product line. Available as wipes, liquid or spray, AdvantaClear features a 1-minute kill time for 30 of the most common pathogens, with a 2-minute kill time for tuberculosis. A ready-to-use, intermediate-level disinfectant with a low-alcohol formula that reportedly will not affix blood or debris to surfaces, AdvantaClear is designed to be compatible with a wide range of surfaces, including acrylic, aluminum, brass, copper, stainless steel, chrome, plastic and more. These products are said to help eliminate odor-causing bacteria with no harsh fragrance, making the disinfectant's use less irritating to clinicians and patients alike.
DIGITAL RADIOGRAPHY SYSTEM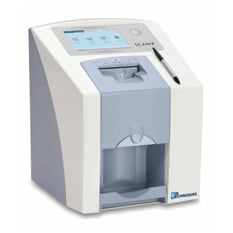 The ScanX Swift View is the latest in the new View Series of digital radiography systems from Air Techniques (800-247-8324; airtechniques.com). This WiFi-enabled system offers a color touchscreen and is capable of digitizing all intraoral formats. ScanX Swift View's digital filters ensure reliable diagnostics with a theoretical resolution of 40 LP/mm, 2000 dpi, according to the company. The high-resolution touchscreen provides brilliant image quality, allowing the oral health professional to quickly check the results of the X-ray with the preview function.
COMPACT PROPHY UNIT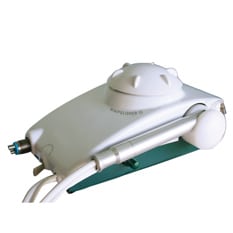 Henry Schein (800-372-4346; henryscheindental.com) offers the Minipolisher II, a compact air-polishing unit that features a sleek design with patented Homogenous Stream Technology for stain and plaque removal. The device includes an autoclavable and lightweight handpiece that can be used to clean tooth surfaces before bonding or abutments before seating restorations. The company reports the U.S. Food and Drug Administration has cleared the device for implant maintenance, specifically for cleaning around implants and under dentures.
From Decisions in Dentistry. May 2018;4(5):58-59.