Marketplace January 2022
A listing of featured products.
TOOTHPASTES PROMOTE GINGIVAL HEALTH
Procter & Gamble (800-543-2577; dentalcare.com) offers Crest Gum Detoxify and Crest Gum and Sensitivity. Crest's stannous fluoride formulation provides optimal caries protection and also supports gingival health. Crest Gum Detoxify and Crest Gum and Sensitivity are active up to 4 mm below the gum line and are designed to penetrate deep into oral biofilm to neutralize gingivitis- and caries-causing pathogens.
---
SONIC TOOTHBRUSH FOR KIDS
BURST Oral Care (burstoralcare.com) has launched the BURST kids Sonic Toothbrush. The toothbrush features a 2-minute timer that pauses every 30 seconds to indicate it is time to brush the next quadrant, and features standard or sensitive brushing modes. The small, ergonomically designed soft-touch silicone handle provides a sure grip and easier manipulation of the brush for children developing fine motor skills. Featuring a pediatric-sized brush head and soft-charcoal, tapered bristles, the BURSTkids Sonic Toothbrush is suited for those with primary teeth to mixed dentition (ranging from 2-year-olds to preteens). Kids will appreciate the vibrant color choices of purple, pink or blue.
---
DISPENSER DELIVERS WARM COMPOSITE
The VisCalor Dispenser from VOCO (888-658-2584; voco.dental) is a composite capsule warming and application device designed for VOCO's new two-in-one thermo-viscous VisCalor composite line. This ergonomically designed unit enables the rapid warming of VisCalor in 30 seconds, while maximizing working time to as much as 2 minutes, 30 seconds. The warmer uses near-infrared technology in tandem with VOCO's newly designed unit dose capsules. The VisCalor Dispenser has a removable, autoclavable sheath to facilitate infection control, and features a lithium battery that can be easily charged via a mini USB cable.
---
TEMPORARY RESIN CEMENT DEBUTS
NexTemp from Premier (888-773-6872; premierdentalco.com) is a reliable temporary cement with firm retention that lasts between visits, yet can easily be removed when needed. NexTemp is the only eugenol-free resin cement with a proprietary potassium nitrate, chlorhexidine and fluoride formula designed to prevent microleakage and postoperative sensitivity. In addition, it creates an excellent seal around margins so there's no need to worry about wash-out while patients await their final restoration. Available in opaque and clear shades, NexTemp temporary cement is said to deliver clinically predictable results.
---
ONE-SHADE FLOWABLE COMPOSITE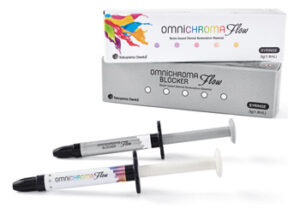 Tokuyama Dental's (877-378-3548; omnichromaflow.com) Omnichroma Flow is a one-shade flowable composite that's capable of matching any of the 16 Vita Classical tooth shades with a single shade. By eliminating the need to shade match or stock multiple materials in different shades, Omnichroma Flow saves time and money. Superior esthetics and excellent mechanical properties — including flexural and compressive strength, high wear resistance, and low shrinkage — make Omnichroma Flow an excellent choice for ­dentists looking for great ­cavity adaption and long-term performance. In addition, Omnichroma Blocker Flow aids shade matching in cases where not enough tooth structure is left, or when staining needs to be blocked out.
---
CLINICAL EYEWEAR COLLABORATION
Through a joint effort with Ziena Eyewear, Designs for Vision (800-345-4009; designsforvision.com) has debuted Aerosol Protection Loupes. This collaboration was initiated at the start of the COVID-19 pandemic when Designs for Vision was contacted by clinicians who wanted to incorporate protection from aerosols into their loupe setups. A surgeon from the U.K. suggested Moisture Chamber Glasses, which utilize a seal around the eye to aid dry eye syndrome. Designs for Vision contacted the manufacturer, Ziena Eyewear, and the partnership resulted in loupes featuring soft silicone inserts to provide a protective seal around the eyes. These inserts are connected to the frame via embedded magnets, so they are easy to remove and disinfect. The Aerosol Protection Loupes are offered in 2.5x, 3.0x and 3.5x magnifications, and will accommodate most prescriptions. The stylish frames are available in black or tortoise shell, and accept both wireless and wired headlights.
---
From Decisions in Dentistry. January 2022;8(1)45.