Marketplace
A listing of featured products.
ALL-TISSUE LASER SYSTEM RECEIVES 510(k) MARKETING CLEARANCE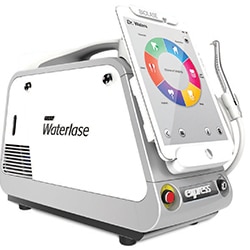 Biolase's (888-424-6527; biolase.com) Waterlase Express all-tissue laser system has received U.S. Food and Drug Administration 510(k) clearance for commercial distribution to U.S. clinicians. Designed for easy, intuitive operation, this Er,CR:YSGG laser system features a comfortable contra handpiece for optimal intraoral access. It also offers procedural presets and step-by-step protocols that help guide clinicians through laser-based periodontal and implant procedures.
QUICK RELIEF FOR SENSITIVE PATIENTS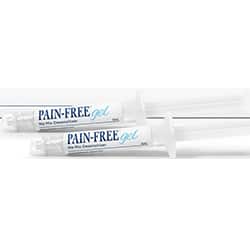 Parkell (800-243-7446; parkell.com) has added PainFree Gel to its product line. Offering immediate relief, it delivers desensitizing results exactly where patients need it, thanks to the gel's thick consistency that won't run off the tooth. This new desensitizer, which does not require acid etching, seals open dentinal tubules with a tripolymer formula that penetrates into sidewalls and grafts the molecules tightly to the calcium in the hydroxyapatite. The kit includes two 3-ml syringes of PainFree Gel and 20 needle-nose intraoral applicator tips.
FLEXIBLE PURCHASE OPTION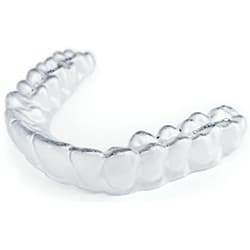 ClearCorrect (888-331-3323; clearcorrect.com) gives clinicians flexible choices with its new Flex and Unlimited purchasing options. Practices can opt between paying per aligner, or paying a flat rate for five years of unlimited aligners, retainers and replacements. The Flex option allows dentists to purchase as many, or as few, aligners and retainers as needed, while the Unlimited option is an economical solution for offices that perform higher volumes of aligner therapy.
ESTHETIC LOW-SHRINK COMPOSITE DEBUTS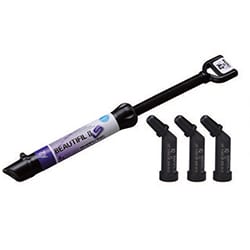 Shofu (800-827-4638; shofu.com) introduces Beautifil II LS, which is indicated for all classes of restorations. Formulated to minimize polymerization shrinkage and subsequent shrinkage stress, Beautifil II LS (for "low shrink") is said to deliver excellent performance and predictable outcomes. In addition, Shofu's proprietary bioactive Giomer technology facilitates fluoride release and recharge. Designed for high wear resistance and easy polishing, this material offers tooth-like esthetics with natural fluorescence.
PRECISION HANDPIECE OFFERED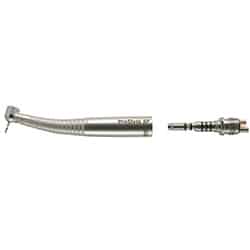 Lares Research (888-333-8440; laresdental.com) debuts its ProStyle SF highspeed series. These handpieces feature new cellular optics for improved light output, and a SteelGrip push-button chuck system that grasps the bur with 23% more force than prior models. Precision balancing of the ceramic-bearing turbine is said to ensure quiet operation. Equipped with SilentForce technology, the compact-head model offers 18 watts of power, while the standard-head handpiece delivers 20 watts.
MULTIPURPOSE AIR POLISHER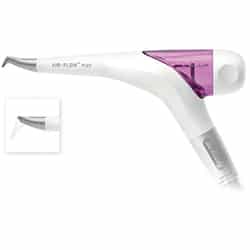 The Air-Flow Handy 3.0 Premium from Hu-Friedy (800-483-7433; hu-friedy.com) consists of two handpiece attachments that help oral health professionals comfortably — and efficiently — remove biofilm above and below the gingival margin. Featuring a sleek, lightweight design, this unit is designed to ensure optimal clinician comfort while providing an unobstructed view of the treatment area. The Plus handpiece removes biofilm and stain supragingivally and in shallow periodontal pockets, while the Perio-Flow handpiece is indicated for periodontal pockets greater than 4 mm. The unit includes the Perio handpiece and Perio-Flow nozzles for biofilm removal in pockets up to 5 mm.
MINI LIP BALM ENSURES PATIENT COMFORT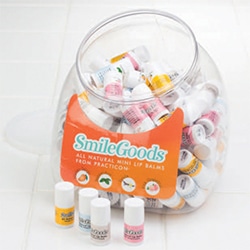 SmileGoods Mini Lip Balm from Practicon (800-959- 9505; practicon.com) helps patients soothe and moisturize their lips before, during and after dental appointments. The 0.05-ounce twist-up balms are available in multiple flavors and are made from natural ingredients, including sunflower oil, beeswax, extra virgin olive oil, vitamin E and aloe vera. SmileGoods Mini Lip Balms are available in canisters of 120.
DUAL-CURE COMPOSITE DELIVERS MAXIMUM CLINICAL FLEXIBILITY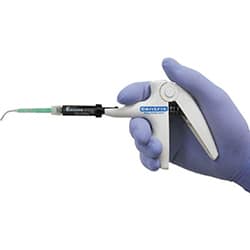 Centrix (203-929-5582; centrixdental.com) offers Encore D/C, a dual-cure, core buildup composite that lets clinicians build up just the coronal core or fabricate a composite post and core that bonds the post, tooth and core together. This material's nonslumping formula eliminates the need to use a matrix/core form, and it can be delivered directly to the post hole with the needle tip. Designed to ensure optimal comfort for sensitive patients, it's available in MiniMix unit-dose delivery that eliminates waste.
RELIABLE LOW-SPEED HANDPIECE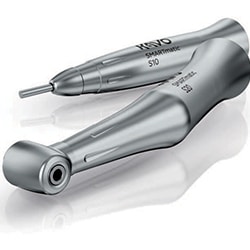 The new SMARTmatic low-speed handpiece series from KaVo (888-275- 5286; kavo.com) provides ease of use and helps optimize clinical outcomes. SMARTmatic straight and contra-angle handpieces are designed for reliability, versatility and efficiency. Made of durable stainless steel, these instruments feature small heads that won't obstruct the field of operation and precision ball bearings for smooth performance. The series is indicated for endodontics, restorative dentistry, prophylaxis, polishing and more.
ADVANCED GLOVE TECHNOLOGY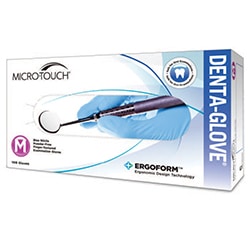 Ansell (732-345-5400; ansell.com) now offers its Micro-Touch Denta-Glove lineup, which it bills as a diverse portfolio of ergonomic exam gloves. Developed specifically for dental professionals, each glove in the series boasts advanced film technology and is tested for biocompatibility. Some models also feature special inner coatings to promote hand health.
ULTRASONIC TIPS FOR ENDODONTISTS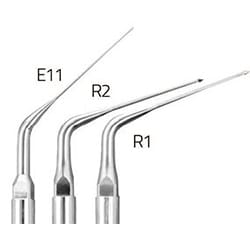 Helse Ultrasonic (888-704-3573; helseultasonic.com) introduces three ultrasonic tips for the endodontic market. The E11 Heatsonic is a 0.5 taper/20 ISO insert that's ideal for thermo-plasticizing gutta-percha in the most apical portion of the canal. Indicated for retreatment in oval-shaped canals, the R1 Clearsonic tip is used for selective cleaning of areas often left untouched by traditional files. The R2 Flatsonic tip is reportedly effective for removing gutta-percha and retreatment in long, oval canals.
BRUSH-ON WHITENING SYSTEM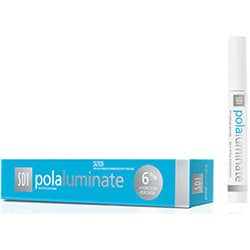 SDI Limited (800-228-5166; sdi.com.au) has added the fluoride- releasing, brush-on Pola Luminate tooth whitening system to its lineup. This mint-flavored, low-viscosity, fast-drying solution contains 6% hydrogen peroxide to ensure quick bleaching. Patients can apply Pola Luminate to a single tooth or multiple teeth without the need for trays or whitening strips. Clinicians provide an initial in-office consultation to demonstrate the treatment.
CONE BEAM COMPUTED TOMOGRAPHY WITH MOVEMENT CORRECTION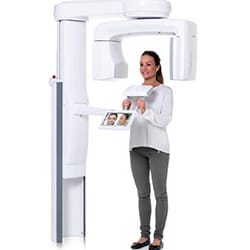 Planmeca (630-529-2300; planmeca.com) has launched its Planmeca Viso cone beam computed tomography unit. Offering high quality diagnostic imaging at a low radiation dose, Planmeca Viso employs a proprietary CALM algorithm for patient movement correction that can be set preventively before imaging, or after exposure. Patient positioning is coordinated via the unit's control panel, which utilizes integrated cameras and a live video view, allowing for exact yet flexible positioning. Clinicians can also perform field of view adjustments from the live-control panel view.
From Decisions in Dentistry. June 2017;3(6):52—53.