Marketplace
A listing of featured products.
PROTECTING DENTAL UNIT WATERLINES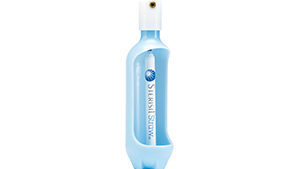 Sterisil (719-622-7200; sterisil.com) has added the Sterisil Straw V2 to its line of dental waterline treatment solutions. Based on the original Sterisil Straw, the Straw V2 features residual silver disinfectant, a built-in shock treatment, and a lifespan of up to 365 days. Designed to kill odor-causing bacteria, the Straw V2 is designed to provide water purity rated at ≤ 10 colony-forming units per milliliter. Compatible with any size dental bottle, the new design offers a Luer Lock fitting that is said to enable a more reliable connection and reduce installation and replacement time. Nontoxic and noncorrosive, the Straw V2 does not contain oxidizers, such as iodine and chlorine.
EASY-TO-APPLY FLUORIDE VARNISH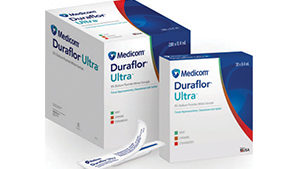 Duraflor Ultra 5% sodium fluoride varnish from Medicom (800- 361-2862; medicom.com) is indicated for caries prevention and treatment of hypersensitive teeth. Sweetened with xylitol, Duraflor Ultra promises high fluoride release over a two-, fourand 24-hour period. Easy to apply, the product is said to adhere well, thus ensuring the maximum amount of varnish stays on the tooth instead of being ingested. In addition, it's offered inpatient-pleasing mint, caramel and strawberry flavors.
AN ALTERNATIVE TO PLASTIC PROBES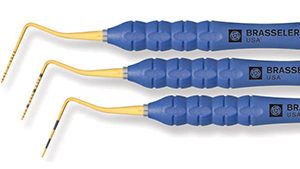 Brasseler USA (800-841-4522; BrasselerUSA.com) has expanded its line of ImplantPro products with the introduction of single-ended ImplantPro Titanium Probes. Indicated for use on implants and natural dentition, these instruments feature Brasseler's lightweight PEEK (polyether ether ketone) handles for ideal ergonomics. Clinicians can choose from three probe-marking styles.
INTERIM BITE PLANE SERVES AS A DIAGNOSTIC AND HEALING AID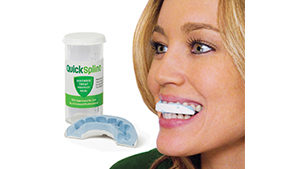 Orofacial Therapeutics (800-760-0526; quicksplint.com) has announced that QuickSplint — a practical, efficient and affordable interim bite plane — is now offered through Benco Dental. Fabricated chairside in 5 minutes, this product is indicated for broad applications as both a diagnostic and healing aid. Designed for days-long to weeks-long wear, this custom-fit bite plane is also reimbursable, conforming to dental codes D8210 or D9940.
PRECISION-CUT DIAMOND BURS DEBUT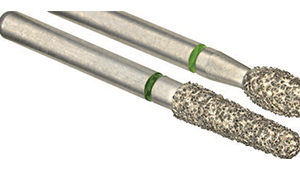 Clinician's Choice (800-265-3444; clinicianschoice.com) announces its CleanCut Extended Use Diamonds, which the company bills as precision engineered cutting instruments. CleanCut diamond burs are offered in shapes and grits that meet the requirements of today's demanding crown and bridge preparations. Manufactured by bonding uniform diamond particles in a pattern that prevents detachment and ensures consistent performance, these burs feature strategically spaced diamond clusters that create debris-clearing channels to prevent clogging and allow noticeably faster cutting. Autoclavable for effective cutting from one case to the next, they also feature universal-length shanks so they're suitable for small or large handpieces.
POWERFULLY PRECISE ULTRASONIC SCALER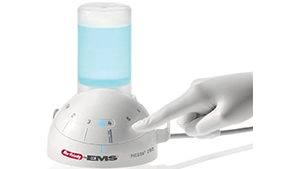 Hu-Friedy (800-483-7433; hufriedy.com) offers the Piezon 250 ultrasonic scaler. Featuring quiet operation and self-regulating amplitude adjustment, this piezoelectric unit is equipped with a large, ergonomic interface that makes it easy for clinicians to select or change power settings. In addition, the handpiece remains illuminated 20 seconds after the foot control is released to provide continued illumination of the treatment site.
WIRELESS INTRAORAL SCANNING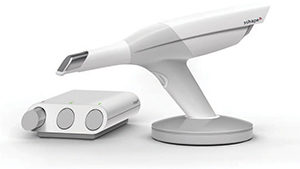 New from 3Shape (908-867-0144; 3shape.com the TRIOS 3 Wireless is, as its name suggests, a wireless version of the company's award-winning TRIOS intraoral scanner. The TRIOS 3 Wireless, which connects via Wi-Fi to laptops and the TRIOS cart, simplifies scanning by eliminating the need to touch the keyboard or mouse when scanning a patient. Among other indications, this device can be used to scan for removable partial dentures, temporary crowns, virtual diagnostic wax-ups, and post and core cases.
GENTLE ON GINGIVA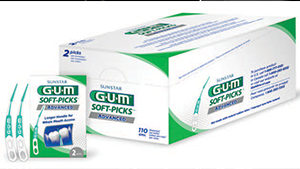 Sunstar (800-528-8537; GUMbrand.com) offers GUM Soft Picks Advanced for effective and complete interdental cleaning. Facilitating access to posterior dentition, these dental picks feature a tapered design that easily accesses small or wide spaces to gently remove plaque and massage gingiva. Disposable GUM Soft Picks Advanced can be used with orthodontic appliances, implants and bridges.
VARNISH FOR SENSITIVE TEETH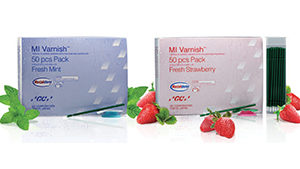 Indicated for treatment of hypersensitive teeth and preventing caries, MI Varnish by GC America (800-323-7063; gcamerica.com) goes on smoothly and dries clear. This 5% sodium fluoride varnish with Recaldent technology brings bioavailable calcium, phosphate and fluoride to the tooth surface, releasing high levels of fluoride. Available in a 50-count, unit-dose box, it's offered in mint or strawberry flavors.
MICROSCOPE ENHANCES DIAGNOSIS AND TREATMENT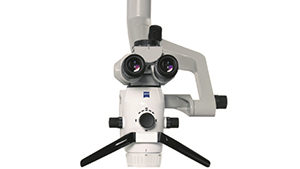 The EXTARO 300 by ZEISS (800-442-4020; zeiss.com/us/dentistry) promises the highest level of performance in all fields of dental surgery. Combining caries detection technology with optical magnification, EXTARO 300 enhances diagnostic capability and treatment outcomes. The device's fluorescence mode helps clinicians distinguish between natural hard tissue and dental composites, and in identifying decayed tissue in previously treated caries. Additional features include activation of capture and visual modes at the push of a button, and a TrueLight mode that supports accurate identification of relevant dental tissues.
ENHANCING CONNECTIVITY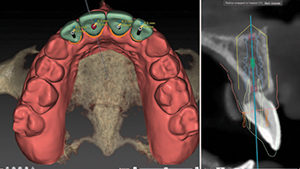 Scheduled to launch in fall 2017, the DTX Studio from Nobel Biocare (800-322-5001; nobelbiocare.com) and KaVo Kerr (800-537-7123; kavokerr.com) is designed to enhance connectivity across the entire treatment team. DTX Studio will allow users to select the diagnosis, design and treatment planning modules they need, depending on their role and experience. This open system will connect to KaVo imaging devices and allow import of images from any X-ray unit, intraoral scanner or desktop scanner. Its diagnostic module features an interface with multiple workspaces to assist with accurate diagnosis. The DTX Studio is also said to make it easier for dental professionals to connect with their preferred production source.
AWARD-WINNING RETRACTION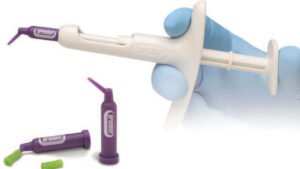 Premier (888-670-6100; premusa.com) introduces its award-winning Traxodent in new unit-dose capsules. A suitable clinical choice whenever hemostasis and retraction are required, Traxodent is ideal for use prior to taking impressions, or for cementation and bonding procedures. The absorbent paste displaces soft tissue and works synergistically with the astringent properties of aluminum chloride to create retraction. Packaged in individual foils for maximum freshness, the unit doses are easily applied via the syringe dispenser.
From Decisions in Dentistry. May 2017;3(5):58—59.