Marketplace
A listing of featured products.
UNIVERSAL INJECTABLE DEBUTS
GC America (800-323-7063; gcamerica.com) now offers G-aenial Universal Injectable composite. The homogeneously dispersed, ultrafine-particle formula promises high flexural strength and wear resistance for a durable and long-lasting restoration that retains its gloss years after placement. G-aenial Universal Injectable provides an easy solution for all Class I through Class V cases. In addition, it is said to be easy to manipulate and shape. It is also designed to provide excellent adaptation for reduced occurrence of porosities and air bubbles.
CORDLESS, HEATED COMPOSITE DELIVERY EASES PLACEMENT
Vista Dental (877-418-4782; vista-dental.com) has taken the wraps off of its new Phasor unit that heats composite material to 150° Fahrenheit in seconds. Dentists will appreciate the device's ability to sustain a constant temperature throughout the procedure, and that materials remain sculptable, non-sticky and easily shaped during manipulation. Best of all, the Phasor's lightweight, cordless design maintains the look and feel of a traditional composite delivery gun.
SCANNING TIP FOR SMALL MOUTHS
Planmeca (800-537-6070; planmeca.com) now offers the new SlimLine tip for its Planmeca Emerald intraoral scanner. This small, thin scanning tip is ideal for patients with smaller mouths. The SlimLine tip is designed to make reaching posterior teeth and capturing interproximal areas much easier than with standard tips.
DURABLE RUBBER DAM ALTERNATIVE OFFERED
Zirc (800-328-3899; zirc.com) has expanded its portfolio of airway protection solutions with Airway Armor. Clinicians can use this device as a durable, easy and comfortable alternative to rubber dams. Airway Armor is said to prevent patient aspiration and ingestion of foreign objects and debris during therapy, such as orthodontic, pediatric and implant procedures, as well as extractions and restorations.
ARTICULATION TOOL ELIMINATES GUESSWORK
Microcopy (800-235-1863; microcopydental.com) has announced its latest addition to its family of single-use articulation products, Proxi-Chek. Described as being easy to use, this articulation tool helps clinicians accurately mark crowns for adjustment, thus eliminating the guesswork and ensuring complete marginal seating. Proxi-Chek's easy-grip handle is bendable, which greatly facilitates reaching proximal contacts.
BIOACTIVE INJECTABLE HYBRID COMPOSITE RELEASED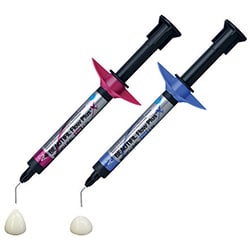 Shofu (800-827-4638; shofu.com) has debuted a bioactive hybrid composite with patented nano-S-PRG filler particles. Beautifil Flow Plus X is an injectable material that delivers excellent flexural and compressive strength, while maintaining exceptional color stability. Its bioactive ions inhibit plaque formation, minimize hypersensitivity, neutralize acid, and release and recharge fluoride. Beautifil Flow Plus X comes with a thin-walled needle tip that dispenses the material without sticking or oozing at the end of delivery, making precise placement easy. Dentists can use this hybrid composite for direct anterior and posterior restorations. It is available in 2.2-gram syringes in two viscosities.
NEW DUAL-CURE CEMENT OFFERS EASY CLEANUP
Tokuyama (877-378-3548; tokuyama-us.com) has released EsteCem II, a dual-cure cement that's designed for quick application. In addition, the material's 3-second tack cure and easy cleanup help minimize chairtime, while offering speed comparable to self-adhesive cements. EsteCem II eliminates the need for extraneous primers and activators, and reportedly offers high bond strength in self-etch, light-cure or self-cure modes. Additional benefits include the fact that it does not require light-curing, etching, rubbing into surface, or additional primers when used with Tokuyama Universal Bond.
From Decisions in Dentistry. December 2018;4(12):45.