Marketplace
A listing of featured products.
NEXT-GENERATION INTRAORAL SCANNER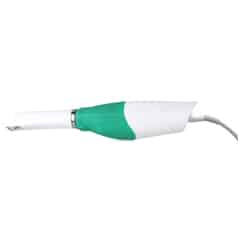 Planmeca's (800-537-6070; planmecausa.com) lightweight, ergonomically designed Planmeca Emerald scanner is said to quickly capture vibrant intraoral images in real-time. Its compact, slim design offers operators superior control and easy, singlehanded operation. The device's "smart" heated scanner tips are autoclavable and engineered to eliminate fogging. The Planmeca Emerald allows dental professionals to capture digital impressions ranging from a single tooth to a full arch within minutes, and uses laser-based technology for vivid color reproduction. This open-system platform ensures smooth integration with other office equipment. Additional features include "plug n' play" capability with a USB-3 connection and portability to enable sharing between operatories and PCs. Planmeca Romexis software also allows easy collaboration with dental labs.
CLEAR-DRYING VARNISH DELIVERS MAXIMUM FLUORIDE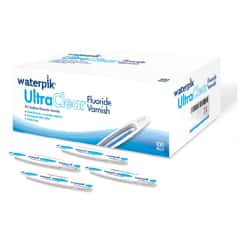 Water Pik (800-525-2774; waterpik.com) offers UltraClear, a 5% sodium fluoride varnish indicated for the treatment of dentinal hypersensitivity and for use as a caries liner. Clinicians will appreciate its smooth application and the fact that it dries clear. Available in unit-dose delivery (with applicator brush), UltraClear varnish is formulated for effective fluoride release. It's available in four xylitol-infused flavors: melon, bubblegum, strawberry and mint.
ELECTRONIC CARIES DETECTION DEVICE DEBUTS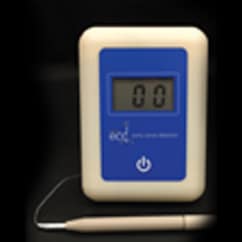 Ortek Therapeutics (800-863-9943; ortekinc.com) unveils its ECD unit, a tabletop device that recently received U.S. Food and Drug Administration 510(k) marketing clearance. Designed to aid diagnosing and monitoring dental caries in the occlusal surfaces of molars and premolars, this battery-powered device uses electrical conductance to detect and monitor enamel lesions. Tooth enamel is electrically nonconductive unless breached by fracture or demineralization. When teeth begin to lose minerals, dentinal fluid from within the tooth flows through the breached enamel and enables the ECD to complete its electrical circuit. This data is numerically displayed on the base unit.
ORAL ANESTHETIC GEL IN SYRINGE FORM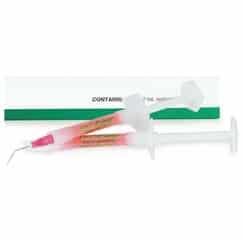 Offered in syringe delivery, Gingi-Pak's (800-437-1514; gingi-pak.com) GINGICaine Oral Anesthetic Gel allows clinicians to deliver the agent directly into the sulcus, without having to numb the entire oral cavity. Each syringe contains 1.2 ml of gel and features a 7-mm gauge mark and rounded end to eliminate tearing the sulcus during delivery. The 20% benzocaine formula has a fast 15-second onset for safe and effective pain relief. Available in a 20-syringe pack, the strawberry-flavored gel is formulated not to leave a medicinal aftertaste.
HANDPIECE DESIGN ENSURES QUIET OPERATION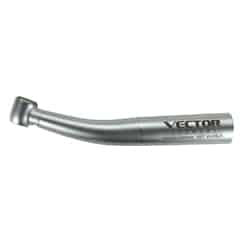 Vector Research & Development (877-883-7455; vectorusa.net) provides oral health professionals with the Vector Velocity Extreme series. This high-speed handpiece operates at a quiet 55 decibels, and its Enduro-Silencer turbine design delivers optimal power, producing more than 22 watts, according to Vector. Sealed ceramic bearings further ensure quiet operation, as well as clinical durability. Available in three popular swivel coupler configurations (KaVo, A-dec|W&H and NSK), the series features a Posi-Grip push-button auto-chuck that prevents bur slippage.
SINGLE-USE POLISHER LINE EXPANDS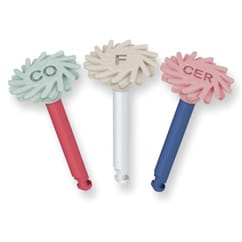 Brasseler (800-841-4522; BrasselerUSA.com) has expanded its family of Brio single-use diamond, carbide and polishing instruments with new BrioShine Feather Lite Composite and Ceramic Single-Use Polishers. Available in packages of 30, these polishers are indicated for universal polishing and finishing of ceramic and composite materials. Designed to offer predictable results, they are said to adapt to most tooth surfaces and are durable enough to last through multiple restorations. The medium "Step 1" universal composite polishers are indicated for prepolishing of composite, zirconia, lithium disilicate, porcelain and porcelain-fused-to-metal restorations. The fine "Step 2" polishers are used as a final universal polisher. Each is color-coded and features unique markings to further aid identification.
From Decisions in Dentistry. March 2018;4(3):55.