Marketplace
A listing of featured products.
ROOT CANAL KIT INTRODUCED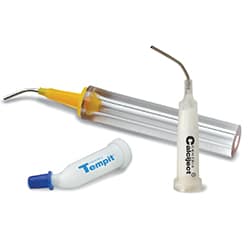 Designed to make endodontic treatment easier, Centrix (800-235-5862; centrixdental.com) has released the Endokit Root Canal Therapy. The kit contains three single-use products. Described as being faster and easier to use than paper points, the transparent, 18-gauge MicroAspirator allows clinicians to monitor evacuation. Calciject is a fine-grain, bacteriostatic calcium hydroxide paste that comes in a bendable, needletube syringe tip. The kit also features quick-setting Tempit (with calcium sulfate and zinc oxide) that is said to be easy to remove on a patient's return visit. Each foil pouch contains one of the three products that allow clinicians to simply dry, medicate and seal.
PAIN RELIEF FOR ORAL MUCOSITIS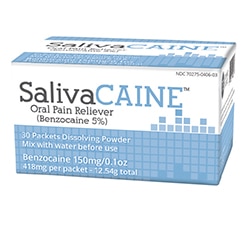 Forward Science (855-696-7254; forwardscience.com) has expanded its product portfolio with the release of SalivaCAINE. Designed to provide temporary pain relief for cancer patients suffering from oral mucositis, SalivaCAINE has many of the same ingredients as SalivaMAX, with the added benefit of benzocaine. SalivaCAINE is used to relieve pain at the same time SalivaMAX is used to treat the root cause of xerostomia and/or mucositis. This new product provides temporary relief for patients with an acute need for pain management while on the SalivaMAX regimen. SalivaCAINE is provided free with any SalivaMAX prescription.
SURGICAL ENDODONTIC BURS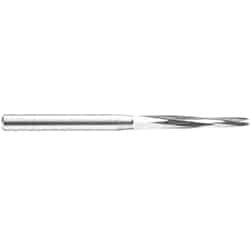 Providing effective root separation, Endo Surgical Burs by Henry Schein (800-372-4346; henryschein.com) are also indicated for debris and broken stump removal. A traversing cutting tip and six helical cutting edges make these burs ideal for sectioning an impacted third molar prior to extraction, and are designed to offer vibration-free cutting performance. Constructed of highgrade carbide, they're available in 151 and 151L Friction Grip models.
NATURAL LOOKING DENTURES

VITA North America (800-828-3839; vitanorthamerica.com) offers clinicians VITAPAN EXCELL, a tooth line that gives patients the natural shape and color they wish to achieve. This multifaceted, textured tooth line comes in a variety of molds, shapes and colors. Individual characterizations and various degree of translucency, opalescence and fluorescence correspond to natural dentition, according to the company. VITAPAN EXCELL is constructed of a durable micro-filler-reinforced polymer composite material, and is ideal for esthetic full, partial and implant-retained anterior dentures. Designed to allow for easy replication of the natural symmetry of the tooth, and convenient reproduction of the tooth position, they are available in 11 VITA 3D-MASTER shades and 15 VITA classical A1 to D4 shades.
HYDROCOLLOIDIMPRESSION MATERIAL DEBUTS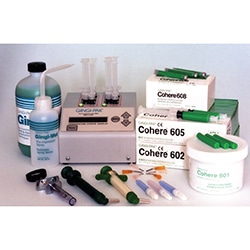 Gingi-Pak (805-484-1051; gingi-pak.com) has expanded its product lineup to fulfill the needs of dental professionals who practice the hydrocolloid technique by offering Aqualloid tray materials. According to Gingi-Pak, high-strength Aqualloid tray materials are compatible for use at high altitude, and will be available in both regular and fast tempering times.
ACCELERATING ORTHODONTIC TOOTH MOVEMENT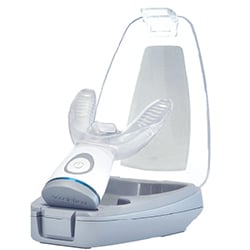 OrthoAccel Technologies (866-866-4919; acceledent.com) has added AcceleDent Optima to its product offerings. This device is described as the first orthodontic device that directly connects patients and dental practices with usage monitoring, direct messaging and virtual rewards through the AcceleDent app. The company suggests patients use this prescription-only device 20 minutes a day to receive the benefits of accelerated treatment. Its SoftPulse technology delivers pulsating forces that have been clinically shown to stimulate cellular activity in orthodontic treatment and speed up bone remodeling, according to the company. Patients can also use the device to track their usage, set reminder notifications and compare their progress to other AcceleDent patients. Orthodontists, treatment coordinators and other team members can view real-time usage data for each of their AcceleDent patients.
LIGHTWEIGHT LOUPES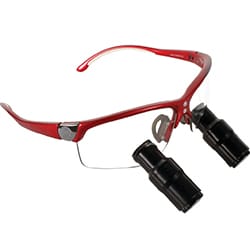 DenMat (800-433-6628; denmat.com) has welcomed its new lightweight PeriOptix Prismatic 4.0X loupe to the PeriOptix product line. Boasting a new level of magnification technology, this loupe allows clinicians to see extreme detail without compromising image clarity or the viewing field. Featuring a steep declination angle for maximum comfort and reduced fatigue, it weighs only 61 grams and can be custom built to the practitioner's specifications.
MULTISPECTRAL CURING LIGHT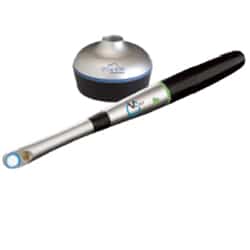 Vista Dental's (877-418-4782; vista-dental.com) Valiant LED curing light offers clinicians an ergonomically designed, lightweight device that packs a high-intensity light. Producing light in the 395 to 500-nanometer wavelength, this multispectral curing light is capable of polymerizing nearly all light-cured dental materials. The versatile handpiece features an optimized, clover-shaped LED arrangement with precision optics to provide a uniform beam through three curing modes (standard, ramp and boost). According to the company, the irradiance is 1200 mW/cm2 for standard and ramp modes, and 2500 mW/cm2 in the boost mode. Additional features include a transilluminator for detecting fractures, cracks and residual caries. Clinicians will also appreciate the curing light's intuitive, one-button operation. The starter kit includes the handpiece, two rechargeable batteries, charging base, 100 protective sleeves and a light-attenuating shield.
WATERLESS DENTAL VACUUM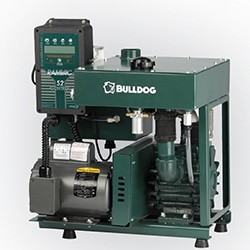 The Bulldog QT dental dry vacuum by Dental EZ (866-383-4636; dentalez.com) gives clinicians even more power with a high-efficiency motor that's said to be 33% more efficient than previous motors. The new design for the Bulldog QT1 and QT2 produces 9 amps at 115 volts and 4.5 amps at 220 volts. Compact yet powerful, the Bulldog QT is 100% water free and UL-544 listed. Optional Bulldog QT combinations for one or two practitioners are available, and include a vacuum unit and Dental EZ's 15- or 30-gallon Otter Tank.
EFFECTIVE EYEWASH STATION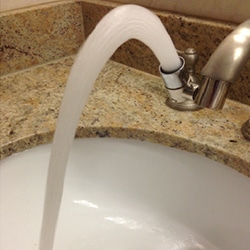 TAUB (800-828-2634; taubdental.com) provides instant access to a single-aerated water jet during an emergency with its new Low-Profile Emergency Eyewash Station. This product allows users to rotate the water jet from its standard handwashing position to deliver a soft stream to the face. Notable features include a low-profile design that fits most standard faucets, a flow rate of 1.2 gallons per minute, and engineering that prevents standing water and reduces the chance for mold development.
DIGITAL DESIGN SERVICE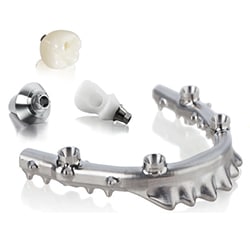 In an effort to help dental laboratories streamline their workflows, Nobel-Procera (800-322-5001; nobelbiocare.com) has expanded its scan and design service from implant bars to include abutments and crowns for all Nobel Biocare implants, as well as other major implant systems. Laboratory staff simply use an online form to upload a 3Shape or NobelProcera digital scan file, enter their design specifications, and send their request to the production facility, where a technician creates a design and shares a three-dimensional visualization with the lab. Once approved, the precision-fit abutments and implant crowns are manufactured, quality checked and sent back to the lab. Selections include titanium or zirconia in various shades, abutments with cement-retained copings, or a screw-retained approach for direct veneering, as well as other options.
TORQUE DRIVER GOES WIRELESS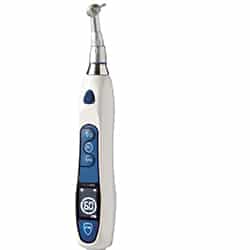 The Meg-Torq wireless auto torque driver by ids (866-277-5662; idsimplants.com) offers clinicians a fast and safe way to place implant prosthetic components. This powerful driver can be used to install or remove implant copings, healing abutments and cover screws. Its compact design makes it ideal for hard-to-reach areas. Key features include preprogrammed settings that help ensure exact torque values. In addition, its large, easy-to-read display shows torque, speed, direction of rotation and battery level. It also has a calibration mode setting.
From Decisions in Dentistry. October 2017;3(10):58–59.