Marketplace
A listing of featured products.
ESTHETIC, METAL-FREE IMPLANT INTRODUCED
Promising a premium esthetic solution, Straumann (800-448-8168; straumann.us) has announced that its Pure Ceramic Implant is now available to U.S. clinicians. Featuring a monotype design consisting of an implant and abutment made from zirconium-dioxide ceramic, it's equipped with Straumann's ZLA surface that's designed to promote fast and predictable osseointegration. The implant's ivory color makes it look more like a natural tooth and supports the clinician in cases of thin gingival biotype or soft-tissue recession. The new ceramic implant can be placed with the company's existing surgical kit using a procedure that's similar to those indicated for its other implant products.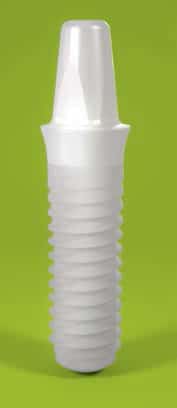 MONITORS ENSURE THOROUGH CLEANING
Hu-Friedy (800-483-7433, hu-friedy.com) now offers Wash-Checks cleaning monitors, the latest addition to its Instrument Management System. Designed to monitor the efficiency of the cleaning process when using washer-disinfectors and ultrasonic cleaners, the product consists of equipment-specific monitor strips and a reusable holder. The strips contain a test soil that mimics the presence of blood and tissue that may be found on instruments following procedures. Full removal of the test soil from the strip indicates effective cleaning.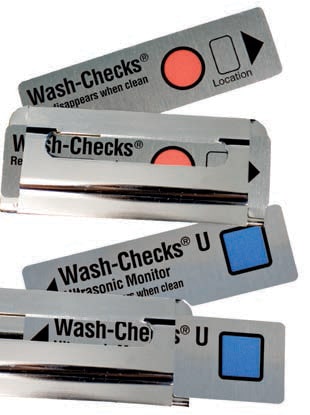 VALUE-PRICED CURING LIGHT OPTION
The new Beam by Steri-Shield (800-699- 7220; steri-shield.com) is a value-priced, high-capacity LED curing light that provides three easy-to-program curing modes, with time-setting selections in 5- to 40-second increments. Suitable for all light-cured composites, it provides up to 80 cure cycles between charges. The device is equipped with a low-battery alarm and an automatic shut-off feature.

ENDODONTIC FILES RESIST FRACTURE
As its newest innovation in controlled-memory rotary endodontics, Coltene's (330-916-8800; coltene.com) HyFlex EDM files boast flexibility and fracture resistance. Fabricated using electrical discharge machining (EDM) technology, these instruments are said to offer up to 700% greater fracture resistance than traditional nickel-titanium files. The company reports that the combination of strength, flexibility and cutting efficiency makes it possible to reduce the number of files required in a procedure to one or two while still preserving canal anatomy. Provided as a modular system, the HyFlex EDM lineup includes Shaping, GlidePath, OneFile, Orifice Opener and Finishing files.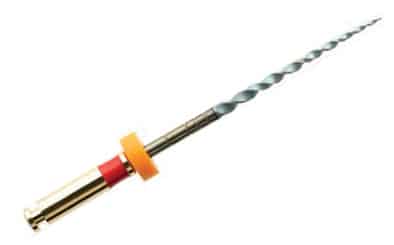 VERSATILE CALCIUM BASE AND LINER
Taub Products (800-828-2634; taubdental.com) presents Ca-Lok flowable adhesive calcium base and liner. Ca-Lok is a light-cured, calciumfilled resin with adhesive properties and seamless compatibility with restorative materials. Ca-Lok is radiopaque and releases fluoride. The material's flowable viscosity and hydrophilic/hydrophobic properties facilitate precise placement and control, while the formulation is said to help eliminate problems with microleakage and sensitivity.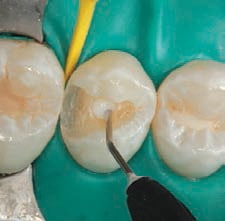 NEW FIBER POST IS PART OF AN INTEGRATED APPROACH
3M Oral Care (800-634-2249; 3M.com) introduces RelyX Fiber Post 3D, an integral component of the company's new streamlined post-and-core solution. The RelyX Fiber Post 3D builds on the clinical success of the original RelyX Fiber Post. Its updated design offers greater mechanical retention to the core buildup, and maintains a strong bond due to its microporous surface. As part of 3M's system, the post works in combination with RelyX Unicem 2 automix self-adhesive resin cement, Scotchbond Universal Adhesive, and Filtek Bulk Fill Posterior Restorative.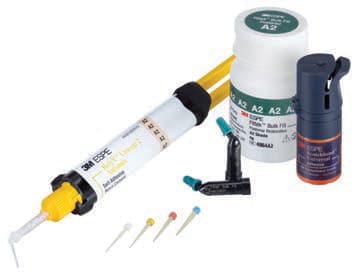 IRRIGATION SYRINGES PROVIDE CLINICAL CONVENIENCE
New from Pac-Dent International (909-839-0888; pac-dent.com), the PacEndo prefilled endodontic irrigation kit provides both safety and convenience during canal cleaning procedures. The prefilled syringes are ready to use, and the PacEndo formulas feature low viscosity and improved surface tension — easing penetration into microtubules and cracks. The system is available in single-canal and multiple-canal kits.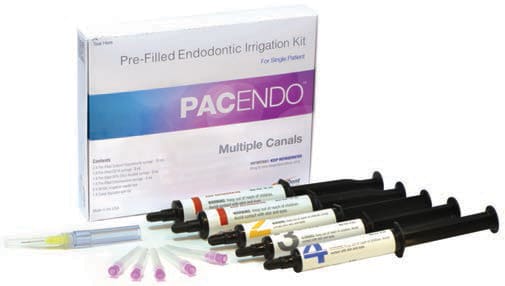 MAKE IMAGING MORE COMFORTABLE
Flow Dental (631-242-9729; flowdental.com) offers a new product designed to make the dental imaging process more comfortable for patients. Deluxe Cushies are single-use spongy tabs that cushion the edges of film, sensors and photostimulable phosphor plates. Described as versatile and easy to use, they work on either the long or short side of the media — and one size fits all. Deluxe Cushies are packaged in a self-dispensing box of 300.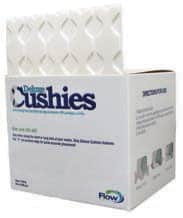 NEXT-GENERATION ATTACHMENT SYSTEM DEBUTS
Describing it as an evolution for implant-retained, tissue-supported overdenture solutions, Zest Anchors (800-262-2310; zestanchors.com) introduces the next generation of its Locator R-Tx Removable Attachment System. Locator R-Tx features an industry-standard, 1.25-mm hex-drive mechanism (no special drivers required); a DuraTec titanium carbon nitride coating that is wear resistant and highly esthetic; and dual retentive features that make it easy for the patient to insert and remove the overdenture with proper alignment and seating. The redesigned denture attachment housing is anodized pink for esthetic purposes, and incorporates flats and grooves that resist movement.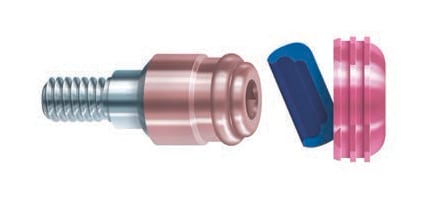 ELEVATORS WITH A SECURE GRIP
The new Cryer 44 and 45 elevators from Premier (888-670-6100; premusa.com) are designed to loosen or remove dental roots, root fragments or teeth from bony sockets. These instruments feature left and right flag tips for excellent access. The tips are made of 440A stainless steel for superior durability and rust resistance. Featuring large-diameter handles for a secure grip, the elevators offer utility at a competitive price.

IMPRESSION KIT RELEASED
Offering an impression material with excellent hydrophilicity, tear strength and accuracy, Pentron (855- 748-2964; pentron.com) has unveiled its Correct Plus trial kit. Designed to accommodate all impression techniques, the kit includes cartridges of Thick'n Thin Light Body, Universal Body (light or heavy body), and Auto-Mix Putty. It also comes with color-coded mixing tips and a dispenser gun.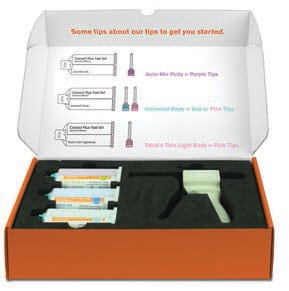 MICROSCOPE OFFERS ERGONOMIC EASE
Dent Corp (800-454-9244; dentcorp.com) introduces the Microscope I. Designed to be economical and user-friendly, it features ergonomic attributes that provide clinicians with excellent visibility and operating comfort. Offering 12x magnification and a working distance of 210 mm, this easy-to-mount system includes a one-step turret and 60,000-lux LED illumination system.