Interproximal Cleaning Solutions from Sunstar
Customized interproximal care Is key to managing biofilm and inflammation.
Customized Interproximal Care Is Key to Managing Biofilm and Inflammation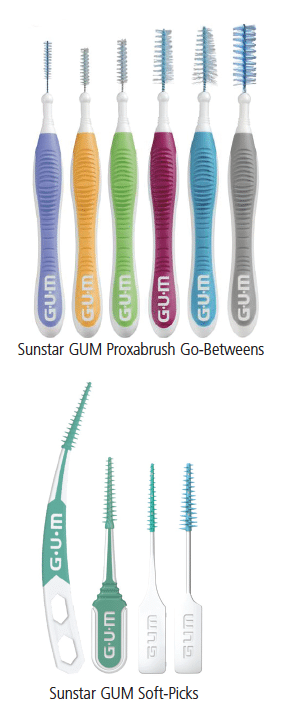 Recently, I walked into one of our dental hygiene operatories to do a patient exam and noticed the radiographs showed clear signs of bone loss. I asked the dental hygienist if the patient's periodontal condition was active or stable. She replied there was no bleeding, and the patient was maintaining beautifully.
Addressing the patient, I said, "You show evidence of past gum disease, but congratulations because you are doing well now. What are you doing to clean between your teeth?"
The patient responded, "Ever since your office introduced me to those interproximal brushes, my gums have never been better!"
I reinforced that with what we know about the relationship between periodontal pathogens and overall health, interproximal biofilm management is a serious concern. Not only will between-teeth plaque management help stop bone loss, it will also prevent periodontal disease from contributing to serious systemic disorders, such as diabetes and cardiovascular disease.1
The patient reported using two of the six available sizes of Proxabrush Go-Betweens to aid self-care in the variety of interproximal spacing she has. She also uses the Sunstar GUM Trav-Ler when she's on the run — even in the car.
Sunstar recognizes that "one size does not fit all" when it comes to self-care, so having a variety of tools lets clinicians recommend customized daily regimens designed to restore and maintain periodontal health. In addition to the Trav-Ler and Proxabrush Go-Betweens, dentists and dental hygienists can also suggest patients consider the four sizes of GUM Soft-Picks. Patients love these options for highly individualized home care.
Of course, there are challenges in executing interproximal care that include everything from contour issues (due to prosthetics, recession and/or furcation involvement) to dexterity and lifestyle. For patients with tight contacts, Soft-Picks are ideal for interproximal biofilm management. In fact, within our network of dentists, we have an office that has put all of its patients on Soft-Picks, with instructions to dip them into a medicament or stannous fluoride toothpaste to enhance the effects. This practice reports excellent results at recare visits.
For patients who prefer flossing, Sunstar offers a variety of options, including GUM Eez-Thru floss that works well for patients with tight contacts, as well as GUM Expanding floss that maximizes contact in wider embrasures. Both are designed to help patients manage biofilm quickly, effectively and comfortably. Clinicians can also recommend floss-holders that are a good choice for anyone who prefers that option (especially children and patients with dexterity issues), as well as floss threaders that patients and clinicians find ideal when cleaning around dental prostheses.
We know effective biofilm control is key to attaining and maintaining optimal oral and systemic health. In our practice network, we have found that Sunstar's full suite of interproximal cleaning solutions has made a big difference in how we're able to help patients manage biofilm when they're at home, traveling or just on the go.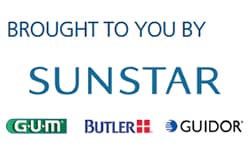 REFERENCE
Schenkein HA, Loos BG. Inflammatory mechanisms linking periodontal diseases to cardiovascular diseases. J Clin Periodontal. 2013;40:S51–S69.
From Decisions in Dentistry. March 2019;5(3):9.