GrandioSO Heavy Flow from VOCO
High-viscosity universal composite offers unmatched clinical versatility.
High-Viscosity Universal Composite Offers Unmatched Clinical Versatility
FEATURES AND BENEFITS
GrandioSO Heavy Flow is an 83% filled, high-viscosity, nanohybrid universal flowable composite that offers exceptional physical properties compared to conventional flowables.
With its unique and wide-ranging indications, VOCO's GrandioSO Heavy Flow is more accurately described as a composite that flows, rather than a flowable composite.
As a result, it has quickly become the material dentists turn to for both traditional and unique restorative solutions.
Featuring unmatched clinical versatility, this material is ideal for small Class I restorations where compressive strength and adaptability are crucial.
In addition, it is an excellent choice for small Class V restorations where packables are too sticky and conventional flowables are too runny.
It is also well suited for Class II restorations because the material's ideal viscosity lets clinicians build an anatomically shaped wall that's easy to pack against.
Offering high polishability, this universal composite's physical properties include stability, adaptability, and impressive compressive and flexural strength. It also resists abrasion, shrinkage and wear.
In fact, these elevated physical properties allow it to support indications beyond Class I to Class V restorations. These include extended fissure sealing, blocking out undercuts, lining or coating cavities, repairing fillings and veneers, cementing translucent prosthetic pieces, and interlocking and splinting teeth with glass-fiber strands (GrandTEC) in orthodontics, periodontics, traumatology and more.
Boasting flexural strength over 400 MPa, initial shrinkage less than 3% (among the lowest in flowable composites), and one of the highest fill rates for flowables, GrandioSO Heavy Flow creates clinical opportunities that providers would never consider with conventional flowables.
Furthermore, these properties even compare favorably with many packable composites.
Available in 12 shades, GrandioSO Heavy Flow comes in VOCO's patented non-runny and non-dripping (NDT) syringes, as well as caps.
BOTTOM LINE
VOCO's GrandioSO Heavy Flow possesses unique physical properties that provide new solutions to age-old clinical challenges. Offering outstanding performance and handling, this nanohybrid universal flowable composite lets dentists confidently treat wide-ranging indications with one versatile material.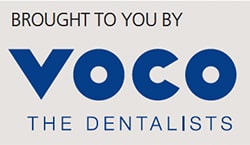 From Decisions in Dentistry. March 2019;5(3):45.