Improve Outcomes with Digital Treatment Planning and Delivery
Digital workflows help boost case acceptance, enhancechairside efficiency and support treatment success.
The digital workflow is a mainstay of many dental offices. In the operatory, it typically starts with digital radiography and intraoral scanning and ends with a superbly crafted dental appliance. But clinicians have many options along the way.
Beyond its ability to aid treatment planning and enhance clinical outcomes, digital dentistry supports the dental office in countless ways. Dentists who embrace digital workflows typically enjoy higher treatment acceptance, boost clinical efficiency, and build their practices as word gets out they offer "high-tech" dentistry. In addition, computer aided design/computer aided manufacturing (CAD/CAM) can help increase revenue by enabling practices to offer a wider variety of restorations — and deliver them more quickly than would be possible with traditional methods.
DIGITAL DATA CAPTURE
As noted, the first step in a digital workflow is digital imaging via radiography and intraoral impression scanning. Although there are cases that still call for conventional impression techniques, digital scans are increasingly common in today's practice. And due to the plug-and-play or wireless capability offered by some models, one scanning unit can potentially serve multiple operatories.
Operators who wish to leave fabrication to the lab can quickly send their digital impressions electronically — saving time and shipping costs — so lab technicians can design and fabricate the appliance off-site. But for providers who embrace in-house design, the CAD portion of this equation allows them to design a virtual prosthesis, such as a crown, from the digital impression in a matter of minutes. Specialized software enables clinicians to draw margins, evaluate preps for traits such as smoothness, interproximal distance, contacts, shade, shape and size, and make any needed adjustments.
Digital design programs produce files in open or closed formats. Open systems utilize files that can be shared with most milling systems, while closed system files can typically only be used with one manufacturer's CAM technology. The advantages of closed systems include better technological support. In contrast, open systems, though possibly more vulnerable to tech support problems, allow a measure of customization and potential cost savings as various devices may be pieced together to fit the office's specific needs.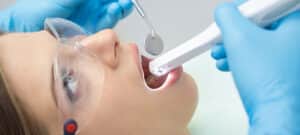 FABRICATION FLEXIBILITY
Although some practitioners enjoy the control CAD systems provide during the design process, many prefer to spend their time caring for patients rather than fabricating appliances in-house. If the clinician decides to have the lab do the milling or three-dimensional (3D) printing, some systems offer a portal through which the electronic impression and/or design can be sent to a connected laboratory. However, providers can also install milling systems and 3D printers in-house, which allows same-day restorations, as well as the timely creation of surgical guides, orthodontic appliances, resin partial dentures, denture bases, occlusal splints, provisionals and more. Another consideration is that the ability to fabricate restorations in a single visit eliminates the need for temporaries and re-cementation appointments, thus further supporting patient satisfaction and clinical efficiency.
Whether designed and manufactured in-house or at the laboratory, the advantages of CAD/CAM technology over traditional methods are myriad. Digital files, when shared between the office and lab, save on shipping costs, as well as turnaround time. When milled or printed in-house, restorations and other appliances can often be completed in one appointment.
CONCLUSION
Ultimately, the beauty of digital treatment planning, fabrication and delivery is the flexibility these technologies provide. Dentists can elect to utilize all-digital workflows or a combination of conventional and digital techniques to achieve the desired outcome. And they can choose to keep everything in-house, or send out all or portions of the case to a lab for design and/or fabrication. Best of all, the application of these technologies can be based on the dentist's clinical needs and skills; for example, even the most experienced CAD/CAM providers still typically rely on labs for more demanding esthetic cases.
Such technologies, whether combined or used a la carte, not only boost case acceptance, production and clinical efficiency, the use of digital dentistry also helps support better treatment outcomes and contributes to the practice's overall reputation and success.
From Decisions in Dentistry. October 2022;8(10)22.