Guest Editorial: Remote Monitoring in Orthodontic Treatment
The use of remote monitoring and artificial intelligence can improve not only the outcome, but also the availability of clear aligner therapy.
Orthodontic treatment has come a long way since the invention of the first modern pre-angulated, pre-adjusted orthodontic appliance in the last half of the 20th century. The use of digital technology has revolutionized the way orthodontic treatment is planned and delivered, making it more efficient and effective. One noteworthy development is the use of remote monitoring that enables patients to receive orthodontic care from the comfort of their homes. In this editorial, we will explore the benefits of modern orthodontics and remote monitoring, and explain why this approach is a game-changer for patients who might not otherwise have access to orthodontic care.1,2
In the past, orthodontic treatment was generally limited to young patients and those who were geographically close to a health center or clinic that offered these services. Today, patients of all ages — and from diverse locations, including underserved areas — are able to seek orthodontic treatment (Figure 1). Remote monitoring makes this possible for those who lack ready access to care.
EVOLUTION OF CLEAR ALIGNER THERAPY
Originally used as a form of orthodontic retention, polyurethane plastic materials are now being utilized to create effective and predictable appliances that allow controlled tooth movement. This trend began in 1997 when two graduate students at Stanford University applied three-dimensional (3D) computer imaging graphics to the field of orthodontics and created the world's first mass-produced, customized clear aligner system.3 Initially, some practitioners were skeptical and wondered if plastic would be able to control tooth movement in three planes of space. More than two decades later, millions of patients have been successfully treated with clear aligner therapy and "smart" predictive technology. Such treatment has proven effective not only when treating relapses or mild malocclusions, but also in complex cases that require deep understanding of biomechanics and delivery of precise force systems.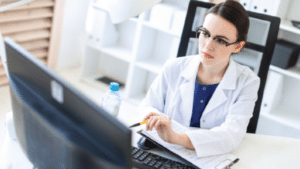 In clinical practice, it did take some time for orthodontists to understand these devices "push" teeth instead of pulling them (like a traditional appliance). Today, most (if not all) orthodontic residency programs across the United States offer an aligner therapy curriculum, which further serves to validate this approach.
As more companies enter the clear aligner market, firms that used to provide treatment planning with technicians and aligners are adjusting their offerings. They are now giving clinicians the ability to use special software to create their own treatment plans. Providers can then choose to have the appliances fabricated by a laboratory or print the models themselves using in-house 3D printing and vacuum-forming technologies. The latter approach allows practitioners to deliver aligners to the patient less than 24 hours after the initial scans.
In-office fabrication is becoming a widely accepted treatment modality. For example, at the 2023 Winter Conference of the American Association of Orthodontists, various 3D printer companies demonstrated how to use their software and in-office devices to print models for staging each step of tooth movement. As part of the ongoing evolution of clear aligner therapy, clinicians can now utilize a 3D-printed aligner that offers shape memory.4 If this material is deformed or stretched, its shape can be restored. The benefit of having memory properties in aligner trays is that a single aligner is capable of completing tooth movement that normally would require two or three aligner sets. This represents an efficient and predictable therapy that uses less material per patient, thus reducing costs.
REMOTE MONITORING
Another advance in dental and orthodontic practice is remote monitoring. In medicine, this technology has been used for years to manage common conditions, such as diabetes and hypertension. At-home monitoring systems are now being augmented with implantable devices that can dispense medications when blood level values deviate from normal. Artificial intelligence (AI) detects the need for medications and can administer the drugs by communicating with these types of devices.
Remote monitoring involves digital technologies that track a patient's progress during orthodontic treatment. This can include the use of smartphones, tablets, or other electronic devices that allow patients to take photos and videos of their teeth and send them to their orthodontist or dentist for review. The orthodontist or dentist analyzes the information and provides feedback on the patient's progress. This approach is particularly useful for patients in underserved areas who do not have ready access to an orthodontist or dentist. And even where access is not an issue, this technology may prove convenient for those with busy schedules who find it difficult to make regular in-person appointments.
Technology is now available that lets patients take scans with their smartphone and upload them to a special platform. If a patient is being treated with aligners, the AI system can alert the patient and provider when the desired tooth movement has been achieved, or determine if the aligners should be worn for additional time. It will also notify the patient and treating dentist or orthodontist about any oral hygiene issues, tooth damage (such as wear or fracture), and integrity of the gingiva, as well as changes in occlusion and tooth position. Clinically, AI can detect tooth movement as small as 0.1 mm and torque changes (tip) of the dentition at 0.5 degrees.2 This technology is also helpful in cases involving patient discomfort or emergencies, as clinicians can remotely manage many situations that once required an office visit.
In orthodontic treatment, providers can choose among numerous platforms that facilitate remote monitoring and interaction between patients and the clinical team. Hardware and software approaches vary, as some companies mainly use remote monitoring as a form of communication and data exchange, while others utilize AI to assist in diagnosis of orthodontic or periodontal conditions, as well as patient-provider communications.
EFFICIENCY AND ACCURACY
In orthodontic care, remote monitoring can help improve outcomes and increase efficiency. By tracking a patient's progress remotely, providers can identify potential issues early and address them before they become more serious. This can reduce the number of in-person appointments needed.
A study by Hansa et al5 compared orthodontic treatment with aligners and aligners plus remote monitoring. The authors concluded that remote monitoring resulted in a 33% reduction in office visits and a slight reduction in treatment time from the initial visit to the first refinement. However, they found no clinically significant difference in total treatment time. These results support the use of remote monitoring and AI in treating patients with access-to-care issues.
It's natural for clinicians to have questions about the accuracy and precision of remote monitoring technology. Many dentists wonder about the quality of the images and/or video offered by these systems, and if the imaging provides enough information to properly assess clinical matters. When we talk about trays not fitting or correcting a Class II dental relationship, the AI and images need to be accurate and reliable. In 2019, Morris et al6 evaluated the accuracy of remote monitoring using photographs and videos. Based on American Board of Orthodontics standards, the researchers found no clinically significant differences between in-person scans and 3D models created with remote monitoring.
Given these results, remote monitoring and AI can help increase access to care, especially in underserved areas. Imagine having a patient start with a remote consult which will determine the need for treatment and whether the individual is clinically ready to start orthodontic care. If therapy is indicated, the patient will come to the office for radiographs, intraoral scans, and a thorough dental and periodontal examination. Once the treatment goals are established, the patient returns for the attachments and interproximal reduction, plus delivery of trays and a remote monitoring system. The case is now set up for success! In most situations, patients are motivated and scan regularly. And, depending on the monitoring system used, each scan could be the equivalent of an in-office visit.
In a study of remote monitoring, Kuriakose et al7 determined this technology was user friendly; the authors reported that 71% of participants found it easy to work with. In addition, 43% preferred remote monitoring scans over a clinical visit. However, research by Griffeth et al8 concluded that 85% of patients and their parents prefer face-to-face interaction with their orthodontist. Thus, we see that some patients gravitate to in-office care, while others appreciate the convenience of remote communication and monitoring.
CONCLUSION
In conclusion, remote monitoring is a game-changer for patients who do not have ready access to orthodontic care, and also for those who simply prefer this approach. By using digital technology to track a patient's progress, orthodontists and dentists can provide ongoing care and support, regardless of a patient's location or schedule.
Remote monitoring provides a level of convenience and flexibility unmatched by traditional orthodontic treatment. Additionally, when properly applied, it can help improve patient outcomes, increase efficiency, and reduce the number of appointments needed. For these reasons, remote monitoring should be embraced by all orthodontists and dentists.
The author has no commercial conflicts  of interest to disclose.
References
Hansa I, Katyal V, Semaan J, Coyne R, Vaid NR. Artificial intelligence driven remote monitoring of orthodontic patients: clinical applicability and rationale. Sem Orthod. 2021;27:138–156.
Impellizzeri A, Horodinsky M, Barbato E, Polimeni A, Salah P, Galluccio G. Dental monitoring application: it is a valid innovation in the orthodontics practice? Clin Ter. 2020;171:e260–e267.
Tai S. Clear Aligner Technique. Batavia, Ill: Quintessence Publishing Co; 2018.
Everett H. Graphy Debuts "World's First" Direct 3D Printed Aligner with Shape Memory. Available at: https://3dprintingindustry.com/news/graphy-debuts-worlds-first-direct-3d-printed-aligner-with-shape-memory-200970/. Accessed March 6, 2023.
Hansa I, Katyal V, Ferguson DJ, Vaid N. Outcomes of clear aligner treatment with and without dental monitoring: a retrospective cohort study. Am J Orthod Dentofacial Orthop. 2021;159:453–459.
Morris RS, Hoye LN, Elnagar MH, et al. Accuracy of dental monitoring 3D digital dental models using photograph and video mode. Am J Orthod Dentofacial Orthop. 2019;156:420–428.
Kuriakose P, Greenlee GM, Heaton LJ, Khosravi R, Tressel W, Bollen AM. The assessment of rapid palatal expansion using remote monitoring software. J World Fed Orthod. 2019; 8:165–170.
Griffeth JK, Shroff B, Carrico C, Cook P, Lindauer SJ. Patient perspective on teledentistry and face-to-face doctor interaction treatment. Am J Orthod Dentofacial Orthop. 2023;163:328–337.
From Decisions in Dentistry. April 2023;9(4):10,13-14.