February 2020 Marketplace
A listing of featured products.
TWO-IN-ONE COMPOSITE ON TAP
Kettenbach Dental (kettenbach-dental.us; 877-532-2123) introduces Visalys CemCore. Dentists can use this single composite for cementation and core build-up, thanks to the system's Active-Connect technology that ensures powerful adhesion with Visalys Tooth Primer and Visalys Restorative Primer. In addition, its low liquid absorption ensures a high degree of dimensional stability in core build-ups, which reduces the risk of fracture in final restorations. Visalys CemCore incorporates three components: the composite cement, one single-component primer for teeth, and another for the restoration. Available in a 5-ml dual-chambered syringe, Visalys CemCore is offered in universal (A2/A3), translucent, bleach, opaque and dark (A4) shades.
NEW DRY MOUTH RELIEF PRODUCTS LAUNCHED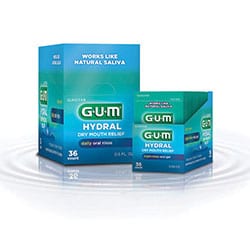 Sunstar Americas (gumbrand.com; 888-777-3101) has announced the launch of four GUM Hydral Dry Mouth Relief products. The line features advanced moisturizing and hydrating ingredients that work like natural saliva for multi-symptom relief, and the low-irritation formula is designed specifically for sensitive mucosa. The new GUM Hydral line provides a complete solution for xerostomia symptoms, and offers a range of products for deep moisturizing relief and comfort for up to four hours. The line includes GUM Hydral Oral Rinse for use as part of a daily oral hygiene regimen; GUM Hydral Oral Spray for on-the-go relief; GUM Hydral Oral Gel, ideal for nighttime relief; and GUM Hydral Anti-Cavity Toothpaste. These products will be available through major retailers, pharmacies and online in early March 2020.
VENEERS MADE EASY
SmileLine (smilelineusa.com; 877-755-6868) now offers veneerME, which is described as the perfect solution for clinicians and laboratory technicians. Veneers are placed on their buccal surface on the base of veneerME and adhere naturally. The base of veneerME has a sticky pad made from polyurethane gel. Once placed on the pad, all the preparation process of the internal part of the veneer (such as acid etching or silanization) can be done in this position. With the membrane-frame in place, rinsing and drying can be done without fear of losing a veneer. The system is designed to let clinicians and laboratory technicians carry, ship and manipulate delicate veneers with confidence.
RESTORATIVE OFFERS EXCELLENT ESTHETICS
VOCO (vocoamerica.com; 888-658-2584) now offers Admira Fusion x-tra. This single-shade omnichromatic nano-ORMOCER material matches the shade of the surrounding tooth structure, improving the speed and simplicity of dental restorative procedures. Due to nano-ORMOCER technology, Admira Fusion x-tra has a low shrinkage rate and low shrinkage stress, which help improve long-term outcomes. Restorations keep their luster, shine and shade for longer due to the material's low water solubility. Admira Fusion x-tra's nano-particulate formula allows light to bounce off the surrounding tooth structure, causing the restoration to take on the shading and color of its surroundings.
ERGONOMIC ULTRASONIC INSERTS DEBUT
Streamline PLUS ultrasonic inserts by Hu-Friedy (hu-friedy.com; 800-483-7433) are the newest addition to the Streamline product line. These inserts feature the same ergonomic handle design as Swivel inserts to ensure clinician comfort. A textured silicone grip provides a secure grasp, and the wide-diameter handle helps reduce finger pinching and hand fatigue while allowing ease of movement. Streamline PLUS inserts are color-coded for easy tip identification. Clinicians can select from seven tip designs for thorough cleaning during prophylaxis, periodontal therapy and other nonsurgical periodontal procedures.
TOPICAL ANESTHESIA RAISES CLINICAL COMFORT LEVELS
Pac-Dent (pac-dent.com; 909-839-0888) has added GINGICaine One to its product line. The topical anesthetic is formulated with 14% benzocaine, 2% butamben, and 2% tetracaine hydrochloride and comes in convenient, single-dose packaging. GINGICaine One has a rapid onset of 15 to 20 seconds, and provides up to 30 to 60 minutes of anesthesia. Clinicians simply peel back the cover and apply the gel. Patients will appreciate the product's pleasant banana flavor. In addition, GINGICaine One's disposable and vacuum-sealed packaging is designed to avoid cross-contamination and eliminate the need for cleanup.
From Decisions in Dentistry. February 2020;6(2):45.