Cutting Edge Whitening Technology Simplifies Tooth Bleaching
Available in both an in-office and take-home system, Colgate's Optic White Professional delivers effective results while streamlining tooth bleaching therapy.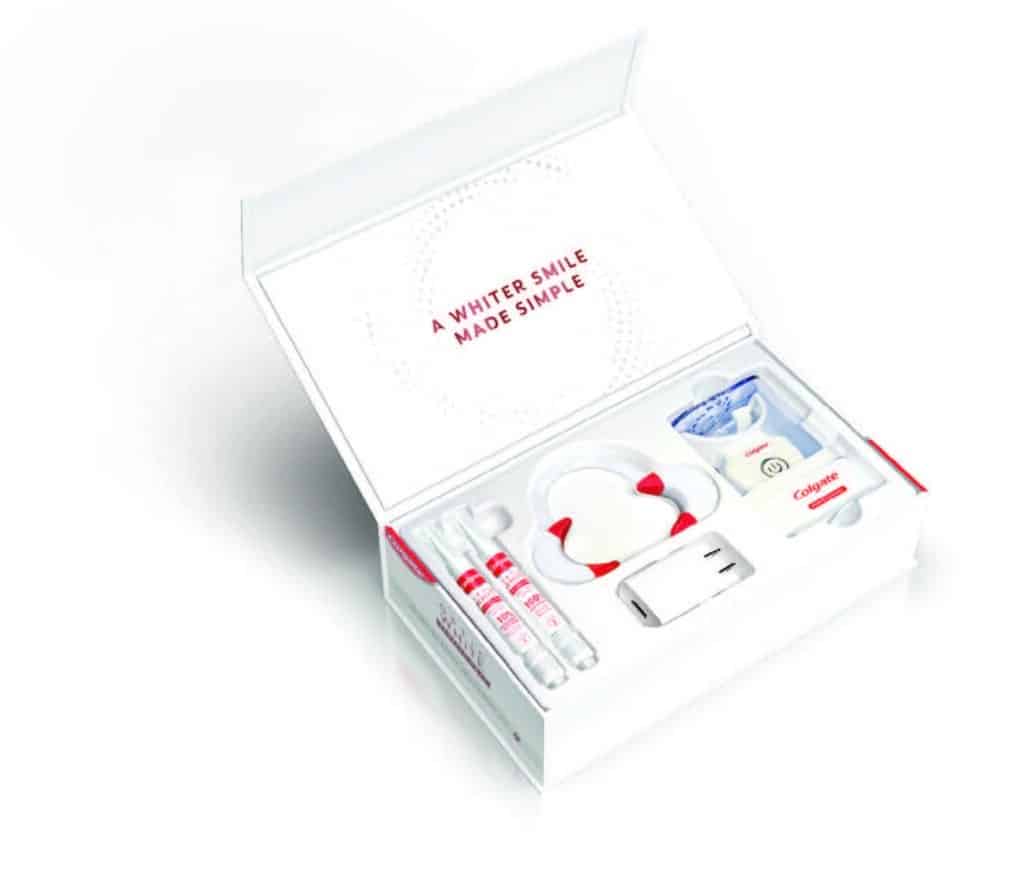 Designed for effective whitening, streamlined delivery and no sensitivity, Colgate's Optic White Professional In-Office bleaching kit takes the hassle out of whitening procedures. The precision pen delivery of its 10% hydrogen peroxide serum allows controlled and customized in-office application that can be adjusted to the patient's needs (Figure 1). The system — which does not require gingival barriers or custom trays — features a patented LED device that uses short wavelength indigo light (~ 410 nm) to optimize and accelerate activation of the bleaching agent (Figure 2). Further simplifying delivery, the whitening film is easily removed with the ethanol solution provided with the kit.
In-office application is completed in three 10-minute cycles during one office visit to make the experience more comfortable for patients. Offering short treatment times and up to six shades of whitening in one appointment, Optic White Professional In-Office is an excellent addition to any practice. For insights into implementing this technology, we caught up with esthetic and general practitioner Bradford ("Brad") Lockhart, DDS, for his thoughts on this in-demand elective therapy — and Colgate's innovative bleaching solution.
How did you hear about Colgate Optic White Professional? And what helped you decide to make this your whitening system?
Our illustrious Colgate rep, of course! It was an easy sell once they explained how it works. I am all about simple, fast, efficient and effective. From what the rep explained to me, Optic White checks all the boxes.
Do you use the in-office or take-home Optic White system — or do you use both?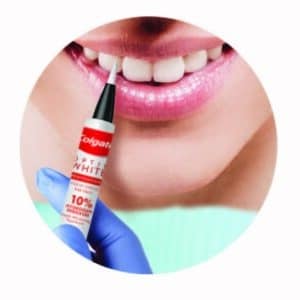 We use both. A happy and satisfied patient just left our office after less than an hour of total chairtime, with only a brief visit from me, the doctor.
One of the great things about this system is that you can augment in-office treatment with the professionally dispensed Optic White Professional Take-Home kit, so we can accommodate patients who want to maintain the results themselves, as well as those who prefer take-home whitening over in-office therapy.
How do you decide on which system to recommend?
This is a patient-driven decision. In consultation with the patient, we collectively decide if that individual has the discipline and ambition for do-it-yourself treatment at home — or if it's better to be spoiled laying down in a dental chair for less than an hour.
What's your protocol for introducing whitening to your patients? Do you or one of your team members take the lead in these discussions — or do you wait for patients to mention it first?
No single team member is the "lead." We all take initiative and offer the service to our patients. It would obviously be part of any cosmetic consultation and probably the easiest "sell." Our dental hygienists will talk about teeth whitening when appropriate. Easy opportunities to broach the discussion are when patients have previous dental work that no longer matches the color of their natural teeth. We also have a medical esthetician in our office who includes teeth whitening in her "package" of facial products; facial beauty and a beautiful smile are perfectly synergistic.
We also prescribe Optic White as a gift to all of our patients who complete certain treatment plans, such as orthodontics or temporomandibular disorder therapy. Colgate does a good job with its packaging, so patients know the product is legitimate, but not ostentatious, even before they use it.
Please describe the protocol. And how long does treatment take?
Optic White kits come with a hydrogen peroxide serum pen that you paint on dry teeth. This pen makes it easy to paint on the facial surface of the teeth — and only on the facial surface — which prevents the peroxide from reaching sensitive areas. The kit also includes an LED tray with an indigo light that really increases peroxide penetration and yields a better result. Another nice feature is that I do not have to spend valuable time taking impressions and making trays.
I can deliver the take-home kit during an appointment and the patient can use it that night. Plus, Optic White Professional Take-Home has a short 10-minute wear time. When using Optic White Professional In-Office, treatment takes less than an hour. Besides short treatment times, my patients and I both like that there is hardly any dentinal hypersensitivity with Optic White.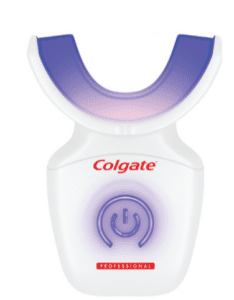 What is the biggest difference with Optic White compared to other whitening systems you have used?
The highlights for me are shorter chairtime for in-office bleaching because there is no need for gingival isolation; no gingival burning or irritation to explain to the patient; and no sensitivity! And because Optic White Professional Take-Home requires basically no chairtime or expense for tray fabrication, we can offer quality bleaching that fits into almost any budget.
How does Optic White benefit your practice?
This bleaching approach screams "cutting edge." We have lost a large segment of esthetically motivated patients who do not bleach their teeth because of debilitating tooth sensitivity they have experienced in the past. With empathetic communication, these patients can be confidently reintroduced to bleaching using Optic White.
Please describe your patients' response to bleaching with Optic White.
We have been using this product for six months and have received zero negative feedback. No tooth sensitivity! Dental assistants certainly prefer its easy delivery system compared to the paint-on rubber dams, sensitivity, and burned gingival tissues we've experienced with other whitening products.
Please share some tips to help others with their whitening business.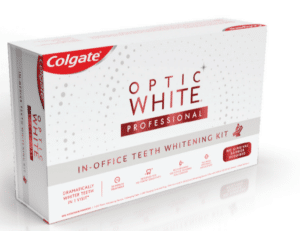 For starters, be careful what you promise, especially with patients who already have white teeth. You are simply not going to see dramatic changes with someone who already has relatively white teeth. This is not exclusive to Optic White; vital bleaching is not for every patient.
Having said that, I believe we do not offer bleaching to a wide-enough swath of patients. Almost without exception, every orthodontic patient should finish therapy with whitening treatment. Restoration in the esthetic zone? Why not offer to bleach first? That 10-year-old anterior crown that doesn't quite match anymore? Optic White is the perfect answer.
As previously noted, we provide Optic White free to patients who complete certain treatment plans. Taking this one step further, this easy-to-use whitening system makes a great referral gift, and could also be offered as token of appreciation or in recognition of cooperation or outstanding service — to a staff member, for instance. We are only limited by our imagination on how best to use Optic White to benefit the practice.
COLGATE ORAL PHARMACEUTICALS
From Decisions in Dentistry. March 2023;9(3)22-23.