Clinical Insights: Hands-On Clinical Courses Teach Dentists Advanced Skills
Simply Implant Institute's core programs offer hands-on instruction in fundamental and advanced techniques for smile design, bite management, and full-mouth reconstruction.
As a newly appointed senior faculty instructor at Simply Implants Institute (SII), I look forward to teaching dentists in the Cosmetic and Restorative Core R1 and Core R2 programs. I have been practicing dentistry for more than 28 years, and my focus is on esthetic/cosmetic therapy, full-mouth reconstruction, and high-end restorative dentistry, as well as treatment of temporomandibular disorders.
My private practice is located in Woodmere Village, Ohio, a suburb of Cleveland, my hometown. I have been teaching and instructing dentists from all over the world in the field of esthetic/cosmetic dentistry, occlusion, and full-mouth reconstruction. I also serve as lead clinical instructor at The Center for Exceptional Practices, located in Richfield, Ohio, and since 2020 I have been a faculty instructor/preceptor at Case Western Reserve University School of Dental Medicine in Cleveland.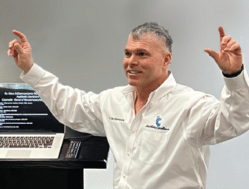 COSMETIC AND RESTORATIVE CORE R1
The Cosmetic and Restorative Core R1 course at SII is a unique opportunity for dentists to learn the art and science behind esthetic/cosmetic treatment and full-mouth reconstruction. It provides advanced training in three-dimensional cone beam imaging, and teaches participants how to set up dental cases with success and predictability. The SII curriculum is designed to deliver the hands-on clinical information dentists need to confidently implement these therapies in their own practice.
ADVANCED CORE R2 COURSE
The Cosmetic and Restorative Core R2 is an advanced two-day training session that includes treatment on live patients. The step-by-step approach taught by SII's highly experienced team of instructors ensures that participants have the necessary means to grow professionally.
I invite you to take this opportunity to enhance your skills with the experts at SII. Our first Core R1 program will take place in Glendale, Arizona, from June 15–17. Registration is now open. Learn more at simplyimplantsinstitute.com.
See you at Core R!
SIMPLY IMPLANTS INSTITUTE
888-660-2720
From Decisions in Dentistry. May 2023;9(5):24.