FAQ: OptiBond family from Kerr Restoratives
Bonding Agent Family Offers Ease Of Use And Predictable, Long-term Outcomes.
BONDING AGENT FAMILY OFFERS EASE OF USE AND PREDICTABLE, LONG-TERM OUTCOMES
Practitioner preference and the demands of a specific case may require a range of bonding solutions. What does the OptiBond family offer clinicians?
Recognizing that each practitioner and case is unique, Kerr's OptiBond family is designed to meet a variety of clinical needs. Whether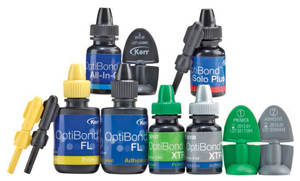 you prefer the convenience of an advanced, universal bonding agent, the ease of an all-in-one product, or the reliability of a fourth-generation, two-bottle, total-etch technique, Kerr is your source for reliable bonding.
What are the key characteristics of each OptiBond agent?
OptiBond XTR is a universal bonding agent that embodies the power and durability of a total-etch adhesive and the simplified protocol of a self-etch technique — all in two bottles. Offering outstanding bond strength to enamel and dentin, its universal compatibility means it's indicated for use in all direct and indirect restorative procedures. Designed to simplify bonding, OptiBond All-In-One is a single-bottle, seventh-generation agent that provides excellent adhesion to all surfaces and substrates in both direct and indirect applications. Offering tried-and-true reliability in direct and indirect bonding, OptiBond Solo Plus is a fifth-generation agent that combines primer and adhesive in one bottle. Ideal for direct restorations and core build-ups, OptiBond FL is a fourth-generation, two-bottle system featuring a one-coat primer and one-coat adhesive that can be applied to moist or dry surfaces.
Does a truly universal bonding agent exist?
Yes. Delivering predictable outcomes in all restorative procedures, OptiBond XTR is a truly universal bonding agent that bonds to all restorative substrates. This two-component, self-etch, universal adhesive's unique chemistry provides reliable bonding to cut and uncut enamel and dentin. Compatible with all resin cements, it helps simplify clinical technique and does not require the use of phosphoric acid, silane, desensitizers or dual-cure activators. In other words, with OptiBond XTR, there is no need for ancillary products.
Can I use a selective-etch technique with OptiBond XTR?
Technique is a personal choice, and some dentists may prefer using phosphoric acid for etching. While OptiBond XTR is compatible with selective etching and studies show that bond strength isn't compromised if phosphoric acid is used, introducing phosphoric acid may increase the chance of postoperative sensitivity. Offering a simple, two-component system, OptiBond XTR provides effective etching and bonding without the need for phosphoric acid, thus protecting against sensitivity.
What are my delivery options?
The OptiBond family is available in Kerr's convenient Unidose or traditional bottle delivery.