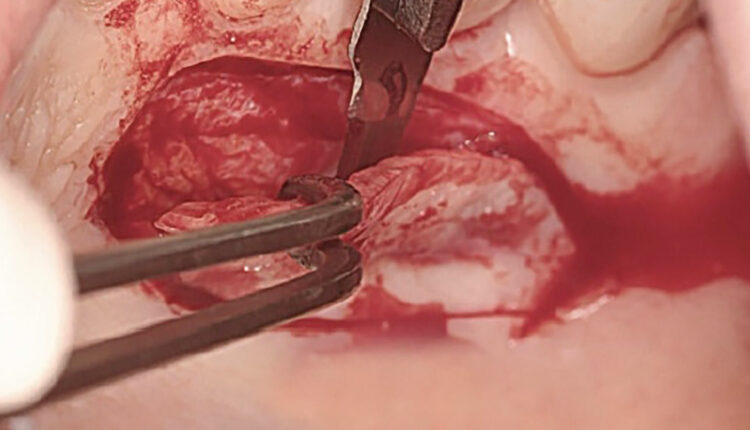 Optimizing Gingival Graft Healing
The use of palatal stents and collagen dressing can significantly improve patient comfort, accelerate healing, and reduce complications in gingival graft procedures.
Gingival grafts have a long history of use in dentistry. They are employed to halt recession, enhance tissue around dental restorations, and aid in brushing for individuals with thin, sore, and receding gums. While grafts are widely used today, they may cause postoperative pain and complications if not handled with care.
Palatal stents may be used in managing very large donor sites. The subjects in this study reported some discomfort, at times significant, but it was controlled with analgesic medication and the management strategy was deemed successful overall.1 The same authors followed with another report, this time using collagen dressing alone, also held in place by sutures. Analgesic medications helped the patients in this report, as well.2 The authors' comments on the collagen membranes conceded that while its use increases cost, the expense may be justified to improve outcomes with large grafts from the palate.
There is evidence that using a layer of collagen at the donor site will enhance and speed the healing process. As reported by Shanmugam et al,3 the use of the collagen, held in place this time by an acrylic stent, improved patient comfort and allowed faster healing compared to simply covering the site with a periodontal dressing. The team also commented that histologic study showed the collagen-enhanced sites demonstrated more collagen formation in the healed site than in the dressing-only group.
The technique of combining a palatal covering with a collagen layer offers several benefits to the provider and patient. It virtually eliminates the chance for irritation from the tongue or other events during sleep that can result in a bleeding episode and an emergency call. It also increases comfort at mealtime since no food or tongue activity rubs on an open wound. In addition, patients have confidence the wound is protected as they go about their daily routines.1–5
References
Berridge JP, Johnson TM, Lane JD, Miller PD. Focus on epithelialized palatal grafts. Part 1: Multiple adjacent recession defects in the mandibular anterior. Clin Adv Periodontics. 2018;8:160–166.
Berridge JP, Johnson TM, Lane JD, Miller PD. Focus on epithelialized palatal grafts. Part 3: Methods to enhance patient comfort at palatal donor sites. Clin Adv Periodontics. 2019;9:177–184.
Shanmugam M, Kumar TS, Arun KV, Arun R, Karthik SJ. Clinical and histological evaluation of two dressing materials in the healing of palatal wounds. J Indian Soc Periodontol. 2010;14:241–244.
Nettem S, Nettemu SK, Singh VP, Nayak SU. Free gingival graft: an effective technique to create healthy keratinised gingiva. Indian J Menodent Allied Sci. 2018;6:30–34.
This information originally appeared in Kohner J. Maintaining palatal comfort following gingival grafting. Decisions in Dentistry. 2020;6(10):10-12.