Zest Dental Solutions Launches Regal GO Hygiene Product for FIXED Dentures

Zest Dental Solutions announces the release of Regal GO, the all-in-one oral care brush that combines an effective design and specially formulated cleaning gel for patients with dental implants, orthodontic appliances, or even natural teeth.
Proper hygiene is critical to the long-term success of dental implants, including ones used to support a fixed prosthesis. As a result, the Regal GO gel is a perfect complement to LOCATOR FIXED, the new FIXED full-arch solution from Zest Dental that uses the same abutment and workflow as the original, removable LOCATOR. It is also effective with other leading implant supported, full-arch screw-retained solutions.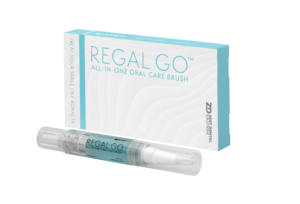 Regal GO effectively breaks up food debris in hard-to-reach areas and freshens breath, making it easy for patients to maintain their oral hygiene routine at home or on the go and keep their smiles clean and healthy. The fine-bristled pen applicator is used to accurately apply the cleaning gel under fixed prosthetics, around dental implants, crowns, ortho brackets and wires, and more.
Two product configurations are available for patients to best meet their oral care needs: Regal GO and Regal GO mini. Regal GO is available in 4-packs of 4 mL pens for a month's supply, while Regal GO mini is a single 2.3 mL pen that makes for a great sample or travel cleaning option.
To learn more about how Regal GO can help you exceed patient expectations and grow your practice, call 800-262-2310 or visit www.zestdent.com.