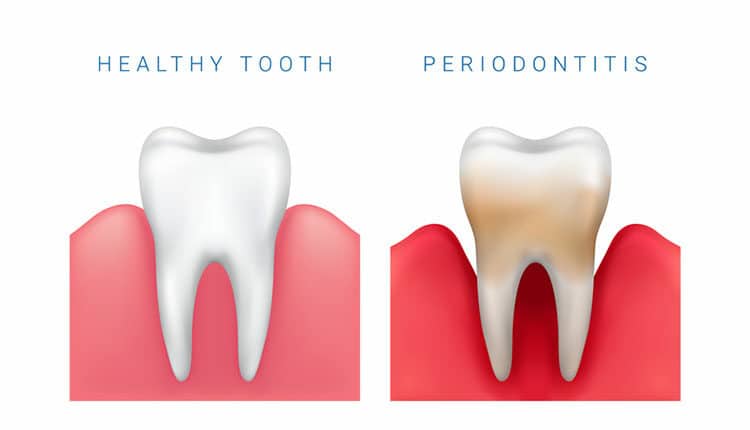 Katerina Sisperova / iStock / Getty Images Plus
Make the Most Out of Minis
The use of mini- and micro-mini-bladed Gracey curets is key in maximizing patient outcomes in periodontal therapy.
Calculus left behind after nonsurgical periodontal therapy (NSPT) only furthers the flame of inflammation, leaving patients with periodontal diseases in a continuing cycle of poor outcomes. While deep pockets and challenging anatomy hinder a clinician's ability to complete calculus removal, the use of mini- and micro-mini-bladed instruments can make a significant difference in the effectiveness of NSPT.
Both mini- and micro-mini-bladed Gracey curets are particularly useful in debriding root and tooth surfaces in areas of narrow, deep periodontal pocketing. It is physically impossible to insert a long, regular-sized blade directly into the deepest area of a pocket in a transverse position using vertical strokes.1 In addition, the use of mini- and micro-mini-bladed Gracey curets eases the challenge of accessing the interradicular root furcation surfaces.
In comparison to modified slim ultrasonic insert/tips, mini- and micro-mini-bladed Gracey curets allow for unprecedented access and effectiveness for root debridement because they provide excellent adaptation with better tactile sensitivity in areas of line angles; furcations; and narrow, curved, and facial or palatal root surfaces, especially when tissue is tight.2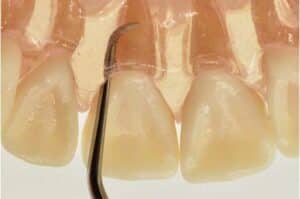 MAKE THE MOST OF THE STROKE
Vertical strokes with mini- or micro-mini-bladed Gracey curets are generally used straight with the toe directed in the mesial or distal direction. These types of strokes are effective on rounded concavities going into and out of root depressions and furcations, and around line angles under the cementoenamel junction (CEJ). Oblique or horizontal strokes can be used; however, due to the shortness of the blade, these strokes may not extend far enough subgingivally unless tissue is retractable.2
Horizontal strokes with the toe directed toward the junctional epithelium with mini- or micro-mini-bladed Gracey curets are most effective when used at the CEJ or in developmental depressions just below it.2 However, due to the nature of a shorter blade, using a horizontal stroke is difficult to reach deep periodontal pockets with developmental depressions.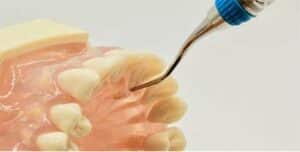 HOW TO APPROACH ANOMALIES
Palatogingival grooves are developmental anomalies involving lingual surfaces of the maxillary incisors. They are inconspicuous, funnel-shaped, and extend for varying distances on the root surface.3 Without proper instrumentation, these areas can encourage plaque adherence, potentially causing periodontal lesions. In addition to developmental anomalies, the narrow anatomy of the anterior teeth makes it challenging to find instruments that fit tight tissue.
Mini- and micro-mini-bladed Gracey curets can be inserted to the base of a narrow, tight anterior palatal pocket along the midline of the tooth using a straight vertical stroke (Figure 1). This can be done with very straight curets such as mini- or micro-mini-bladed Gracey 1/2, 5/6, or 7/8 curet using an opposite-arch or same-arch hand rest. With a same-arch fulcrum, the bend of the shank of mini- and micro-mini-bladed Gracey 13/14 curets are superior for deep periodontal pockets, recession, and palatal version access. The upper shank of the 13/14 Gracey design extends in the palatal direction to allow the terminal shank to align with the palatal surfaces of the root (Figure 2).
REFERENCES
Bowen DM, Pieren JA. In: Dental Hygiene: Theory and Practice. Darby M, Walsh M, eds. 5th ed. St. Louis: Elsevier; 2019.
Newman M, Takei H, Klokkevold P, Carranza F. Newman and Carranza's Clinical Periodontology. 13th ed. St. Louis: Elsevier/Saunders; 2019.
Karunakaran J, Fenn S, Jayaprakash N, Ragavendran N. Successful surgical management of palatogingival groove using platelet-rich fibrin and guided tissue regeneration: a novel approach. J Pharm Bioallied Sci. 2017;9(Suppl 1):S268–S273.
This information originally appeared in Sanchez JS, Nguyen M. Improve nonsurgical periodontal therapy with appropriate instrument choice. Dimensions of Dental Hygiene. 2021;19(2):16–21.