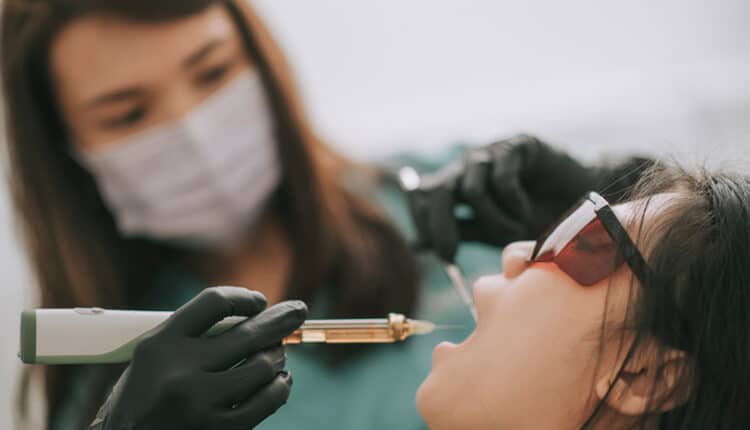 Edwin Tan / E+
Penn Dental Medicine Partners With Woods Services to Care for Individuals With Disabilities
Expanding its outreach within the community, Penn Dental Medicine announces a new partnership with Woods Services to provide dental treatment for Woods' patients and residents. Woods is a Pennsylvania- and New Jersey-based nonprofit that serves children and adults with intellectual and developmental disabilities and acquired brain injuries. Woods' existing dental care center within its Langhorne, Pennsylvania, campus will undergo extensive renovations and reopen later this summer as Penn Dental Medicine at Woods Mikey Faulkner Dental Care Center.
Clinic renovations will add two operatories (expanding from three to five), provide state-of-the-art equipment, enhance the waiting area and reception check-in, and migrate current patient files to a new electronic health record system utilized by Penn Dental Medicine.
"We are thrilled to be expanding our service and care within the community through this Woods partnership," says Penn Dental Medicine's Morton Amsterdam Dean Mark S. Wolff, DDS, PhD. "It not only allows us to help provide comprehensive care to Woods patients, but also offers an invaluable setting for our students to gain experience caring for individuals with a wide range of disabilities." Postgraduate students within Penn Dental Medicine's Advanced Education in General Dentistry program will provide clinical care at the center under close faculty supervision.
"Woods is pleased to work with Dean Wolff to enhance dental services for our patients and residents," says Tine Hansen-Turton, president and CEO of Woods Services. "Penn's personalized care and interdisciplinary team approach are perfectly aligned with Woods, as is its emphasis on preparing the next generation of dentists to care for patients with special needs. Penn's dentists will be able to perform procedures at our on-campus dental clinic that in the past would have required a visit to a specialist. This expansion of services will be less disruptive, further enhancing patients' quality of life."
After Wolff's appointment in 2018, he identified dental care for persons with disabilities as a priority for the school, and in 2021 Penn Dental Medicine opened the state-of-the-art Care Center for Persons with Disabilities. Under his leadership, Penn is developing a national reputation for excellence in treating the dental needs of people with disabilities and in training dental students to care for these individuals.
Woods is organized around the principles of population health management and addresses the social determinants of health through a comprehensive continuum and system of care that connects prevention, wellness, education, behavioral health, and social services with coordinated and integrated healthcare delivery.
"The Medical Center at Woods serves as a national model for providing comprehensive, coordinated personalized care for people with complex diagnoses and medical conditions, like Mikey Faulkner, current Woods patient and the clinic's namesake," says Hansen-Turton. "The opening of Penn Dental Medicine at Woods Mikey Faulkner Dental Care Center continues Woods' commitment to providing an integrated healthcare experience."
This new care center will add to Penn Dental Medicine's ongoing community care programs, which include dental centers at Mercy LIFE, serving seniors in West Philadelphia; Puentes de Salud, serving the Latino community in South Philadelphia; and the PennSmiles dental bus, serving children within the Philadelphia School District and area community health centers.