Candid Closes Direct-to-Consumer Aligner Business and Goes All-In on Dentist Network Model, CandidPro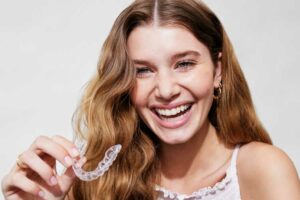 Candid, a clear aligner company, announces that it is closing its direct-to-consumer business, as well as all 45 Candid Studios. The company is now entirely focused on growing its nationwide network of CandidPro dentists and empowering them to treat clear aligner cases with its vanguard teleorthodontic service model. Candid is now working in direct partnership with dental practices and dental service organizations (DSOs) to offer this first-of-its-kind, telehealth clear aligner therapy to even more patients.
Founded in 2017, Candid is taking its pioneering technology, strong consumer brand, and deep patient insights into its next evolutionary phase. Candid's shift to a full CandidPro model continues the company's mission to facilitate orthodontic care for as many patients as possible. A significant number of the 100,000 patients Candid has treated expressed interest in starting their remote clear aligner treatment in the care of a dentist, and the company is responding by turning up the volume in its hybrid remote/in-office model.
"For us to live out our mission of helping as many patients as possible access affordable and efficient care, we need to work in partnership, not in competition, with dental professionals," states Candid cofounder and CEO Nick Greenfield. "This pivot represents a huge growth opportunity for us and for dental practices, and I couldn't be more confident about the future of orthodontic care."

Since CandidPro's launch, the service has become available in 300-plus individual dental practices across the country, and Candid has partnered with several DSOs — with others lined up to follow. CandidPro has grown 10x in both case volume and revenue since Q3 of 2021. By the end of 2022, the company expects explosive growth, and anticipates participation by more than 1000 offices and a presence in all 50 states.
Dental practices, DSOs and dental industry leaders share Candid's optimism for CandidPro. "I've been treating clear aligner patients for 17 years, and with CandidPro I have a level of control over the volume and quality of treatment that is unlike anything else on the market," says Dr. Ben Miraglia, who has been practicing dentistry for 29 years.
Dr. Roshan Parikh, the former head of dentistry at Walmart Health, also sees a huge opportunity for CandidPro's treatment approach to transform the industry. "Candid's pivot to exclusively offering CandidPro tells me they listened to DSO needs and will be myopically focused on supporting their growth and helping them deliver the high-quality product and experience that professionals and patients have grown to expect."
Today, a vast number of dentists are doing just one clear aligner case per month. With CandidPro, dentists will be able to offer a revolutionary clear aligner system. CandidPro reduces chairtime thanks to its CandidMonitoring virtual check-ins and patient-facing CandidApp — the top-rated app in teledentistry in the Apple App Store — to scan their teeth, access support, and follow their dentist's instructions.
About Candid: Candid is a cutting-edge clear aligner orthodontic system that makes treatment accessible and affordable for dentists and patients. Since 2017, Candid has brought high-quality orthodontic care and patient support to dental practices and dental service organizations across the United States. Learn more at candidpro.com.