States and Businesses Challenge COVID-19 Vaccine Mandates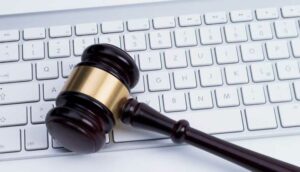 ADEA Advocate, the official newsletter of the American Dental Education Association, reports that 10 states have jointly filed a lawsuit against the U.S. Centers for Medicare and Medicaid Services (CMS) challenging the agency's COVID-19 vaccine mandate. Issued in the form of an interim final rule, the mandate requires health care facilities paid by Medicare and Medicaid to establish a policy ensuring workers have received at least one COVID-19 vaccine dose by Dec. 6 for them to continue to provide care or treatment. All eligible staff must be fully vaccinated by Jan. 4, 2022.
Filed by Missouri, Nebraska, Arkansas, Iowa, Wyoming, Alaska, South Dakota, North Dakota, New Hampshire and Kansas in the Missouri federal district court, the lawsuit asserts that CMS violated the Administrative Procedure Act by failing to consider or arbitrarily rejecting important factors affecting the efficacy of a policy. The states are asking the court to stop the CMS COVID-19 vaccine mandate from taking effect.
In another COVID-19 mandate lawsuit, a group of plaintiffs—Louisiana, Texas, Mississippi and numerous private businesses—are attempting to halt the implementation of the Department of Labor's (DOL) Nov. 5 interim final rule. The lawsuit was filed in the Fifth Circuit. The rule mandates businesses with more than 100 employees to either require vaccinations for employees or weekly testing and the wearing of masks for unvaccinated employees. Employers must comply with most requirements (e.g., deciding whether vaccinations would be required and if so, obtaining proof of vaccinations) by Dec. 5 and must comply with testing requirements by Jan. 4, 2022.
The Fifth Circuit Court of Appeals issued a ruling on Nov. 6 temporarily staying the interim final rule. The Department of Justice opposed the temporary stay, and on Nov. 12, the Fifth Circuit Court of Appeals once again ruled against DOL, noting that the DOL overstepped its statutory authority when it issued the vaccine mandate. This decision halts implementation of the DOL COVID-19 vaccine mandate for states in the Fifth Circuit: Louisiana, Mississippi and Texas. The Court ruled that the DOL rule "remains stayed pending adequate judicial review of the petitioners' underlying motions for a permanent injunction."
Though there have been cases filed against the vaccine mandate in the Sixth, Eighth and 11th circuits, these courts have not yet ruled on the cases.