AACD 2022 Orlando Program Promises a Wonderland of Educational and Networking Opportunities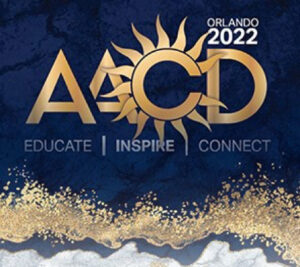 The American Academy of Cosmetic Dentistry (AACD), the premiere organization for cosmetic dental professionals in the world, has released the program for their flagship conference, the 38th Annual AACD Scientific Session. This year the AACD will convene at the Rosen Shingle Creek Resort in Orlando, Florida, after a two-year hiatus.
The AACD Scientific Session program highlights the top-tier educational opportunities offered by leaders in the field of cosmetic dentistry, giving attendees a chance to participate in hands-on workshops and grow from practice-boosting lectures. Esthetic-focused exhibitors will be showcasing their products and services throughout the exhibit area for easy browsing and shopping. Also featured are ample opportunities to attend community-building events and networking gatherings as well as enjoy the venue and all that Orlando has to offer. 
Sessions and workshops begin on Wednesday, April 27 and extend through Saturday, April 30. Kicking things off, the Welcome Reception features a "Wonderland: We're All Mad Here" theme and will be held Wednesday evening at 6:30 p.m. on the Rosen Shingle Creek Terrace. Additional opportunities to make new acquaintances and connect with old friends will be offered throughout what is sure to be a memorable event.
Attendees can begin their AACD Accreditation journey at the Session, surrounded by professionals who have achieved this level of training and those who are driven to be the cream of the esthetic dentistry crop. 
And, new for 2022, Friday will feature "Expert Room: Masterclass", introducing attendees to eight industry leaders offering critical information on non-clinical topics that will help you be more successful and build a more valuable practice.
Rounding out the event on Saturday evening, will be the AACD Celebration of Excellence. This gala ceremony will recognize and applaud the accomplishments of outstanding Accredited and Accredited Fellow Members. Following is an After Party, open to all attendees, which wraps up the conference for another year.
To flip through the digital edition of the AACD Orlando 2022 Preconference Guidebook, click here. Or for more information, view the full agenda, and to register for the 38th Annual AACD Scientific Session, visit www.aacdconference.com.
About the AACD
The AACD is the world's largest non-profit member organization dedicated to advancing excellence in comprehensive oral care, combining art and science to optimally improve dental health, esthetics, and function. Comprised of cosmetic dental professionals in 70 countries worldwide, the AACD fulfills its mission by offering superior educational opportunities, promoting and supporting the respected Accreditation and Fellowship credentials, serving as a user-friendly and inviting forum for the creative exchange of knowledge and ideas, and providing accurate and useful information to the public and the profession.