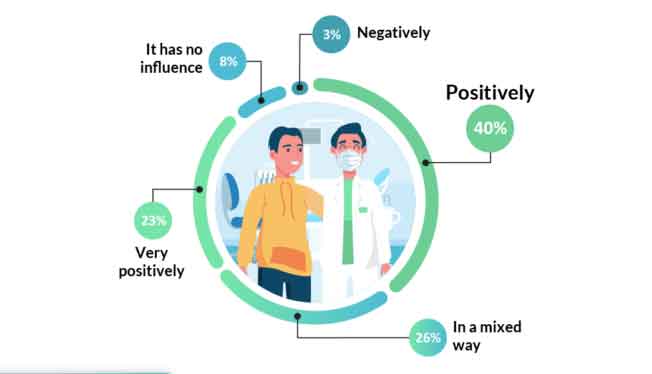 Survey Shows Patients May Forgive Treatment Mistakes
In a recent DentaVox survey with 3418 respondents, 63% claim that being friends with their dentist influences their dental treatment in a (very) positive way. Interestingly, over half of the survey participants consider that patients are likely to forgive treatment mistakes if they know the dentist personally. Also, this friendship may lead to fewer negative reviews and better customer care.
How Do Friendship Relations Affect the Dental Care You Receive?
Results show that ultimately, being friends with your dentist creates a better overall experience both for the patient and for the dentists. Specifically, more than half of respondents answer that being friends with their dentists affects them (very) positively. Could a friendly approach then make patients less nervous and help them overcome dental anxiety? It may be worth investigating further, considering that 1 in 7 adults suffers from extreme dental anxiety according to the Oral Health Foundation. It's also one of the most common reasons to skip the dental checkup.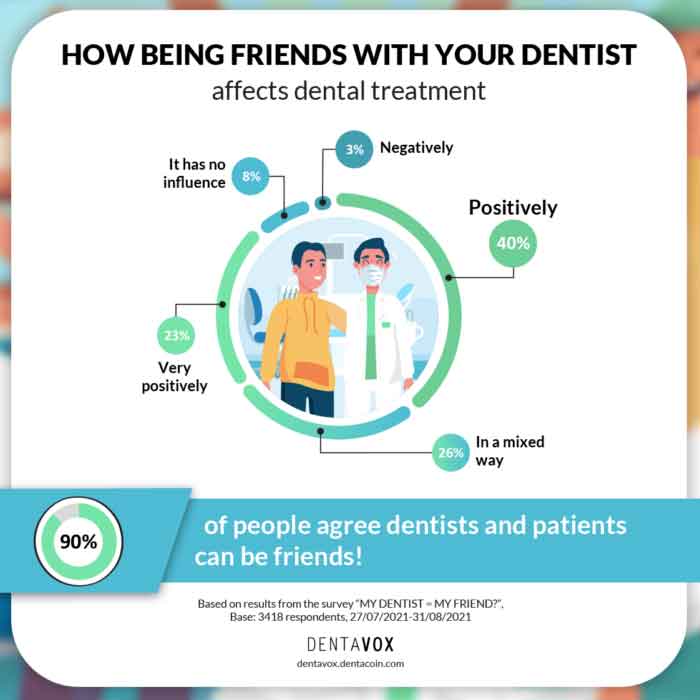 Positives of Patient – Dentist Relationship
But you may be wondering, what exactly are those positive outcomes? 62% of respondents who have become friends with their dentist believe they are receiving better customer service than before. What is more, 38% of patients claim that their close relations with the dentist provide them with a more accurate diagnosis. We may wonder, do dentists really treat them differently? Or are patients simply more likely to trust a dentist-friend?
It seems that there are also positive outcomes for dentists. Interestingly, 59% of patients are more prone to forgive treatment mistakes to their favorite dentist. What is more, it looks like there is a lesser chance of receiving a bad review. Knowing the dentist well is the second most common reason to leave a review.
People Want to Know About Their Dentist's Personal Life
Dentists are advised to avoid interpersonal relationships with their patients, based on ADA Code, as they may impair their professional judgment and put clients at risk.
Contrary to the recommendations to keep private life outside the dental practice, over half of respondents find it (very) important to know about the life and character of their dentist. It is interesting to explore to what extent it affects their choice of professional. And, maybe it comes in naturally, having in mind how social media has lifted the mystery element of our lives.