Planmeca Oy Announces Intended Acquisition of KaVo Treatment Unit and Instrument Business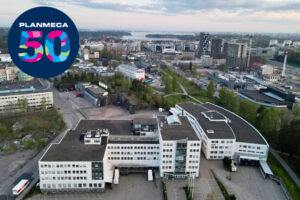 Planmeca Oy, one of the largest privately held manufacturers in the dental field, has entered into a binding contract to acquire the KaVo Treatment Unit and Instrument business from Envista Holdings Corp. The acquisition will strengthen Planmeca's and KaVo's positions as leading providers of innovative dental solutions.
The acquisition will complement Planmeca's extensive product portfolio and enhance the growth and competitiveness of both companies, allowing them to offer the best possible modern digital workflow to dental professionals around the world. KaVo Treatment Unit and Instruments is a renowned manufacturer and supplier of dental care units and instruments with a strong worldwide brand presence.
Both companies will continue to operate as independent businesses, while future synergies will be sought in products, technology innovations and distribution networks.
"This partnership will make us a very strong player in the dental field. I believe our companies are a great match — we share the same standards and passion for high technology, quality and innovation, and for offering a complete digital workflow for our customers. We also share similar company cultures with a strong family business heritage. Caring for our employees and focusing on our customers have always been important values for us both," says Heikki Kyöstilä, the owner, founder and CEO of Planmeca Group.
"We have always had great admiration for KaVo as a premium brand. This partnership will allow us to provide exceptional value to both our customers and distributors. Our mission is to become the world's leading provider of digital dental solutions," notes Tuomas Lokki, senior vice president of Planmeca Group.
The transaction is expected to close at the end of 2021. A 51% stake of the KaVo Treatment Unit and Instrument business will be acquired by Planmeca Oy, and the remaining 49% by Kyöstilä as a private individual. After acquisition completion, Planmeca Group will employ a total of 4,500 people worldwide.
Established in 1971, Planmeca Oy is celebrating its 50th anniversary this year.
For more information, please contact:
Tuomas Lokki, Senior Vice President
Planmeca Group
Tel. +358 20 779 5523
Email: [email protected]