Crest+Oral-B, The Smile Generation, and PDS Foundation to Host Webinar on June 25
Live event to highlight how good oral health can reduce the risks of deteriorating brain health.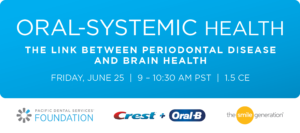 In partnership with Crest®+Oral-B® and The Smile Generation®, the Pacific Dental Services® (PDS) Foundation will host a webinar focused on the connection between oral health and brain health 9 am PDT on Friday, June 25 and will offer 1.5 continuing education (CE) credits to attendees. Register for the event here.
The event, "Oral-Systemic Health: The Link Between Periodontal Disease and Brain Health," will feature Steven Masley, MD, a fellow-certified physician, nutritionist, author, speaker, and award-winning patient educator whose research focuses on the impact of lifestyle choices on heart health, brain function, and aging, with Anne O. Rice, RDH, a fellow with the American Academy of Oral Systemic Health, certified dementia practitioner, and certified Brain Longevity Specialist with the Alzheimer's Research and Prevention Foundation, and Katie McCann Lee, DDS, a PDS-supported multi-practice owner dentist with a passion for oral-systemic health and clinician education. The event will be moderated by Daniel Burke, chief enterprise strategy officer at PDS.
The webinar will cover topics such as the link between oral health and systemic health. The event will also include discussion topics on the ways medical and oral healthcare providers can better collaborate on behalf of patients to ensure better health outcomes at lower costs, and how to overcome the hurdles in the healthcare system that currently prevent full collaboration between dental and medical professionals.