OHA's Fall for Smiles Begins October 1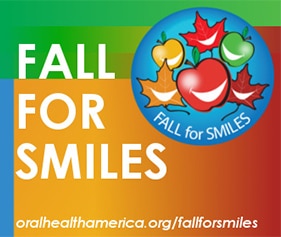 Oral Health America's (OHA) Fall for Smiles Campaign kicks off on October 1 with Advocacy Week, five days of events dedicated to raising awareness on the importance of dental health as a key factor of overall health and wellness.
This year's campaign theme, Open Your Mouth: Oral Health is Health!, seeks to emphasize the connection between oral health and overall health, as well as help empower health advocates and decision makers to work toward long-term health policy solutions.
Advocates can join OHA virtually via a Twitter Chat on Monday, October 1, and an Instagram Takeover on Thursday, October 4. In person events will also be held at OHA's Reception, Advocate Training and Day on the Hill in Washington, D.C. on Tuesday, October 2 and Wednesday, October 3.
Learn more about the Fall for Smiles Campaign at: https://oralhealthamerica.org/our-work/fall-for-smiles/advocacy/