What Can the Herpesvirus Teach Us About Oral Inflammation?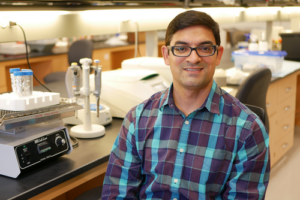 A $2 million grant from the National Institutes of Health will help University of Illinois at Chicago (UIC) researchers study how herpesviruses, and their underlying molecular mechanisms, contribute to increased inflammation in oral diseases, such as periodontitis.
The researchers, led by the UIC College of Dentistry's Afsar Naqvi, PhD, assistant professor of periodontics, will also study how manipulating the small molecules that help to regulate gene expression in the herpesvirus may aid health care professionals to diagnose and treat oral diseases.
"Herpesviruses are unique in both their lifelong persistence in the human body and in their ability to encode viral microRNAs that not only alter their own genetic activities but their host cells' functions as well," says Naqvi.
"Herpesvirus encoded microRNA helps the virus to survive in multiple ways," Naqvi explains. "Because we see a correlation between herpesviruses and oral inflammation, we want to examine if viral microRNAs accumulate in inflamed oral tissues and if they impair the body's immune responses."
Naqvi and his team will study the impact of the five most common herpesviruses associated with oral inflammatory diseases and quantify their microRNA and genome levels.
"We want to identify the microRNAs that change when the tissue around the teeth becomes inflamed," Naqvi said.
The funding will support this research for 5 years. The research team will also investigate the molecular and cellular mechanisms through which disease-associated herpesvirus microRNAs dysregulate host immune cell functions.