Lucy Hobbs Project Celebrates 6 Women in Dentistry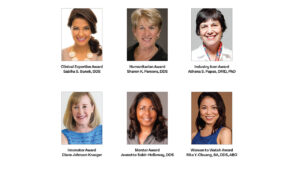 Benco Dental will host The Lucy Hobbs Project 6th Annual Celebration, sponsored by Midmark, September 13–15 at The Westin St. Francis on Union Square in San Francisco, California. The three-day event, celebrates the extraordinary accomplishments of women in dentistry.
The Project will honor six women selected as award recipients for setting new benchmarks in the dental profession:
Sabiha S. Bunek, DDS, recipient of the Clinical Expertise Award, bridges the gap between research and clinical practice;
Sharon K. Parsons, DDS, recipient of the Humanitarian award, dedicates her practice, Dental Associates, in Columbus, Ohio to the needs of patients of all ages;
Athena S. Papas, DMD, PhD, recipient of the Industry Icon award, serves as Head of the Division of Oral Medicine at Tufts University School of Dental Medicine in Boston, Massachusetts;
Diane Johnson Krueger, CEO, recipient of the Innovator award, founder of NuSmile;
Jeanette Sabir-Holloway, DDS, recipient of the Mentor award, founded and directs the nonprofit, Increasing Diversity In Dentistry;
Rita Y. Chuang, BA, DDS, ABO, recipient of the Woman to Watch award, drives dentistry forward with her commitment in the field of novel Orthodontic techniques.
The Lucy Hobbs Project, named for Lucy Hobbs Taylor, the woman who, in 1866, became the first American female to earn a degree in dentistry, aims to bring women together from all facets of the dental profession.
To learn more about previous winners of The Lucy Hobbs Project®Award, or to sign up for The Lucy Hobbs Project®, visit lucyhobbscelebration.com