Kettenbach LP Introduces Futar® Clear Fast Bite Registration Material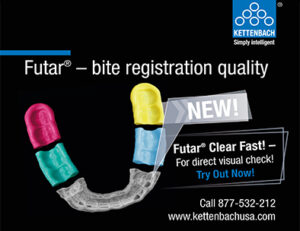 Huntington Beach, CA – Kettenbach LP's complete line of Futar® bite registration materials has extended its Futar® Family product range with Futar® Clear Fast.
With a shore hardness of A62, Futar Clear Fast is a fast-setting material that provides a firm set, but elastic enough for easy removal. It is moderately flexible to allow it to come off of the cast without disturbing a wax up.
Because it is transparent, it's different from the other Futar products, providing the ability of the direct visual inspection restorative area. Futar Clear Fast can be trimmed easily with a scalpel, and can be placed easily using the teal-mixing tip.
Futar Clear Fast has a total working time of 15 seconds and an intraoral setting time of 45 seconds. This material is thixotropic and offers excellent workability. It is packaged as 2 x 50 ml cartridges with six mixing tips.
For more information, call 877-532-2123 or visit kettenbach.com.