ORAL HEALTH AMERICA RECEIVES GRANT FROM DENTAQUEST FOUNDATION TO ADVOCATE FOR PUBLICLY FUNDED DENTAL COVERAGE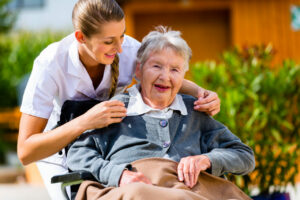 CHICAGO, April 30, 2018 – Oral Health America (OHA) has been awarded a grant in the amount of $667,000 from the DentaQuest Foundation (DQF). The grant will provide significant support to expand the Wisdom Tooth Project® and increase capacity to continue advocating for publicly funded dental coverage for Medicare beneficiaries.
Since 2010, DQF has been pivotal in supporting OHA's systems change approach to improve the oral health of older adults across the nation. OHA's Wisdom Tooth Project is a national program designed to educate older adults and their caregivers, connect communities with support and resources to access care through our one-of-a-kind web portal, toothwisdom.org, and advocate for policies that improve the oral health of all older adults.
 "With an expected 72.1 million seniors living in the United States by 2030, there is a sense of urgency in ensuring that all older adults receive the oral health care they deserve. Thanks to DQF, we are coordinating a national movement that prioritizes the oral health of older adults as a key factor for their overall health and wellness," says Beth Truett, president & CEO of Oral Health America. "We are grateful to the DentaQuest Foundation for their continued support and partnership as we work for good oral health throughout the lifespan and advocate for an oral health benefit in Medicare."
According to OHA, 2018 will build upon the work done since 2015 by the three Medicare Work Groups focused on Policy & Procedure, Marketing & Communications, and Politics to align efforts to impact the 2020 electoral platform.
 "The DentaQuest Foundation is happy to partner and invest in the important work, that OHA is leading, to provide equitable access to oral health care for the growing number of Medicare covered adults. Oral health is an integral component of health," says Michael Monopoli, executive director of DQF.
 Together with DQF, OHA will lead and strengthen partnerships within the oral health and aging network to elevate the relationship between oral and overall health and call on legislators, advocacy groups and consumers to join us in taking action to educate all constituents that health equity depends on including an oral health benefit in Medicare for all older adults, particularly those most vulnerable.
 Learn more about OHA's Medicare initiative at oralhealthamerica.org/Medicare.