University of Louisville School of Dentistry Faculty Selected as Fellows of the American College of Dentists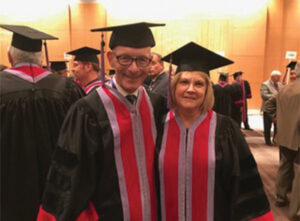 T. Gerard Bradley, BDS, MS, DrMedDent, dean, and P. Gay Baughman, DMD, associate clinical professor at University of Louisville's (UofL) School of Dentistry were inducted as Fellows of the American College of Dentists during the American College of Dentistry Annual Meeting in October.
After being appointed dean of the school in 2016, Bradley launched a strategic plan for UofL's School of Dentistry, led a comprehensive curriculum review to implement new technologies in education. His efforts also include the development of a new clinical education site at the Red Bird Clinic in eastern Kentucky. Bradley served as associate dean of research and graduate studies, chair of the Department of Developmental Sciences, and a program director of advanced education in orthodontics at Marquette University School of Dentistry prior to joining UofL.
Baughman, who teaches topics ranging from evidence-based curriculum and critical thinking to emerging technologies, worked more than 25 years in private practice before joining the UofL's School of Dentistry in 2009. Since then, she has received several teaching and service awards. Additionally, Baughman has served on committees related to diversity, social justice and cultural competency.
Fellows of the American College of Dentists are selected through confidential peer review and chosen based on leadership and contributions to dentistry and society.