Dentsply Sirona Announces the Addition of New Board Members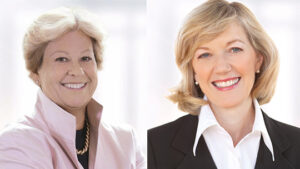 Dentsply Sirona has announced that the size of its Board of Directors has increased from nine to 12 members and that three new board members have been appointed. Joining the Board of Directors are Betsy D. Holden, MA, MBA, and Leslie F. Varon, MBA, in addition to Don M. Casey Jr., MBA,  Dentsply Sirona's newly appointed Chief Executive Officer.
"We are delighted to welcome Betsy and Leslie to Dentsply Sirona's Board of Directors," says Eric. K. Brandt, MBA, non-executive chairman of the Board. "Both individuals are internationally recognized business leaders, incredibly talented and bring a broad set of skills to Dentsply Sirona. We are fortunate to add such high caliber people to help us achieve our potential as the market leader in dental products and technologies."
Holden is a senior advisor to McKinsey & Company, working with clients across industries on strategy, marketing, innovation, and board effectiveness initiatives. She was formerly Co-CEO of Kraft Foods and CEO of Kraft Foods North America. At the time, Kraft Foods was the largest food company in North America and the second largest in the world. In addition to her CEO role at Kraft, Holden held the positions of president, Global Marketing and Category Development; executive vice president with responsibility for Operations, IT, Procurement, R&D, and Consumer Insights and Communications; president of the Kraft Cheese Division; president of the Pizza Division; plus multiple line brand management assignments. Holden introduced new products that generated over $2 billion in revenue and under her leadership Kraft received numerous marketing, new product, and "best places to work" accolades.
Varon has an extensive record of financial and business leadership in corporate financial management and investor relations. She has significant experience driving business transformation over 30 years at Xerox Corporation, including complex turnarounds, mergers and acquisitions, crisis management and the spinoff of a major business unit. During her career with Xerox,  Varon has served in a variety of senior roles including as the company's Chief Financial Officer, corporate controller, vice president of finance for North America and head of investor relations and was responsible for all finance, treasury, investor relations, risk management, mergers and acquisitions, tax, audit, procurement and real estate operations at Xerox.