Dugoni School of Dentistry's 'Kids in the Klinic' Golf Classic Raises Money for Children's Dental Care
20th annual event brings in more than $100,000 in new funding for the Kids in the Klinic Endowment at University of the Pacific's Arthur A. Dugoni School of Dentistry
 SAN FRANCISCO, CA (Oct. 31, 2017) –University of the Pacific, Arthur A. Dugoni School of Dentistry's 20th annual Kids in the Klinic Golf Classic recently attracted nearly 200 golfers, alumni, volunteers, celebrities and corporate sponsors for a day of fun on the course for a good cause. Held Oct. 16 at The Olympic Club in San Francisco, the event benefits oral health care for underserved children who otherwise would not be able to afford it.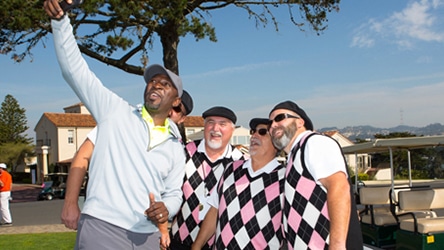 This year's tournament netted more than $100,000 in new support for the school's Kids in the Klinic Endowment through funds raised at the golf event and a matching gift provided by University of the Pacific's Powell Fund. Over the last 20 years, the event has generated funding to grow the endowment to more than $2.5 million in total today.
 The Kids in the Klinic program helps underserved children throughout Northern California. Hundreds of children each year receive care at the Dugoni School's Hutto Patterson Pediatric Clinic and Redmond Family Orthodontic Clinic, with nearly $100,000 in free and reduced-cost care afforded through Kids in the Klinic.
 This year's event featured a $5K putting challenge, $1M hole-in-one-shootout, and a cocktail hour followed by a raffle drawing and live and silent auctions. Other fun on-course activities included long-drive and closest-to-the-pin challenges. Long drive entertainers Rob Oristaglio and Patrick Bakerjian and members of the Golden State Warriors Dance Team were among the special guests on the course to entertain and engage with players.
 Other special guests included famed football quarterback Jim Plunkett, KTVU Channel 2 sports director Mark Ibanez, saxophone star Mike Phillips performing with Yoshi's house band, Golden State Warriors hype man Franco Finn, former Warriors star Adonal Foyle, and numerous Warriors Dance Team members, among other guests.
The winning foursome on the Lake Course was Chris Carey, Kelsey Jo Holsten, Robert Huff, and Chris Musson, representing the Pebble Beach Golf Academy. The winning team on the Ocean Course was Kayvon Raissi, Mark Watson, and Marcus Watson.
 "The Kids in the Klinic Endowment is a powerful source of funding to support care to underserved children throughout our region. Some of the care is very complex and the endowment provides a lifeline to children and families who may not have the means for care," says Nader A. Nadershahi,DDS, MBA, EdD, dean of the Dugoni School of Dentistry. "Tooth decay is one of the most prevalent chronic health issues in the country today and untreated dental disease can compromise a child's ability to eat well, sleep well and function well at school and at home. We thank everyone who was involved in our 20th annual Kids in the Klinic Golf Classic for helping to raise awareness and funding to support this cause."
 This year's event sponsors included NBC Bay Area; Nob Hill Gazette; San Francisco Media Company; hope & grace winery; Tiret & Company; Align Technology; Bittner Family Dental Group, Kristi Swimmer, DDS and Mark Swimmer, DDS; Heritage Bank of Commerce; Patterson Dental; Kavo Kerr; Mitchell & Mitchell Insurance Agency; California Bank of Commerce, Nava Fathi, DDS; Pacific Dental Services; Arthur A. Dugoni School of Dentistry Alumni Association Past Presidents; Richard F. Creaghe, DDS; Gauge Point Calibration, Inc.; Steve Molinelli Northern California Practice Sales; Arthur A. Dugoni School of Dentistry Dental Hygiene Alumni; Victor R. Mancuso, Jr.; J.J. & Ellery Salehieh; Niven & Smith, LLP; 3M Oral Care; The Law Offices of Daryl Weinroth; Dr. Paul and Susan Senise; Antonini Family Properties — Cardinalli Family; Kokkari Estiatorio; Fortune Management; Mancuso Oral and Maxillofacial Surgery and Kimberly Mahood, DMD MSD.
 The Kids in the Klinic Golf Classic event organizing committee is chaired by Dr. Doug Yarris '83, a Dugoni School alumnus and long-time member of the Dugoni School Foundation.
 To get involved as a sponsor of next year's Kids in the Klinic Golf Classic, please contact the Dugoni School's Office of Development at kidsintheklinic@pacific.edu or 415929-6403.