Jamie Perryman Named Practice Administrator of the Year
Costa Mesa, Ca, AND RED BANK, NJ – The American Association of Dental Office Management (AADOM) has honored Jamie Perryman with its 12th annual AADOM Practice Administrator of the Year Award. Perryman is director of operations for Grove Dental Associates in Grove, Oklahoma.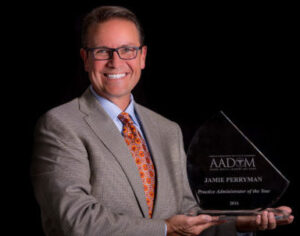 As the nation's largest educational and networking association dedicated to serving dental practice management professionals, AADOM annually recognizes dental professionals who deliver an exceptional patient experience and are an inspiration and leader within their practice.
Nominations were reviewed by a committee of industry leaders invited to participate by AADOM. "This year, the committee agreed that Perryman's passion and commitment to excellence, along with his contributions to the dental profession, his community in Oklahoma, and the team he works with every day made him stand out among the other nominees," says Heather Colicchio, AADOM president.
Commenting on the honor, Perryman notes, "Every day I strive to honor and celebrate each and every patient and employee at Grove Dental Associates. It feels really special to have those efforts acknowledged by my peers at AADOM."
As the 2016 award winner, Perryman will receive a special package provided by CareCredit, AADOM's founding sponsor, including complimentary registration to the 2017 AADOM conference, a profile story in AADOM's digital magazine The Observer, and $1000.