Treatment Tips for Dentinal Hypersensitivity
Dentinal hypersensitivity is a common patient complaint, with a widely fluctuating prevalence rate — ranging from 4% to 57% of the population. The potential causes of such sensitivity are also varied. To support clinicians in helping their patients manage this common oral ailment, we reached out to Mia L. Geisinger, DDS, MS, a professor and director of the advanced education program in periodontology at the University of Alabama at Birmingham School of Dentistry and the current vice president of the American Academy of Periodontology, who has a breadth of knowledge on sensitivity.
While identifying the root cause of dentinal hypersensitivity is difficult and may be subjective, investigating its etiology is a prudent first step. Geisinger notes, "There are many possible causes that both expose the dentin and predispose patients to dentinal hypersensitivity including toothbrush abrasion, acid erosion, anatomical factors, and gingival recession."
Treatment is then based on addressing the underlying issue. "As the hydrodynamic theory is the best explanation for stimuli transmission through dentin, the principles of therapy for dentinal hypersensitivity include: 1) reduction or elimination of irritating stimuli, 2) tubule obliteration, 3) tubule coverage, and 4) prevention of transmission of irritation," Geisinger explains.
She suggests recommending elimination diets and addressing traumatic habits, utilization of restorative or soft-tissue grafting approaches to cover exposed root surfaces, products to precipitate material into exposed dentinal tubules, and nerve depolarization.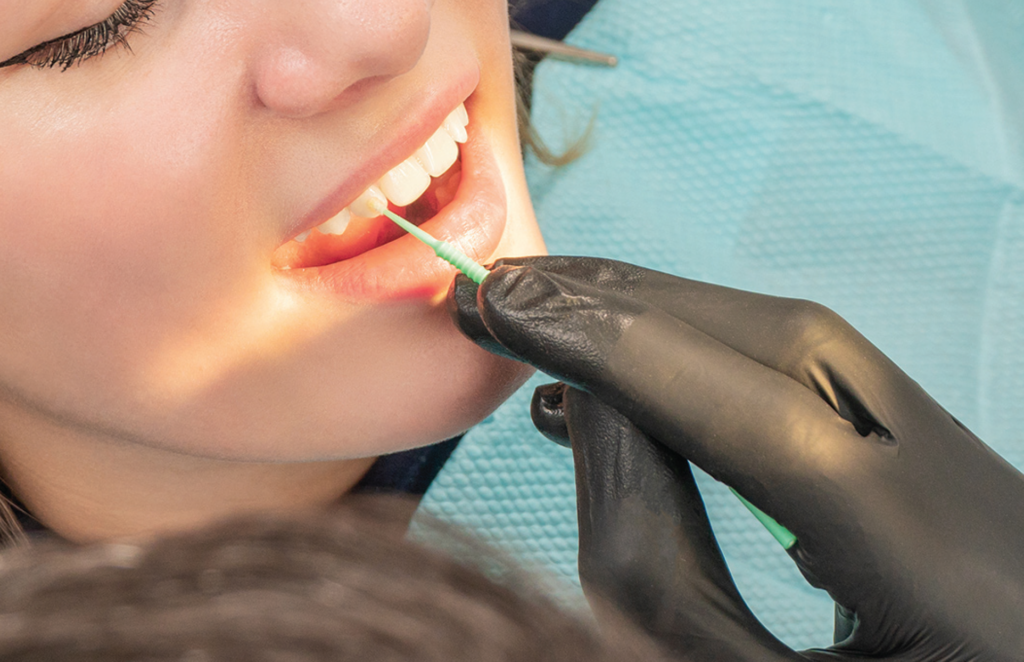 Myriad products are available to help patients mitigate sensitivity-associated pain, with new approaches being introduced regularly. Geisinger says that fluoride- and potassium nitrate-containing dentifrices/gels are the most commonly used at-home treatments with both demonstrating efficacy in reducing discomfort. She also suggests that arginine-containing gels and dentifrices enhance the anti-sensitivity effects more than fluoride-containing materials alone. Hydroxyapatite also provides anti-sensitivity benefits.
When it comes to options for professionally applied desensitizers, Geisinger comments, "Any of the professionally applied desensitizers contain similar ingredients to at-home applications, including fluoride, arginine, and oxalate. Silver diamine fluoride has been shown to be particularly effective in reducing dentinal hypersensitivity, but — in some clinical circumstances — can result in discoloration of tooth structure and esthetic compromise. Additionally, glutaraldehyde and bonding agents can be applied professionally and have demonstrated a longer period of relief than medicaments that are applied at home."
With ongoing research investigating new options for hypersensitivity treatment, we may see additional methods in the near future. Geisinger suggests that the Nd:YAG laser use may result in superior occlusion of dentinal tubules and laser therapy also appears to increase the effectiveness and duration of action of other traditional methods of tubule occlusion through topically applied therapies.
Dendrimers, hyperbranched nanoparticle structures, along with their surface modifications, can to be used in dental biomaterials for biomimetic remineralization of enamel and dentin, according to Geisinger. "In particular, polyamidoamine dendrimers have demonstrated remineralization within dentinal tubules and decreased dentinal hypersensitivity," she explains.
When sensitivity is caused by gingival recession, Geisinger recommends root coverage through periodontal mucogingival procedures. "These treatments reduce hypersensitivity, as well as increase periodontal root coverage and the width of keratinized and attached gingiva, altering periodontal phenotype protecting sites from gingival recession, and reducing the risk for tooth structure loss and future hypersensitivity." Geisinger suggests.
For extremely rare cases that do not respond to any of the treatment options, Geisinger notes that root canal therapy and cervical restorations may be considered as therapies.
From Decisions in Dentistry. June 2023;9(6):46.