The Impact of Pandemic Stress on Self-Care

Dentists have noted more cracked teeth in 2020, likely related to the stress brought on by COVID-191 — but what is the pandemic doing to patients' oral hygiene?
There is reason to be concerned. A recent U.S. Census Bureau survey found that 41% of American adults reported symptoms of anxiety and depressive disorders in 2020, compared to 11% in 2019.2 This is important because depression and other mental health concerns may be linked with neglected or worsening oral health. A 2018 study of subjects age 65 and over, for example, found the higher an individual scored on measures of depression, the more likely he or she was to have higher numbers of missing or decayed teeth.3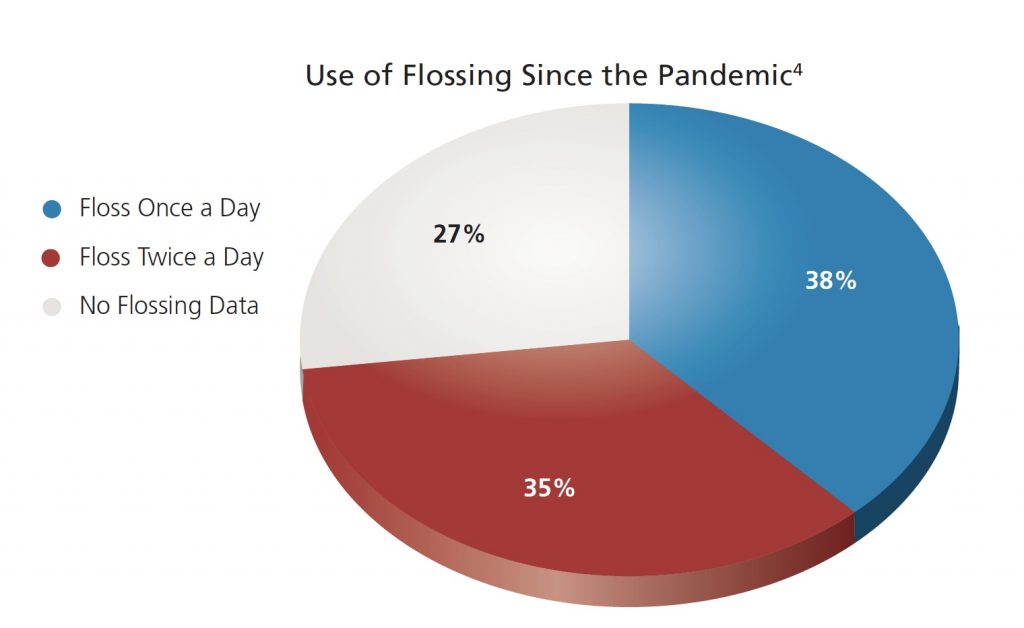 However, when it comes to patients' oral hygiene, there might be reason for optimism. Although depression and working from home during the pandemic have become commonplace (which, for some, could contribute to neglected self-care), it appears others are using the time to actually improve their oral hygiene. According to a recent poll of adults 18 and older, 77% of survey respondents reported that from March to October, 2020, they were brushing twice per day or more — which is within of the margin of error of the 75% who reported doing so in January 2020, shortly before the World Health Organization declared the outbreak a pandemic. This is up from the 68% who reported twice-daily brushing in 2019.4 The poll also revealed slight upticks in the use of mouth – rinse and flossing.

Given the likelihood of having patients falling on either side of the self-care spectrum, it is always wise to remind patients of the importance of regular brushing and flossing. Fortunately, for some, at least, it appears the pandemic is pushing them to establish healthier oral care habits.
References
Rogers K. Dentists are seeing more cracked teeth. Pandemic stress is to blame. Available at: Click here. Accessed October 20, 2020.
National Center for Health Statistics. Anxiety and Depression. Household Pulse Survey. Available at: Click here. Accessed October 20, 2020.
Skośkiewicz-Malinowska K, Malicka B, Ziętek M, Kaczmarek U. Oral health condition and occurrence of
depression in the elderly. Medicine (Baltimore). 2018;97:e12490.
Delta Dental Plans Association. Consumers believe maintaining good oral health is essential to protecting overall
health during the pandemic. Available at: Click here. Accessed October 20, 2020.
From Decisions in Dentistry. November 2020;6(10): 46.