Simplified Layering Technique Offers Excellent Esthetics
Modified polychromatic layering with Tokuyama's single-shade OMNICHROMA composite system helps clinicians create outstanding anterior restorations.
In a typical general dental office, it is not uncommon to have patients call in with a chipped front tooth they want fixed right away — and they expect it to look amazing. This article will demonstrate a simplified technique using a single-shade composite system for fast and easy direct composite restorations on anterior teeth.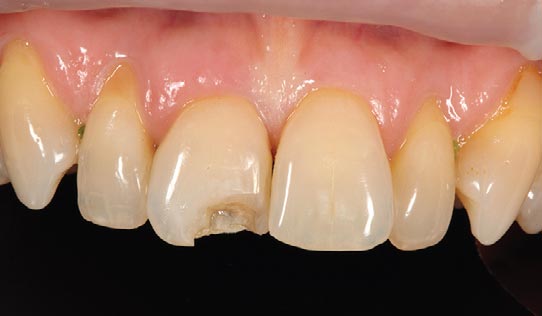 In this case, the patient presented with a moderate-size Class IV fracture of the mesioincisal edge of tooth #8 (Figure 1). The tooth shade was between A3 to A4 and, looking at tooth #9, there were subtle internal characterizations. To achieve highly esthetic composite restorations on an anterior tooth, a more complex polychromatic layering technique would normally be used. Not only is this difficult to master, it also requires maintaining a large stock of composite shades. In comparison, the approach used in this case is a simplified modification of the polychromatic technique using a single-shade composite system.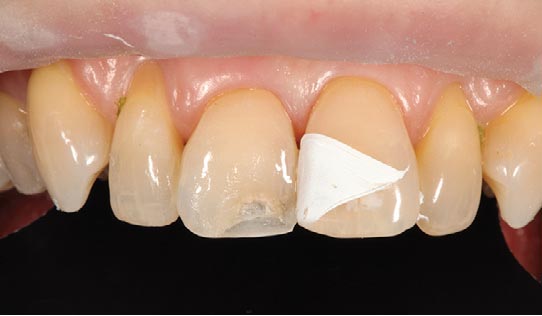 Simplified Technique
First, the tooth was prepared with an infinity bevel, followed by air abrasion. After acid etching and application of a universal bonding agent (Tokuyama Universal Bond), a silicone putty index was used to establish a thin palatal shelf with Tokuyama's OMNICHROMA Flow (Figure 2). The palatal shelf can be established with either the packable or flowable versions. In this case, the flowable was chosen, and a sable brush was used to remove excess material to maintain a very thin shelf.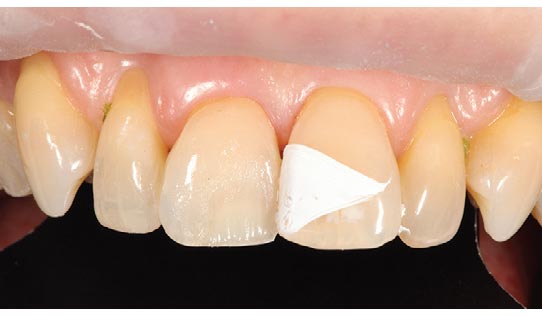 OMNICHROMA BLOCKER was then sculpted to replicate the natural dentin layer and provide the opacity needed to block out the hard incisal edge of the preparation (Figure 3). Next, a thin layer of OMNICHROMA was placed to just shy of the final facial contour to allow space to add characterizations with colored resins (Figure 4). Colored resins were applied with a sable brush to replicate the internal effects visible on tooth #9 (Figure 5). These colored resins are chromatically strong, so care must be taken not to overdo it.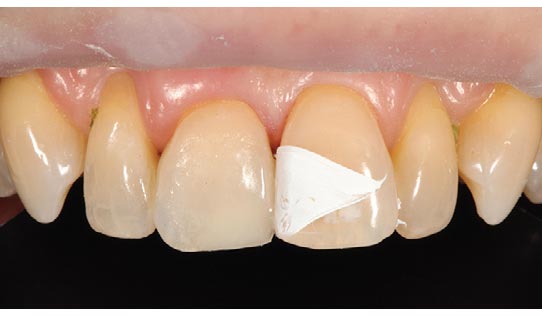 Highly Esthetic Results
A final thin layer of OMNICHROMA was applied to achieve the final contour (Figure 6). After finishing and polishing, the esthetic result (Figure 7) is quite astonishing for a single-shade composite system using this modified layering approach. This composite system and technique offer similar outcomes for teeth of any shade.
In combination with this easy layering technique, the simplicity of not having to keep a large supply of colored composites on hand saves time and money, while providing patients with esthetically pleasing restorations.
| | |
| --- | --- |
| FIGURE 5. Colored resins were used to replicate internal characterizations. | FIGURE 6. Final thin layer of OMNICHROMA. |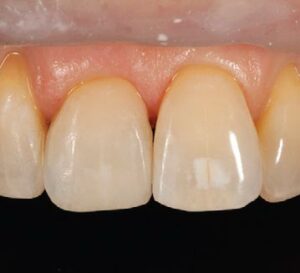 Tokuyama Dental America
877-378-3548
omnichroma.com/us
From Decisions in Dentistry. June 2022;8(6)26.