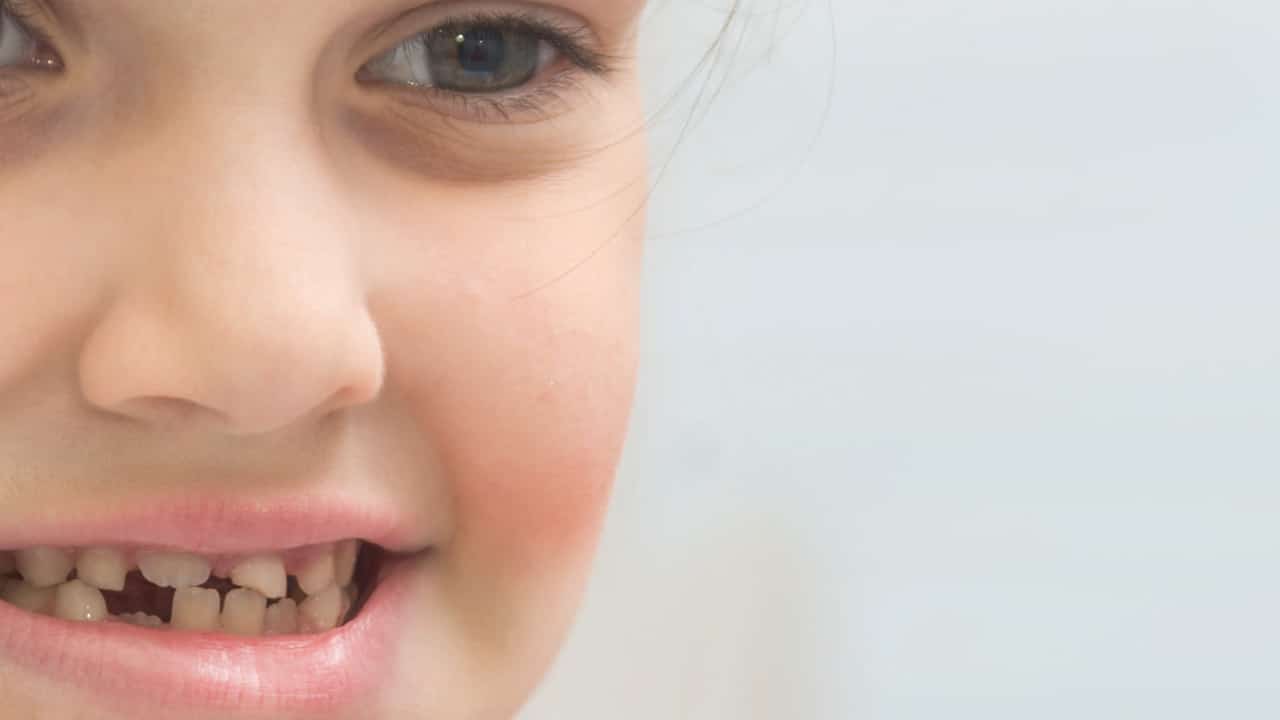 Review of Anterior Restorations for Primary Teeth
An overview of indications and options for restoring deciduous dentition in the esthetic zone.
An overview of indications and options for restoring deciduous dentition in the esthetic zone
While a number of evidenced-based articles have been published on restorations for primary anterior teeth, there are few long-term controlled clinical studies offering data on these types of restorations. Treatment recommendations frequently are based on opinion and clinical experience. Given the options for anterior pediatric restorations, an important consideration in today's practice is concern by a child or parent/caregiver for the esthetic impact of restorative therapy.1–3 It is equally important for practitioners to be well-versed in the clinical indications — and advantages and disadvantages — of various anterior restorative options for this patient demographic.
According to the American Academy of Pediatric Dentistry, on average, primary mandibular central incisors erupt between ages 5 and 8 months, while maxillary central incisors erupt at 6 to 10 months of age. By comparison, mandibular and maxillary lateral incisors generally erupt at 7 to 10 months, and 8 to 12 months, respectively. The maxillary and mandibular canines erupt at approximately 16 to 20 months of age.4 Thus, the central and lateral incisors are the initial teeth to erupt and the first to be subject to bacterial assault and resulting caries. Data show that in young American children, caries in maxillary anterior primary teeth can account for 50% of the overall caries prevalence of the general population.5
When treating caries in primary anterior teeth, clinicians are faced with a number of factors that can present challenges. Anatomically, primary maxillary and mandibular anterior teeth are smaller in their mesial-distal diameters as compared to either their permanent successors or even posterior primary teeth. For example, primary anterior teeth crown length is less than that of their permanent successors. In fact, lower anterior teeth are usually the smallest teeth in both the primary and permanent dentition. In addition to their relatively small size, their pulp chambers are larger compared to those in permanent teeth, and the enamel and dentin are thinner than that found in their permanent successors.6 These anatomic aspects of primary teeth can directly impact restorative procedures in respect to retention and potential pulpal involvement. Equally important as anatomic considerations is appropriate and successful behavior management of the pediatric patient. Outcomes can be impacted by the pediatric patient's behavior and cooperation; thus, factors such as age and maturity can influence treatment planning and the clinical approach to patient management.7
In considering the patterns of caries that can present on primary anterior teeth, the range of lesions is similar to what is seen on permanent teeth: Caries can vary from small incipient lesions to extensive, multisurface lesions with pulpal involvement.8,9
TREATMENT CONSIDERATIONS
Caries risk assessment (CRA) and patient age are important factors in treatment planning. Patients with a low CRA who present with small incipient (noncavitated) lesions can be successfully managed with noninvasive preventive modalities. Topical fluoride application — such as fluoride varnish or use of fluoridated toothpaste — is a key part of preventive therapy.10 By comparison, pediatric patients with high CRA will require more extensive treatment. A key management consideration is the patient's age and timing of exfoliation of the primary tooth and eruption of the permanent tooth, as these factors will influence decisions regarding the need for restoration.
Cavitated lesions classified as Class V (facial), Class III (interproximal) or Class VI (incisal) lesions on primary teeth usually present few challenges in treatment. Palatal or lingual Class V lesions can frequently present access and isolation issues in this population, especially with mandibular lesions. One factor that does not have to considered in choosing a material for Class V restorations is occlusal wear, as stress from occlusal forces is not a concern.
Successful treatment for Class V and Class VI lesions can be accomplished using a number of restorative materials, such as resin-based composite, glass ionomer (GI), resin-modified glass ionomer (RMGI), nano-ionomer restorative cement, and bioactive restorative material.8,9,11 Each has its benefits and limitations. When finished, composites can be highly polished and be quite esthetic in appearance. On the other hand, GI, RMGI and nano-ionomer restorative cement offer fluoride release and recharge that benefit high-caries-risk patients; in general, however, their esthetic properties do not match composite materials.
BIOACTIVE MATERIALS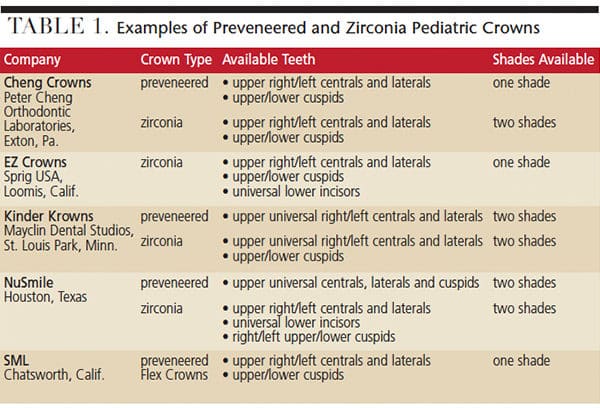 Bioactive restorative materials have recently been introduced that offer good esthetics and high comprehensive and flexural strength. In addition to fluoride release and recharge, these materials allow for release and recharge of calcium and phosphate ions. The various manufacturers of bioactive materials claim these materials offer a higher level of adhesion to tooth structure that is found in older materials. Besides restorative materials, bioactive technology is available in luting cement and sealants.11
Class III and Class IV anterior lesions can inherently present issues and limitations, including concerns over retention and possible pulpal involvement. As previously noted, the pulp chamber is disproportionally larger in anterior primary teeth, and this is one reason why successful restoration can be technique sensitive and challenging. While a number of techniques have been introduced to aid retention, one popular approach is the use of a dovetail (usually placed on the palatal or lingual aspect of the tooth and, in some cases, on the labial surface). Another common technique used in place of a celluloid strip is trimming a strip crown in half (labial to palatal). Using the half-crown as a matrix, the provider places the restorative material in the crown and light cures.
Restorative materials indicated for Class III and Class IV restorations include composite and bioactive restoratives. On the other hand, GI and RMGI can be used only for Class III lesions.8,9 In cases involving extensive Class IV lesions or loss of tooth structure due to trauma, consideration should be given to a full-coverage restoration.8
FULL-COVERAGE CROWNS
As detailed in Table 1 and Table 2, choices in full-coverage indirect pediatric restorations include stainless steel crowns (SSC), SSCs with preveneered facing, strip crowns, and zirconia crowns. (Only zirconia crowns are offered for lower anterior teeth.) Flex Crowns, Life Like Crowns and Pedo Jackets (available from SML, Chatsworth, Calif.) are additional options for full-coverage crowns.8,12 For other crowns, use of the contralateral maxillary lateral crown will allow for treatment of the central and lateral mandibular incisors.
Full-coverage esthetic crowns can be classified in two categories: those that are preformed and cemented to the tooth with luting agents (e.g., SSCs, preveneered crowns, Flex Crowns and zirconia crowns). The second category includes crowns that are bonded to tooth (e.g., strip crowns, Life Like Crowns and Pedo Jackets). Each type of full-coverage crown has its benefits and limitations.
Used effectively for many years for teeth with extensive treatment needs, SSCs are quite retentive, though lacking in esthetics. Tooth preparation is not complicated: Incisal reduction of 1 to 1.5 mm is usually necessary, as is a subgingival featheredge circumferential preparation to ensure adequate fit. Ideally, the margin of the crown should be 1 to 1.5 mm subgingival. These restorations can be adjusted to fit by crimping the margin of the crown, and placed with a luting cement.13 An esthetic option following placement of the crown is to remove a portion of the labial aspect and place a bonded tooth-colored material.8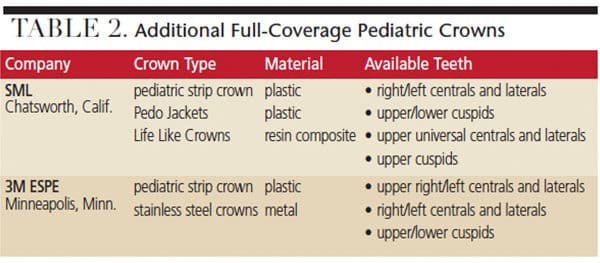 Another option is an SSC with an esthetic, prefabricated labial veneer. Preparation is similar to SSCs; in some cases, additional reduction of both labial and palatal surfaces is necessary to allow for the labial veneer. Cementation is with luting cement. Crimping of the crown is usually not recommended due to the possibility of dislodging the veneer.
Preveneered SSC advantages: Good esthetics; not technique sensitive; and fabrication and placement are not overly time consuming.
Preveneered SSC disadvantages: Potential for veneer dislodgement (subsequent repair is difficult); can appear bulky in some cases; contraindicated for patients with Class III/anterior cross bite occlusion.8,9,13,14
Strip crowns are clear plastic tooth forms available for central teeth and incisors. The crown form is first trimmed to fit the tooth. Preparation requirements are minimal, as incisal reduction of 1 mm is needed, along with interproximal reduction (if necessary) to permit adequate seating of the crown. The crown is filled with resin-based composite or other polishable material and placed on the tooth. Once cured, the strip crown is removed. The resulting restoration usually requires minor finishing. Overall retention rates and esthetics are good.15
Strip crown advantages: Highly esthetic; fabrication and placement usually require no local anesthesia.
Strip crown disadvantages: Technique sensitive with lengthy treatment time; long-term durability issues; proper retention relies on adequate tooth structure; contraindicated for patients with extensive deep bites or anterior crossbites.
Flex Crowns are very similar to preveneered SSC, but are 1 mm shorter than other crowns. They can be trimmed, crimped, and are malleable, if necessary. Life Like Crown preparation is similar to preveneered SCCs. Pedo Jacket preparation is similar to that of a strip crown. Both the Life Like and Pedo Jacket are filled with composite, seated on the tooth and light cured. Each requires placement of a primer to the inner surface of the crown before filling with composite. While the Life Like Crown can be adjusted post insertion, adjustment or finishing of the Pedo Jacket is not recommended, as it could damage and compromise the restoration's integrity. In addition, these crowns are contraindicated in patients with Class III occlusion or extensive deep bites.8
ZIRCONIA CROWNS
Zirconia crowns are variation of cubic zirconia and offer excellent esthetics, with fewer restrictions or concerns of other full-coverage restorations. Unlike SSCs with preveneered facings (that can dislodge or fracture), zirconia crowns are not prone to fracture. Compared to other restorative options, however, more extensive preparation is usually required. Adjustment is performed on the tooth, not the crown, as the crown cannot be adjusted to ensure proper fit.8,16 Preparation requires labial reduction of approximately 1.5 to 2 mm, as well as labial palatal and proximal reduction of approximately 1 mm. Additionally, an approximate 1 mm circumferential subgingival featheredge reduction is necessary. Cementation is with GI, RMGI or bioactive cement.
Adequate isolation of the tooth prior to final cementation is an important factor, as contamination from oral fluids, including blood, can adversely impact retention of zirconia crowns. Some manufacturers include internal modifications to enhance retention. For example, Cheng Crowns (Peter Cheng Orthodontic Laboratories, Exton, Pa.) utilize a crimp lock retentive design. EZ Crowns (Sprig USA, Loomis, Calif.) uses Zir Lock Ultra Grooves to aid retention, while Kinder Krowns (Mayclin Dental Studios, St. Louis Park, Minn.) feature internal retention bands. NuSmile (Houston, Texas) recommends cementation utilizing bioactive cement. Research has shown one advantage of using bioactive cement is that it releases fluoride, calcium and phosphate to aid hydroxyapatite formation.17 An important consideration for long-term retention is that the internal surface of the crown be free of all moisture, saliva or blood during placement.
One company, NuSmile, offers try-in crowns, which, except for their pink color, are the same as the firm's zirconia crowns. As the name suggests, these are used to determine proper crown fit. Once used, these try-in crowns can be cleaned and sterilized prior to reuse. A key benefit is that try-in crowns allow for an uncontaminated final zirconia crown to be cemented in place.
Zirconia crown advantages: Zirconia crowns are the only pediatric full-coverage restoration that offers sizes to accommodate lower anterior teeth; monolithic zirconia is biocompatible, highly esthetic and can be autoclaved if contaminated; fabrication and placement are not overly time-consuming.
Zirconia crown disadvantages: Cost; technique sensitive; hemorrhage and moisture contamination during placement will compromise retention; cannot be crimped; the tooth must be prepped to fit the crown, thus, additional tooth reduction is usually required.18
CONCLUSION
In summary, Class III, Class IV and Class V primary restorations are treated similarly to restorations for permanent teeth. In respect to full-coverage restorations, esthetics is a consideration for many patients and/or parents/caregivers. The literature has shown that with the introduction of zirconia crowns, many restorative issues with strip crowns or preveneered SSCs are no longer concerns. In one evidenced-based comparison, resin composite strip crowns demonstrated a lower retention rate (78%) and higher gingival inflammation. Preveneered SSCs are retentive (95%), but are subject to veneer fracture. Zirconia crowns were shown to have the highest retention rate (100%), are biocompatible, "gingiva friendly" and cause nonsignificant abrasion of opposing teeth.19
As noted at the outset, while a number of evidenced-based articles have discussed restorations for primary anterior teeth, there are few long-term controlled clinical studies offering data on these types of restorations. Thus, it is important for dentists to be well-versed in the clinical indications of various anterior restorative options for this patient population.
---
KEY TAKEAWAYS
Given the options for anterior pediatric restorations, an important consideration for today's practitioner is concern by the child or parent/caregiver for the esthetic impact of restorative therapy.1–3
It is important for providers to be well-versed in the clinical advantages and disadvantages of various anterior restorative options for the primary dentition.
With respect to retention and potential pulpal involvement, the anatomic aspects of primary teeth directly impact restorative decisions.
Outcomes can be impacted by the pediatric patient's behavior and cooperation; thus, age, maturity and other factors can influence treatment planning and patient management.7
---
REFERENCES
Soares FC, Cardoso M, Bolan M. Altered esthetics in primary central incisors: the child's perception. Pediatr Dent. 2015;37:29–34.
Sharat CP, Abdulrahman AS, Sultan A, Fares BS, AlBara A, Mohammad A. Esthetic concerns and acceptability of treatment modalities in primary teeth: A comparison between children and their parents. Int J Dent. 2016;2:1–5.
Liu, JA, Donly KJ. A review of esthetic crowns for the primary anterior dentition. Decisions in Dentistry. 2016;2(10):18,21–25.
Dental Growth and Development. Available at: aapd.org/media/Policies_Guidelines/R_DentalGrowth.pdf. Accessed April 26, 2018.
Dye BA, Hsu KL, Afful J. Prevalence and measurement of dental caries in young children. Pediatr Dent. 2015;37:200–216.
Nelson SJ. Wheeler's Dental Anatomy, Physiology and Occlusion. 10th ed. St Louis: Elsevier Saunders; 2015.
Behavior Guidance for the Pediatric Dental Patient. Available at: aapd.org/media/Policies_Guidelines/BP_BehavGuide.pdf. Accessed April 26, 2018.
Waggoner WF. Restoring primary anterior teeth: updated for 2014. Pediatr Dent. 2015;37:163–170.
Pediatric Restorative Dentistry. Available at: aapd.org/media/Policies_Guidelines/BP_RestorativeDent.pdf. Accessed April 26, 2018.
Pitts NB, Ismail AI, Martignon S, et al. ICCMS Guide for Practitioners and Educators. Available at: iccmsweb.com/uploads/asset/592845add7ac8756944059.pdf. Accessed April 26, 2018.
Berg JH, Croll TP. Glass ionomer restorative cement systems: an update. Pediatr Dent. 2015;37:116–124.
Waggoner WF. Anterior crowns for primary anterior teeth: An evidence based assessment of the literature. Eur Arch Paediatr Dent. 2006;7:53–57.
Lee JK. Restoration of primary anterior teeth: Review of the literature. Pediatr Dent. 2002;24:506–510.
MacLean J, Champagne C, Waggoner W, Ditmyer M, Casamassimo P. Clinical outcomes for primary anterior teeth treated with preveneered stainless steel crowns. Pediatr Dent. 2007;29:377–382.
Ram D, Fuks AB. Clinical performance of resin-bonded composite strip crowns in primary incisors: A retrospective study. Int J Paediatr Dent. 2006;16:49–54.
Prabhakar AR, Chakraborty A, Nadig B, Yavagal C. Finite element stress analysis of restored primary teeth: A comparative evaluation between stainless steel crowns and preformed zirconia crowns. Int J Oral Health Sci. 2017;7:10–15.
NuSmile. NuSmile BioCem technical support. Available at: nusmilecrowns.com/BioCem/Technical-Support. Accessed April 26, 2018.
Clark L, Wells MH, Harris EF, Lou J. Comparison of amount of primary tooth reduction required for anterior and posterior zirconia and stainless steel crowns. Pediatr Dent. 2016;38:42–46.
Walia T, Salami AA, Bashiri R, Hamoodi OM, Rashid F. A randomised controlled trial of three aesthetic full-coronal restorations in primary maxillary teeth. Eur J Paediatr Dent. 2014;15:113–118.
Featured image by MADHOURSE/ISTOCK/GETTY IMAGES PLUS 
From Decisions in Dentistry. June 2018;4(6):22–25.