Providers and Patients Benefit from VOCO's Meron Plus QM
Paste-To-Paste RMGI Cement offers strength, convenience and speed.
Paste-To-Paste RMGI Cement Offers Strength, Convenience and Speed
Combining the speed and ease of paste-to-paste QuickMix syringe delivery with tack curing for easy cleanup, VOCO's Meron Plus QM offers dentists a clinical solution for even their toughest cases. This new paste-to-paste, resin-modified glass ionomer (RMGI) cement is specially formulated to offer both convenience and excellent bond strength. Traditionally, one of the drawbacks of a paste-to-paste RMGI has been reduced bond strength compared to a powder-and-liquid version. However, Meron Plus QM exhibits particularly strong adhesion, providing an additional sense of security for both practitioners and patients, even in cases of low retention or unfavorable core geometry.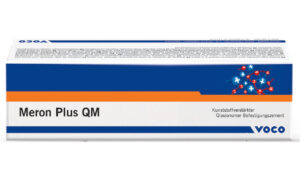 Dentists are demanding more from their materials, both in terms of physical properties and clinical performance, as well as speed and efficiency. VOCO's Meron Plus QM answers those demands. While it is not uncommon for standard liquid-and-powder RMGI cements to evolve into a paste-to-paste formula, this usually means a measurable loss of bond strength. In this case, Meron Plus QM not only maintains the bond strength to dentin of its predecessor, Meron Plus AC, it actually exceeds it. Furthermore, VOCO's paste-to-paste RMGI cement does not require use of a primer or conditioner, eliminating steps, streamlining the procedure, and reducing technique sensitivity. It also accepts a tack cure (five to 10 seconds per segment), which makes cleaning excess material quick and easy.
Meron Plus QM delivers the usual glass ionomer advantages, as it is self-adhesive, offers high continuous fluoride release (662 ppm), and features a low film thickness of 11.7 µm, which makes for an excellent marginal fit that helps ensure accurate restorations. This also minimizes bacterial buildup and reduces the occurrence of caries and secondary caries. But, in the end, this RMGI cement excels for its simplicity and ease of use.
LOW WATER SOLUBILITY FOR LONGEVITY AND SECURITY
Glass ionomer-based cements are known for low water solubility — which is one of the reasons they have maintained, if not increased, their popularity in recent years. This makes RMGI cements ideal for working in the subgingival space. It also helps avoid issues related to decementation due to penetration through even the smallest cement joints. At 0.36%, Meron Plus QM exhibits among the lowest water solubility currently available within the paste-to-paste RMGI category.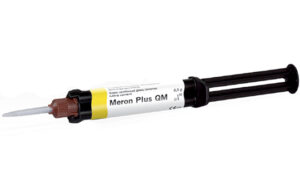 WORKING TIME IDEAL FOR MORE COMPLEX RESTORATIONS
When performing a single-tooth restoration, a flexible working time is typically not an issue. However, extra working time can become critical for more complex restorations, such as multiunit bridges. For these situations, Meron Plus QM offers up to two minutes of extraoral working time before it begins to set.
CONCLUSION
While paste-to-paste RMGI cements abound, many offering outstanding benefits, the real strength of Meron Plus QM lies in its unique and innovative combination of desirable traits. Speed and convenience are at the top of many dentists' lists, which Meron Plus QM satisfies with its paste-to-paste QuickMix syringe delivery and optional tack curing that permits easy cleanup, as well as VOCO's unique formula that eliminates the need for primer or conditioner.
Other clinicians prioritize bond strength, which Meron Plus QM brings to the table with a comparatively high (for paste-to-paste RMGI cements) bond strength of 11.3 MPa. And, of course, all dentists want to see their restorations stand the test of time, and Meron Plus QM delivers with its low water solubility. Furthermore, an excellent marginal fit (partially enabled by the material's low film thickness) and continuous fluoride release contribute to longevity and safety by reducing the occurrence of caries and secondary caries beneath the restoration. Overall, this is a powerful new material from VOCO that represents a long-awaited addition to the company's full line of permanent cements.
---
VOCO Meron Plus QM Case Example
Offering speed, simplicity and convenience, as well as high bond strength, VOCO's Meron Plus QM features excellent physical properties, while its special formulation, optional tack curing, and paste-to-paste QuickMix syringe delivery help streamline restorative procedures.
---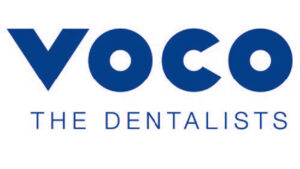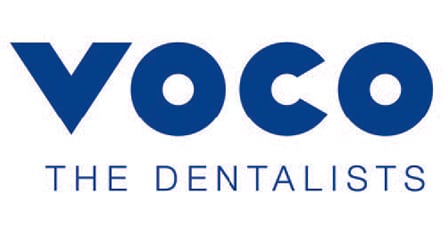 From Decisions in Dentistry. November 2018;4(11):8–9.