Product Profile: Mosaic universal composite from Ultradent
Esthetic restorative material ensures optimal outcomes.
ESTHETIC RESTORATIVE MATERIAL ENSURES OPTIMAL OUTCOMES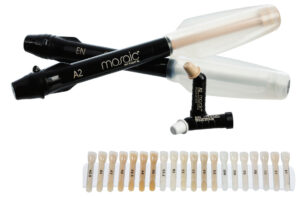 FEATURES AND BENEFITS
In this age of social media and selfies, demand for esthetic restorations has never been greater — and the quality of the composite used plays a pivotal role in patient satisfaction.
Ultradent's new Mosaic universal composite features advanced nanohybrid technology, so it's suitable for all restorative procedures — from basic to complex.
Offering excellent handling for maximum control, Mosaic can easily be manipulated,but  retains its shape; it won't slump, tear, pull, or stick to instruments.
It also features smooth cutting, easy layering and ample working time, which ensure chairside efficiency and optimal esthetics.
Mosaic contains nanofiller particles composed of zirconia-glass ceramic and 20-nanometer silica. This optimized balance produces a smooth, glossy surface, while delivering mechanical properties that perform well in stress-bearing applications.
Available in 20 shades, including opaque dentin and translucent enamel shades, Mosaic allows clinicians to easily replicate the optical properties of natural dentition.
Mosaic's superior wear rate and low volume shrinkage translate to fewer failed restoration and redos. This material also earns high marks for gloss retention, hardness and strength.
The proprietary dispersion of particles in Mosaic's nanohybrid formula allows for high polishability and long-term gloss retention — without sacrificing the strength needed for highstress-bearing restorations.
Clinicians can choose between 4-gram syringes that feature a contoured handle and barrel that make it easy to clean, grip and identify, or convenient 0.2-gram unit-dose delivery.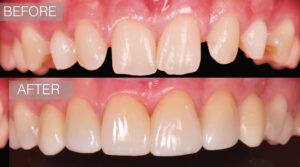 BOTTOM LINE
Offering excellent polishability and esthetics, Ultradent's nanohybrid technology allows Mosaic universal composite to perform well in both anterior and posterior cases. Available in a range of shades, opacities and translucencies, this easy-handling material helps clinicians create highly durable, natural-looking restorations.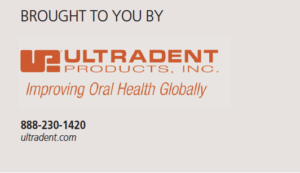 From Decisions in Dentistry. March 2018;4(3):53.